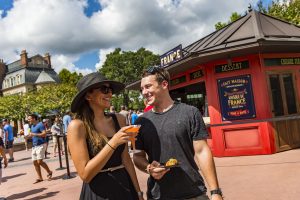 Epcot's World Showcase is where you can travel around the world and experience the culture and customs of each native pavilion. Disney prides themselves on delivering that authentic experience to guests so that they feel they are truly transported to the country they are visiting. One of the ways they deliver upon this overall experience is through the food! When traveling around World Showcase you can treat your taste buds to truly any type of cuisine imaginable!
We have some exciting news this week about eateries and food locations that are back up and running after some downtime.
Pizza al Taglio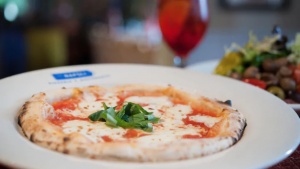 The first reopening to note is the pizza window in Epcot's Italy pavilion. This pizza window known as, Pizza Al Taglio in is back in action after a short closure. Pizza al Taglio is connected to Via Napoli on the left side as you approach the restaurant when coming from the World Showcase Lagoon. The pavilion's pizza window now has a new overlay and name, Pizza Al Taglio. Previously the walk-up window was just called the Via Napoli Pizza Window. The new name means "Pizza by the Slice" in Italian. This quick-service location is a great option to grab a bite on the go without needing any reservations. The menu includes a house special of pizza san gennaro, traditional offerings of pepperoni or margherita pizzas, and mini cannolis. For beverages, the location offers a selection of red, white, or sparkling wines, a selection of beers, as well as cocktails such as the limoncello mule or bellini. For non-alcoholic options, there is a frozen wild blueberry slush as well as sodas and water.
Kringla Bakeri og Kafe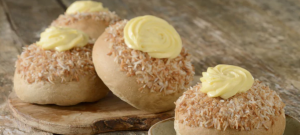 Recently World Showcase has also re-opened the Norway Pavilion's Kringla Bakeri og Kafe! I am so excited that this popular pastries and sweets shop is back up and running. The Kringla Bakeri og Kafe is a counter service location known for their pastries as well as their light snacks such as cheese trays and sandwiches. This location is home to many unique and authentic options such as my personal favorite… the school bread! School Bread is best described as a donut filled with a light custard and fresh coconut! I am so happy this bakery is reopened so I can enjoy this favorite treat of mine on my upcoming trip!
What is your favorite dining location in World showcase?
Contact your Kingdom Magic Vacations Travel Planner to plan your next magical vacation!