One thing you learn when you start writing Disney dining reviews is that you better move quickly. For example, a few months ago, my wife and I enjoyed Beaches and Cream Soda Shop at Disney's Beach Club Resort for the first time. Not too long after that, we learned that the soda shop had made changes to their menu. What?!
The second thing you learn is that, when Disney menus are altered, the actual changes get a bit less press than you might think. Having said that, I thought it would be interesting to compare "then" and "now" in the context of recounting our burger and ice cream feast.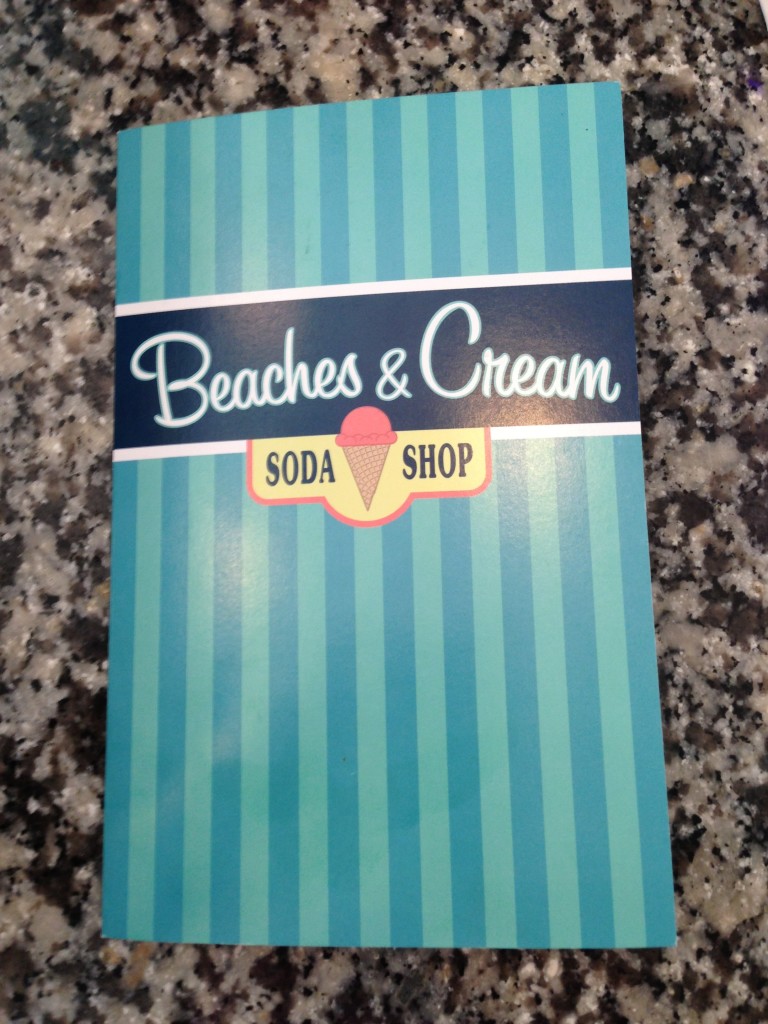 Prior to our visit, I honestly felt that the best burger in Walt Disney World lived at The Fountain in the Walt Disney World Dolphin or at Pecos Bill in the Magic Kingdom. In fact, each time I saw the question, "What's the best burger in Walt Disney World?" on a chat board, my thoughts went to "Bill" or the Fountain. Naturally, they got my votes. Then, I would watch other Disney fans rave about Beaches. What was I missing?
Here's the view back "then". You have to love a menu that refers to one of its sections as "Burger Heaven", don't you?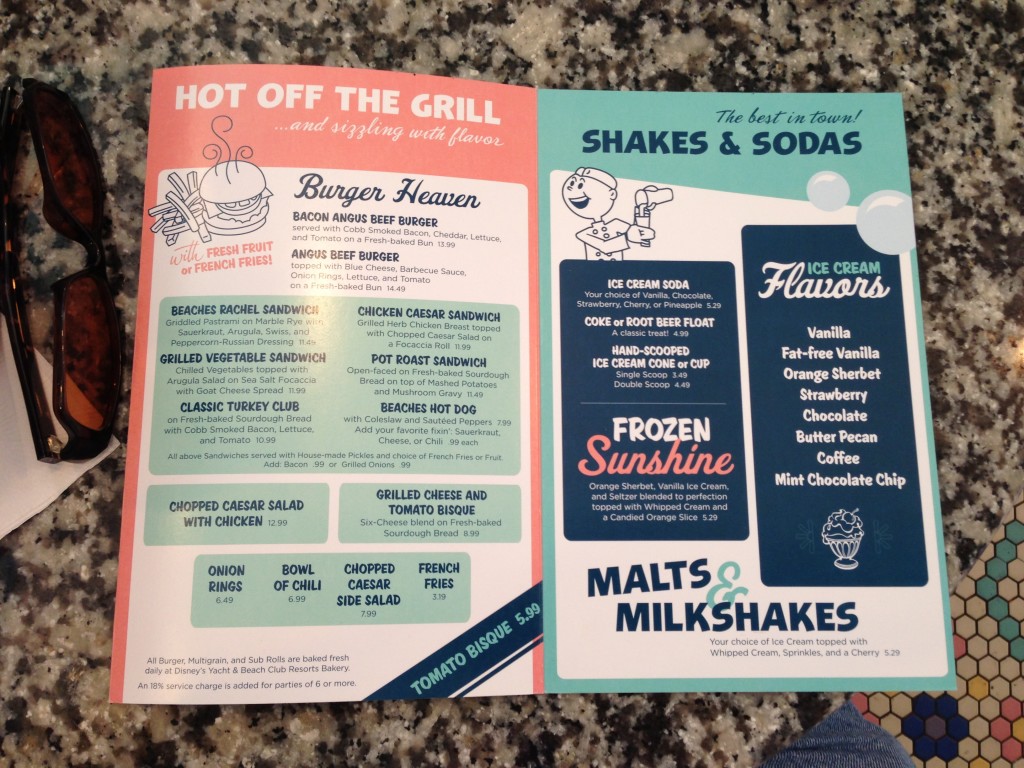 Here it is now…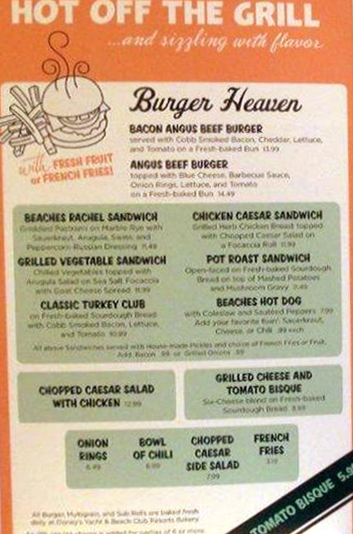 First of all, my wife's selection of the Beaches Rachel Sandwich lives on at its former price of $11.49. That's a good start.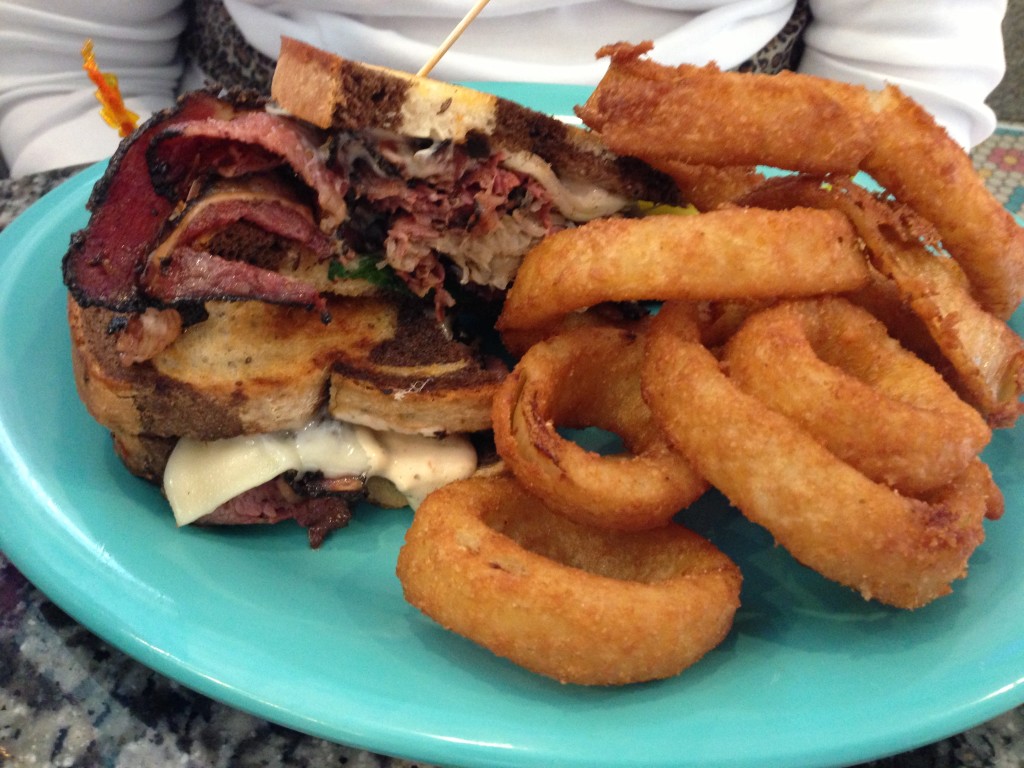 "My" Bacon Angus Beef Burger, however, survived the menu upheaval but with a bit of a disappointing recipe adjustment. Formerly topped with smoked bacon and cheddar, it's now served with bacon, blue cheese, BBQ sauce, and onions.
I just "crowned" it the TRUE 'best burger' in Walt Disney World, and now they change it altogether?! Even its price – a hefty but worthwhile $13.99 – got "revised" to $14.49. As it was, it looked great and WAS phenomenal. Now, the jury is out again.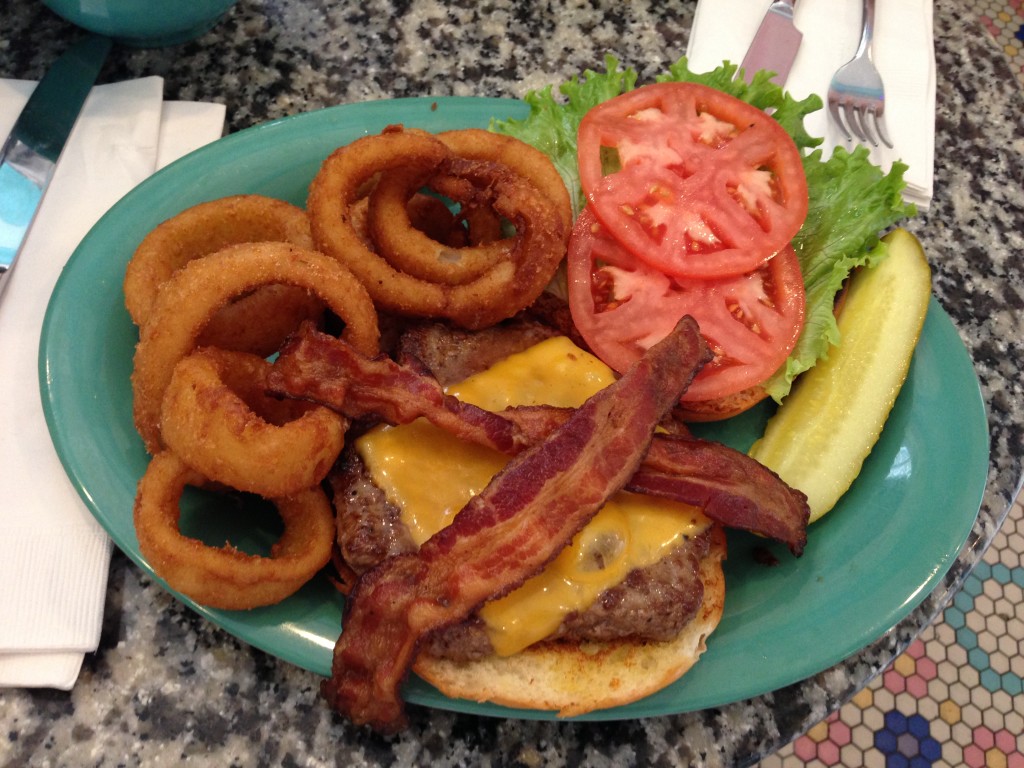 On the other hand, the Angus Beef Burger flip-flopped its toppings (and its price) with the Bacon Angus. Now at $13.99 (as opposed to $14.49), it has dropped the blue cheese and BBQ sauce in favor of cheddar. Wouldn't that make it an Angus Cheese Burger? Clearly, another research trip is in order.
Other notable menu changes include:
The price of the Chicken Caesar Sandwich increased $1.00 to $12.99
The Classic Turkey Club, Grilled Cheese and Tomato Bisque, and Pot Roast Sandwiches are all served on Brioche Bread instead of Sourdough.
The Grilled Vegetable Sandwich was dropped in favor of a Vegetarian Falafel.
The Chicken Caesar Salad's price increased $0.50 to $13.49.
And, finally, the price of the infamous Kitchen Sink sundae has increased $2.00 to $28.99.
For the most part, the menu was "tweaked" more than it was changed. If you can swallow the prices, I would highly recommend at least one visit to Beaches and Cream in your WDW guest "career". The soda shop atmosphere is quaint and entertaining, and the food tastes great! Especially the "No Way Jose" sundae! Yum!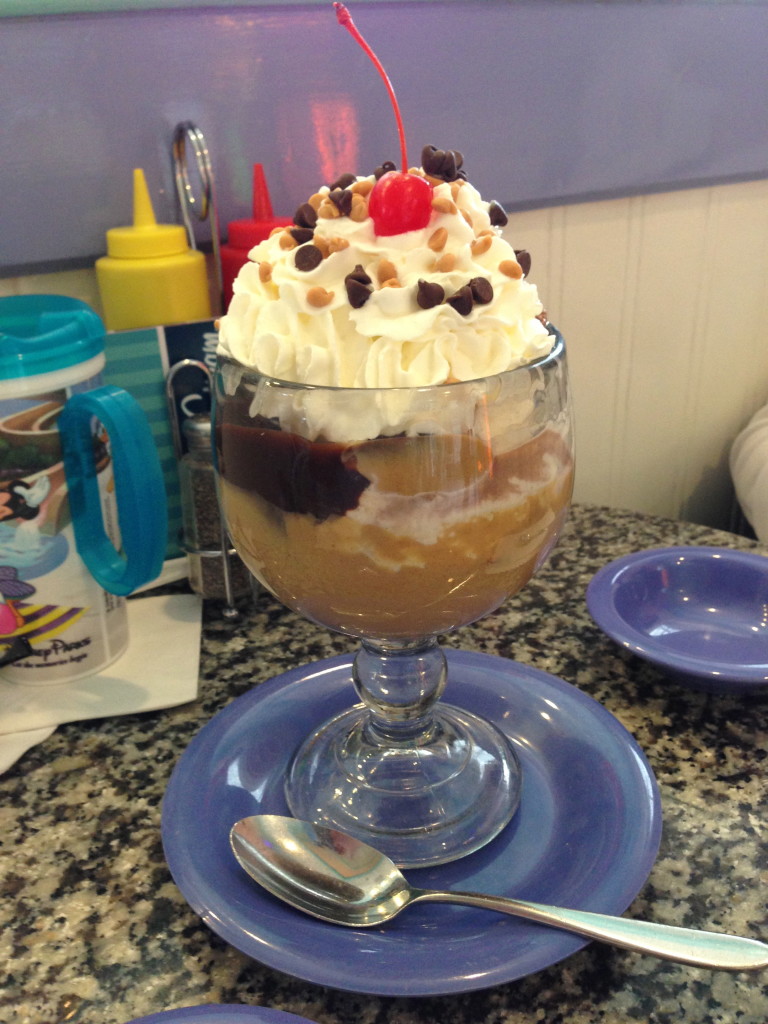 ---
Guest Author – Bob Sikon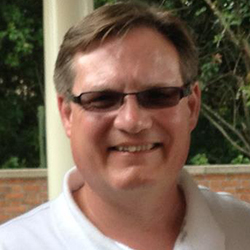 Bob Sikon is a Cast Member "Wanna-Be". He fell in love with Walt Disney World on his first visit to Mickey's Florida home in 1999, and it was all because of the Cast Members. In his words, "The way they take care of you, they make you want to be part of The Magic." Someday, his dream will come true, and he'll proudly wear a Cast Member name badge, but, for now, you can find him in Atlanta, GA, planning his next trip to "The World", and blogging about the place "Where Dreams Come True" at allinwdw.com.