Mealtimes are memorable entertainment experiences for guests of all ages aboard the Disney Magic. When the ship relaunches, a helping of fun served with a full course of magic is on the menu. Elaborately themed restaurants with distinctly Disney touches combine with world-class cuisine to please the palate and satisfy all the senses.
Here are some highlights of the dining delights in store for guests aboard the Disney Magic:
Dining with an dash of animation magic
New restaurants and new technology are on the menu for the restaurants aboard Disney Magic.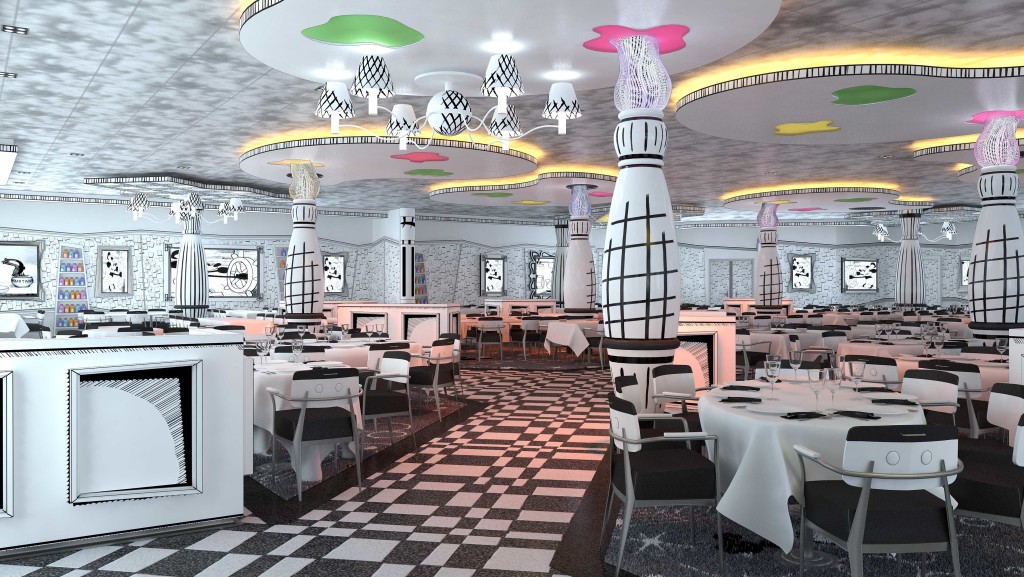 Animator's Palate, one of the most popular restaurants on the Disney ships, is updated with all-new, animation-adorned walls and larger high-definition flat-screens to provide the best views of the animation magic that takes place all around.  New furnishings all around the interior of the restaurant, including custom-built Mickey Mouse chairs, provide a fun feast for the eyes, while the delectables and dishes provide a feast for the palate.
A heaping helping of entertainment is served up during the brand-new "Drawn to Magic" experience at Animator's Palate. Throughout this deliciously fresh take on Disney Cruise Line's much beloved classic dinner celebration, the restaurant's black and white "blank canvas" explodes into full color as favorite Disney and Disney-Pixar characters, such as Rapunzel from "Tangled" and Remy from "Ratatouille," come to life right before guests' eyes. The show culminates with the wait staff in a colorful, lively parade around the transformed restaurant.
From sketch to reality, "Drawn to Magic" is an innovative, memorable, and musical animation celebration being introduced on the Disney Magic.
On every Disney Magic cruise, guests will have an opportunity to experience the tremendously popular "Animation Magic" dinner show that celebrates the magic of Disney animation and allows families to create and participate in an innovative new way. First unveiled on the Disney Fantasy, "Animation Magic" invites guests to create their own hand-drawn characters that magically spring to life, become fully animated and join the show onscreen.
As guests are seated at their tables for dinner, they are invited to draw a character of their own using a simple template on their placemat. Then, just before dinner, house lights dim and a sprinkling of pixie dust illuminates the room.
On large monitors around the room, Sorcerer Mickey Mouse begins the show, inviting guests to enjoy a taste of animation as a montage of memorable food-themed moments from Disney and Disney•Pixar films is shown, set to the tune "Be Our Guest." After the number is complete, guests' drawings are whisked away.
After dinner, Mickey returns for the exciting finale. With a musical crescendo, he works his magic and conjures the guests' drawings – now fully animated and brought to life – into the onscreen action.
A parade starts as Mickey leads the guests' drawings in a march across the screens around the dining room. The animation becomes more elaborate as the drawings step into scenes from beloved Disney movies, skipping and dancing side-by-side with characters such as Mickey Mouse, Jiminy Cricket, Cinderella and Snow White.
At the conclusion of the show, credits roll on screen showing each guest's name listed as a guest animator. To commemorate the experience, guests' drawings are returned to them … with an added touch: a golden seal proclaiming them an Official Disney Animator.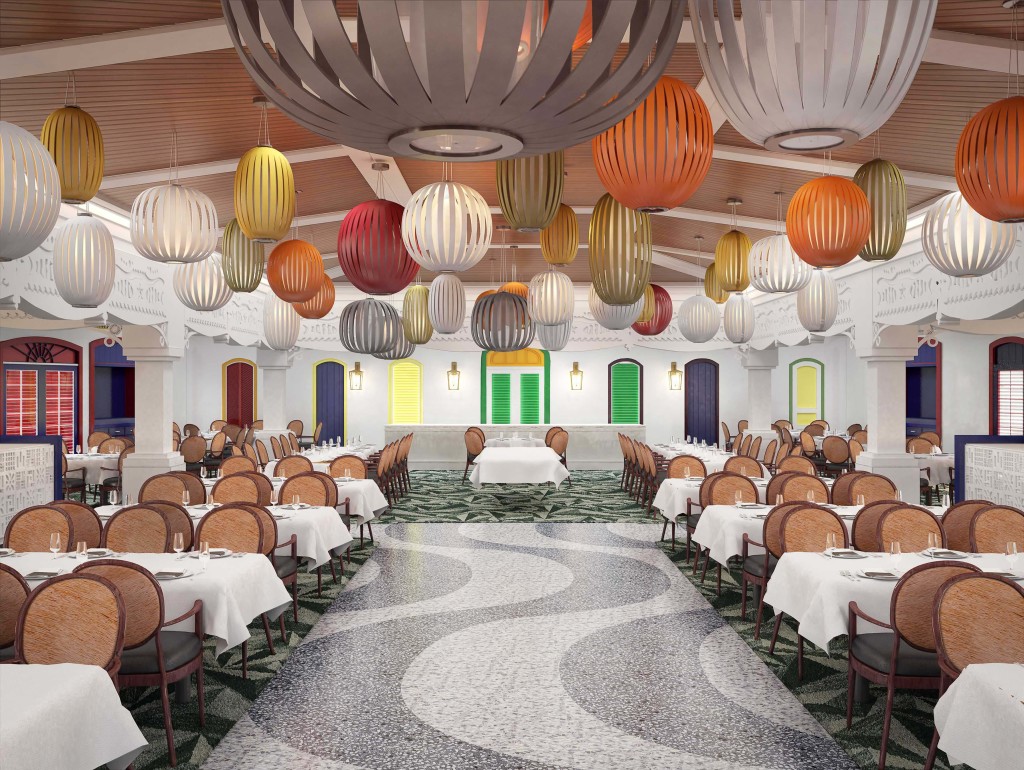 More family dining, from elegant to casual
The vibrancy of Rio de Janeiro creates an energetic atmosphere in Carioca's, a new restaurant named after Donald Duck's parrot pal in "The Three Caballeros," Jose Carioca.  Festooned with lighted lanterns, the restaurant is designed to be "fun by day, elegant by night," says Lanzisero.
During the day, buffet meals feature a festival theme before night falls and the atmosphere transforms into an after-hours scene of Rio de Janiero, with city-side windows softly illuminated and lanterns flickering overhead.  A scenery scrim is drawn to conceal the buffet and kitchen areas for dinner service, providing a more elegant dining locale. Carioca's replaces Parrot Cay restaurant, currently on the Disney Magic.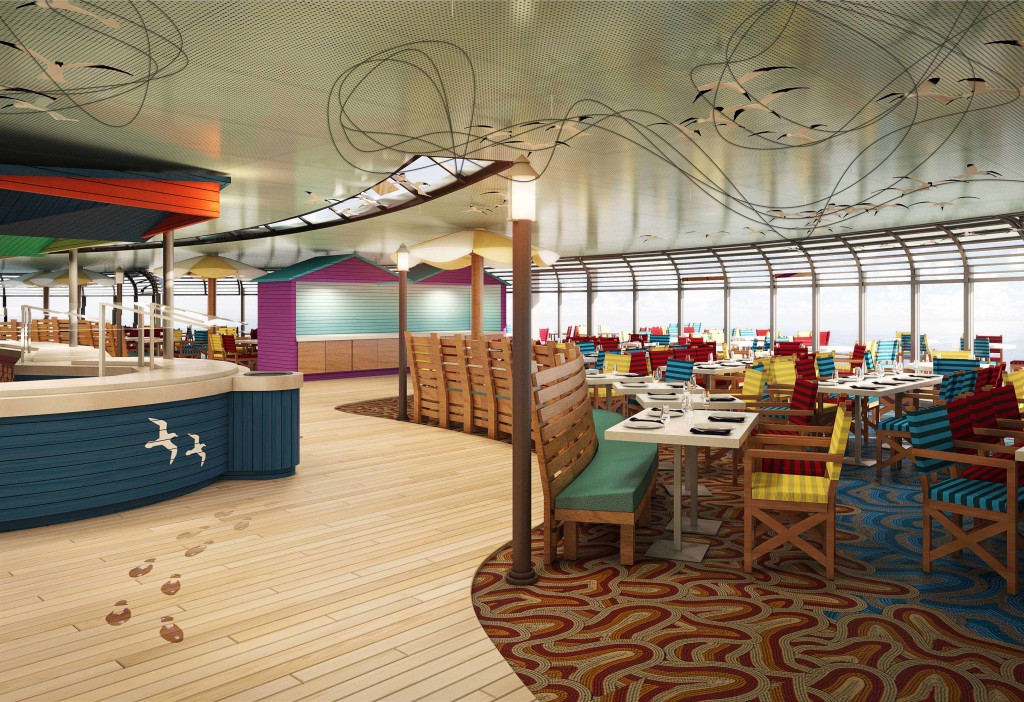 Another new restaurant to the Disney Magic is Cabanas, a casual dining experience with food and beverage stations during daytime hours and a table-service restaurant during dinner.  Drawing inspiration from Australian influences with uniquely Disney touches, Cabanas offers indoor and outdoor dining.  The Australian setting of the Disney-Pixar animated classic "Finding Nemo" inspires the décor and guests can find hints of the film's fishy and feathered friends throughout the restaurant.  The beach-themed dining room, colorful surfboards, beach umbrellas and teak Adirondack chairs create a sunny "down under" setting for guests.
Cabanas (which replaces the current Topsider Buffet) also is expanding. Imagineers have added more indoor area to the popular restaurant and increased the total square-footage of air-conditioned space by nearly 3,400 square feet to more than 9,460 square feet. After dry dock, seating increases from 249 to 343 indoor seats and from 132 to 112 outdoor seats.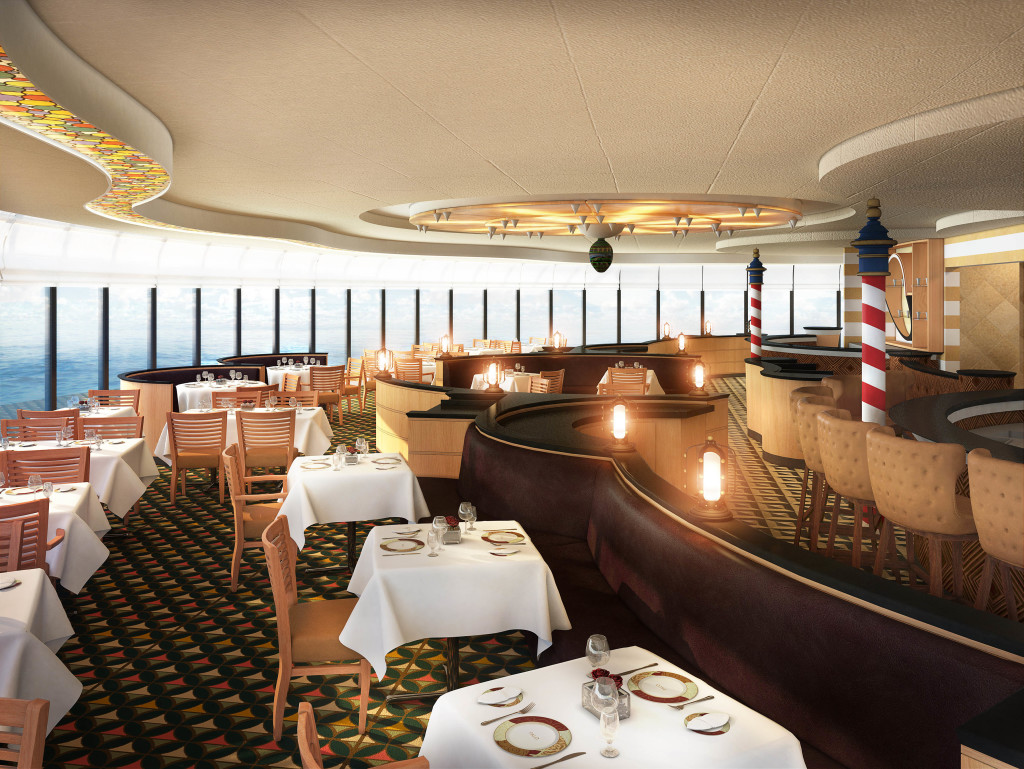 Palo specialty restaurant for adults
Disney Cruise Line's popular Palo restaurant receives a makeover with stylish wood fixtures, glass artwork panels, new stone floors, decorative lighting and hand-tufted carpet. Red and white striped poles reminiscent of those found throughout the canals in Venice are a design feature. A rich interior color palette – inspired by Venetian artwork – complements gourmet dishes that please guests' palates.
While the look of Palo is enhanced, the world-renowned Northern Italian cuisine and elegant dining experience has not changed.  Open to guests 18-and-above and available to book as much as 120 days in advance, Palo serves dinner and brunch.