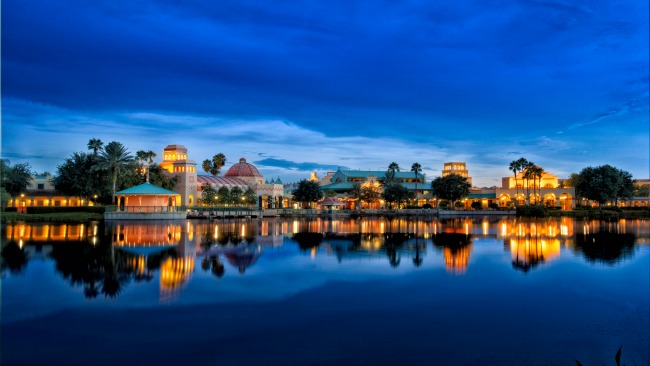 Relive the romance of Spanish Colonial Mexico at this enchanting Resort hotel. Find your mythical city of gold in a Southwestern-themed haven—from brightly colored casitas to rustic ranchos. Each unique accommodation provides its own unforgettable escape… and a welcoming home away from home.
Recreation:
The Dig Site at Disney's Coronado Springs Resort is a sprawling pool complex with plenty to do for all ages. It features the largest hot tub at Walt Disney World, seasonal pool activities, a volleyball court, the Iguana Arcade, a kiddie pool, and Siesta's pool bar. Not to mention the Lost City of Cibola Pool that has a 123-foot-long waterslide and is centered around a 50-foot pyramid.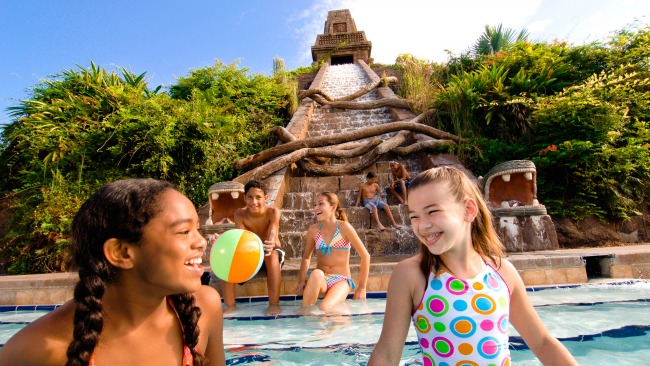 There are also three leisure pools located at each settlement – the Casitas, Ranchos, and Cabanas where you can enjoy a tranquil pool day.
Campfires and movies under the stars poolside are a great way to spend some quality family time after a day at the parks. There are bike rentals available as well as a jogging trail, a playground for little ones, and the Iguana Arcade has video games, air hockey, and more.
Dining:
There are three quick-service restaurants at Disney's Coronado Springs Resort: Cafe Rix, Pepper Market, and Siesta's Cantina. Cafe Rix and Pepper Market are open early in the morning through the late night where you can grab pastries, fruit, salads, traditional Mexican fare, and much more! Siesta's Cantina has all the snacks and drinks you'll want to enjoy poolside.
Las Ventanas is open for breakfast, lunch, and dinner serving classic American food such as mahi mahi sandwiches, their signature crab cakes, and slow-roasted prime rib for dinner.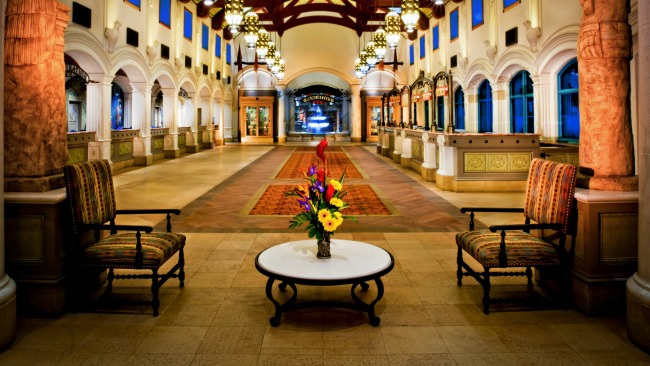 You won't want to miss Maya Grill where there's something savory or sweet for every palate. This restaurant is only open for dinner and serves traditional Mexican and American creations. Finish your dinner off with their coconut flan, mango sorbet, or a sampling of their dessert shots.
Both the Laguna Bar and Rix Lounge serve specialty cocktails until the late evening. Laguna Bar is a breezy lakeside spot, while the Rix Lounge offers a more upscale, vibrant nightlife atmosphere.
Transportation:
Disney's complimentary bus system is available to take you from the resort to all the theme parks, water parks, and Disney Springs.
This resort is a wonderful escape to Spanish Colonial Mexico – Disney style. For more information about this resort and booking your next Disney vacation, visit us online today! We are you concierge to the magic and much more!