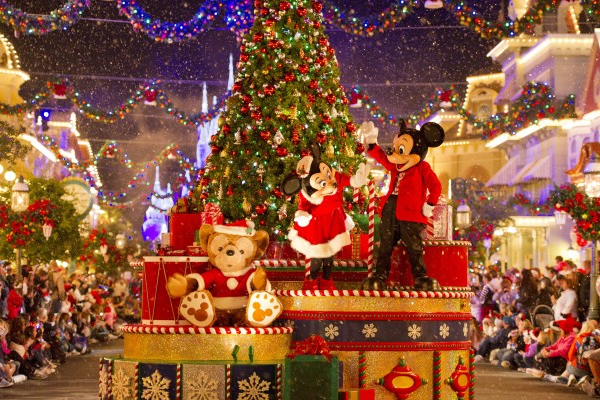 There is nothing like Walt Disney World at Christmas time.  No matter where you turn, you are immersed in the wonders of the Holidays. I thought I would share seven of my top "Must Do's" when I visit during the Holiday season.  I look forward to doing each of these things among the many other attractions, and fun Disney has to offer.  Get ready to imagine yourself at Disney during the holidays!
1.  Take an true adventure in the evenings to Fort Wilderness Campgrounds.  There is nothing like it!  Decorations galore – not just by Disney but many of  the campers participate!  December is the perfect month to experience it all.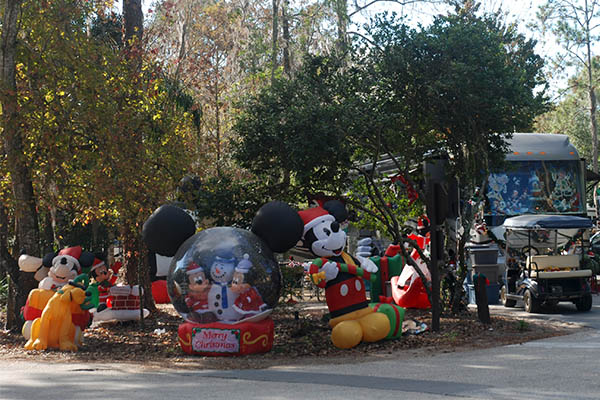 You can plan this time out as some of the activities need reservations.  Start off by scheduling dinner at Trails End, then schedule a Holiday Sleigh Ride!  Yes – I said Sleigh Ride.    You can of course choose to walk through the campground, but riding is a lot of fun too.  Sleigh rides are typically 25 minutes and run about $60.00.  Your Travel Planner can help you make the reservations.  You won't be disappointed!
2.  Take a Holiday Deluxe Resort tour.  This is something I really enjoy once the decorations go up and are completed around Thanksgiving.  Each resort has a unique decorated theme and one more wonderful than the next.  I usually break this up into two days, but you can do it in one day.    I explore the Magic Kingdom Resorts the day I plan to go to the Magic Kingdom and then do the Boardwalk Resorts the day I am at Epcot.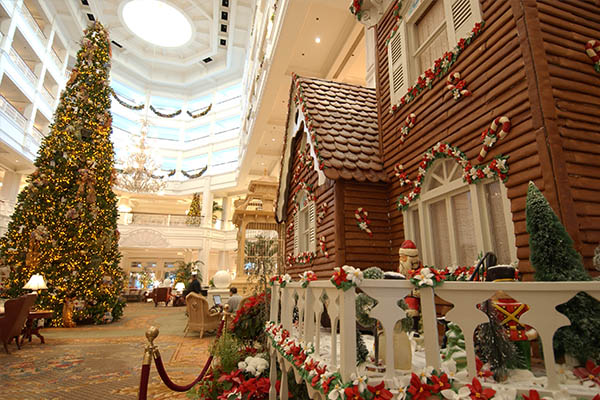 For the Magic Kingdom – I start by taking the boat from the Magic Kingdom to the Wilderness Lodge.  After the Wilderness Lodge I take the boat to the Contemporary and then make my way around the monorail.  The last stop is The Grand Floridian – where the smell of the life size Gingerbread house engulfs the entire resort grand lobby.  You have to buy a little gingerbread!
Don't miss the Animal Kingdom Lodge.  It is a stop all of it's own, but worth seeing.   If you want to complete your tour in one day – you can hop back on the monorail and change at Ticket Transportation to the Epcot Monorail.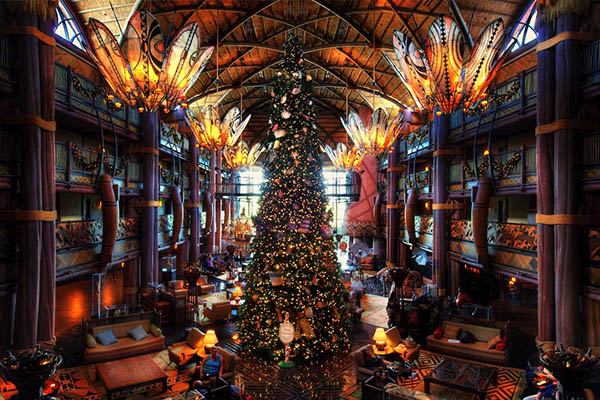 Once at Epcot walk toward the back entrance between the United Kingdom and France and take a stroll to the Boardwalk Resort.  Stop by the bakery for a little treat.  Then visit the Beach Club and the Yacht Club.  A fantastic way to end my tour is to attend the Candlelight Processional at Disney's Epcot.  It gives me goose bumps every time I attend. 
3.  Enjoy the Epcot Storytellers!  This is a treat for the whole family to experience.  Each country will share their legends with Storytellers.  They perform several times a day and begin in early November and end around the 29th of December.  Even Santa and Mrs. Claus make their appearance in the American Adventure!  Make a photo journal  or have the children commentary a video with your family to remember some of these great stories.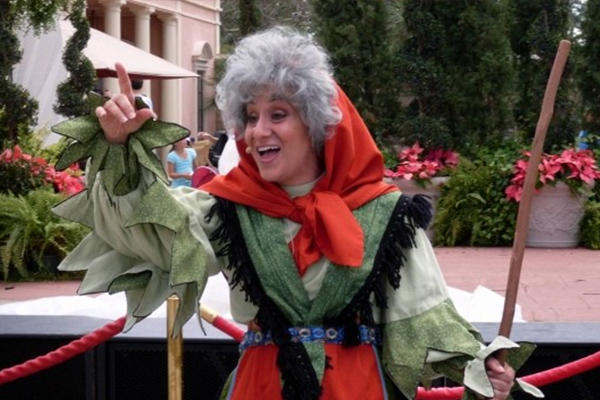 4.  Joyful!  The Gospel Celebration of the Season at Epcot.  We often just stumble upon such great shows at Disney – this is one not to be missed.  Located just pass the Fountain of Nations as you head toward World Showcase a blast of wonderful holiday music will really get you in the mood!  Sing and Dance along!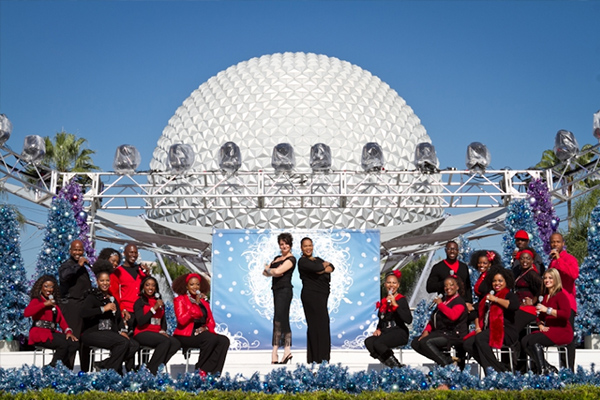 5.  Osborne Family Spectacle of Dancing Lights at Disney's Hollywood Studios.  Now I don't mean just going to see it – I mean being there when they are turned on at dusk.  If you are one of the lucky ones you can be chosen to flip the switch!  There is no light display that can match this one and you can experience it!  If you have some 3-D glasses at home, put them in your suitcase and take them on the night you do this activity – Osborne Lights in 3-D – very cool too!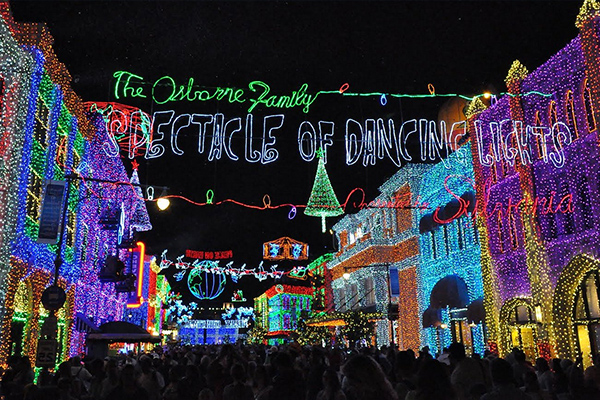 6.  The Cinderella Castle Lighting — another truly Magical Moment at the Walt Disney World Resort.  At 6:30 Each evening you can be amazed when the Castle Lighting takes place.  You have always thought the Castle looks beautiful, but when Fairy Godmother works her magic you will have never guessed what she could make happen!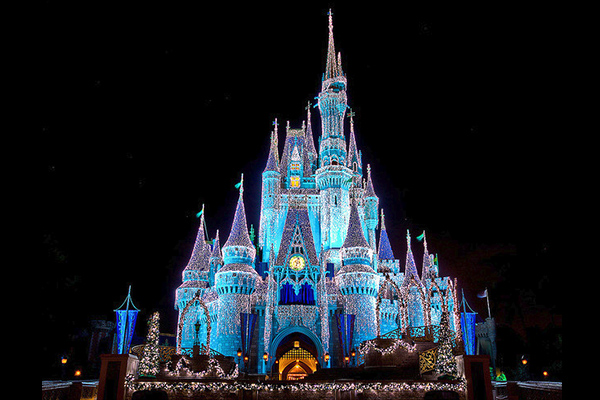 7.  Mickey's Very Merry Christmas Party  — is one of the more well known events at the Magic Kingdom and is a personal favorite of mine.  Snuggle up in your Mickey Santa Hat, scarf and some gloves and head out for a Magical Celebration of the season.  Snow on main street, Mickey's Once Upon a Christmastime Holiday parade, hot chocolate and cookies and so much more!  Just seeing the characters dressed in their Holiday best warms the heart.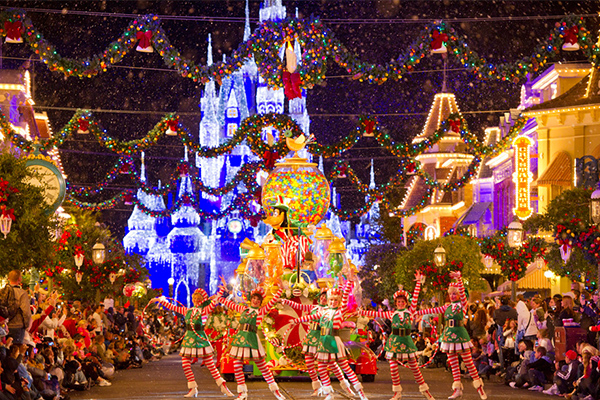 ---
Guest Author – Laura Schiely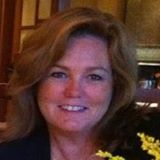 I am a Certified Travel Agent specializing in Disney Destinations including Adventures by Disney, Disney Cruise , Disneyland and Disney World. I also specialize in Universal Orlando, Princess Cruise Line, Royal Caribbean Cruises, Sandals and Beaches.  As a Travel Planner, I work with my clients to develop a memorable vacation from the point of selecting a vacation destination, to planning the details and follow up when they arrive home. As a home based agent, I have the opportunity to be available for them when they need me. I value my clients time, budget and experience and treat each vacation as if it were my own.  Contact me HERE.