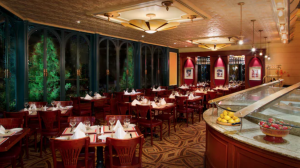 On my recent Walt Disney World Vacation my family and I dined at Chefs De France, one of the restaurants in the France Pavilion at Epcot's World Showcase. It had been years since I last dined at this table-service restaurant so I was very excited to experience it again! We choose to make this dining reservation at the last minute, we were in Epcot with a free agenda and wanted to dine somewhere exciting! We were thrilled to see the Chefs De France reservation pop up as available for that evening on the My Disney Experience app!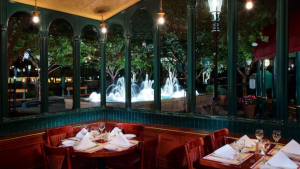 We headed to the France Pavilion and were soon escorted to our table. We were so happy to get seated in the front dining room facing the World Showcase Lagoon, as Epcot's nighttime spectacular IllmiNations – Reflection of Earth was about to begin! Tall panoramic glass windows stretch around the entire perimeter of the restaurant, offering incredible views of the France Pavilion as well as Epcot's World Showcase. Our location in the restaurant made for the perfect spot to watch the fireworks and lasers of IllmiNations! Due to this first-floor restaurant being slightly elevated we actually had one of the best views of the show I had ever seen! We could see all the fireworks including the lower ones right on the water!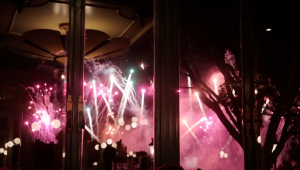 In addition to the breathtaking views, the restaurants overall ambiance is also gorgeous! The classic French design and décor creates an elegant and romantic atmosphere! This is a very good date night restaurant! You will feel truly immersed in the French culture making this meal a true experience!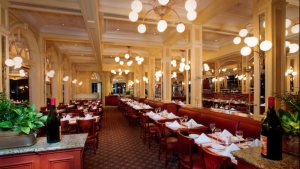 Now let's talk about the food! The menu offers traditional French Fare while still being approachable. Everyone in your party is sure to find something they will enjoy, from the pickiest eater to the most adventure food connoisseur! There is something for everyone!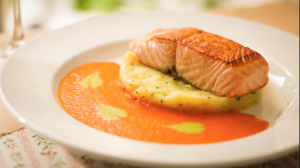 Chefs De France's menu offers a wide selection of appetizers, entrees and desserts that can all be ordered a la carte. Additionally, the restaurant also offers a prix fixe menu which allows you to choose an appetizer, entrée and dessert all for one fixed price of $39.99. My party and I all choose to do the prix fixe option as we found this to be an incredible value for everything you got!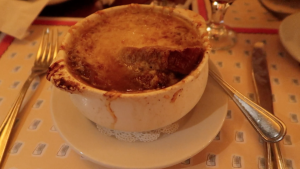 For my appetizer, I went with a French classic, the Soupe à Poignon Gratinée. A.K.A French Onion Soup! This soup was topped with delicious gruyère cheese. It was a winner and a very large portion size for being an appetizer!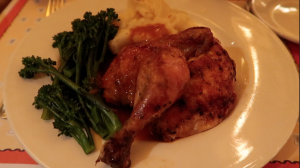 For my entrée, I went for the Poulet fermier à la Layonnaise, pomme purée – which was Lyon style roasted chicken served with tomatoes and vinegar sauce, mashed potatoes. The chicken was so tender! It melted it my mouth! Very delicious and once again, a very generous portion size!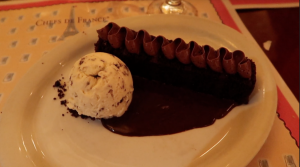 Now for everyone's favorite part… dessert! I chose the gateau au chocolat –a Chocolate Layer Cake with Chocolate Mousse, Chocolate Sauce, and Mint Chocolate Ice Cream! This was SPECTACULAR! The chocolate cake was rich and decadent! The mint flavor from the mint chocolate ice cream enhanced the dish without being too overpowering. I loved everything about this dessert and would order it again in a heartbeat!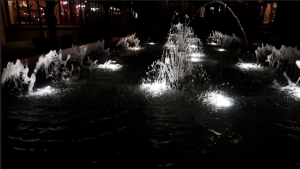 After our meal, Epcot was actually closed for the night so we got to experience an empty park as we made our way out and back to the monorail. We got to enjoy a leisurely stroll and take in the sights of the World Showcase pavilions and Future World all with no crowds! This allowed us to really take in all the details and beauty that Epcot has to offer! This is also the perfect time to take some amazing photos with no one else in the background!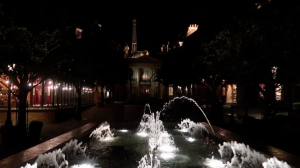 I filmed my experience dining at Chefs De France. You can watch it on our YouTube Channel:
I look forward to my next dining experience at Chefs De France and trying other items from their delicious menu! Be sure to check this restaurant out on your next Walt Disney World Vacation! As always, our knowledgeable team at Kingdom Magic Vacation is ready to help you plan the trip you are dreaming of!