Building on the global phenomenon that is The Wizarding World of Harry Potter, Universal Orlando Resort and Warner Bros. Entertainment today announced an expansion of historic proportion with the entirely new themed environment, The Wizarding World of Harry Potter – Diagon Alley.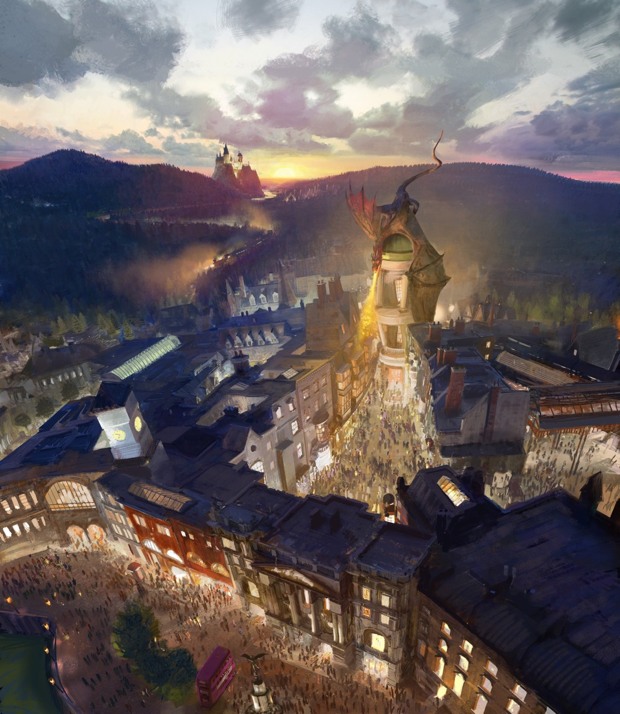 Scheduled to open in 2014, the world"s first centrally themed, multi-park experience expands The Wizarding World of Harry Potter across both Universal Orlando theme parks and allows Universal"s creative team to bring an unparalleled vision to this unique project. The new area will bring to life some of the experiences and places found in and around London in the Harry Potter books and films, offering brand-new adventures for fans and theme park guests from around the world.
Diagon Alley and "London" will be located within the Universal Studios Florida theme park, which is adjacent to Universal"s Islands of Adventure theme park, where guests now experience Hogwarts and Hogsmeade. The new area within Universal Studios will be just as expansive, immersible and authentic as the existing themed environment.  And – just like in the books and films – guests will be able to travel between "London" and Hogsmeade aboard the Hogwarts Express.
Work on the new area is already underway. When complete, it will feature shops, a restaurant and an innovative, marquee attraction based on Gringotts bank – all directly inspired by the fiction and films.
More details on The Wizarding World of Harry Potter – Diagon Alley will be released over time