You read that right!  We want to hear from our Kingdom Magic Runners Community on Facebook!  We believe there's nothing more motivating than hearing the stories from your fellow runners.  For awhile now Donna and I have been sharing some of our stories with you through the Kingdom Magic Vacations Blog.  We love writing for you and will continue to do so, but we invite you to join us.
Share with us your triumphs, learning experiences, your equipment reviews etc.  Tell us why YOU started running!  Why is it important to you?  Donna and I will be reviewing races as we run them, but we'd love to get your take on things.  We've established some guidelines & ideas to help you out, but feel free to contact us if you have any questions.  Submissions can be sent to:
Donna, Donna@KingdomMagic.com
or
Carrie, Carrie@KingdomMagic.com
Guest Blogger Guidelines
Share your insights on the Kingdom Magic Vacations Blog. Our editorial team is always delighted to consider guest posts. Send us an email with a brief pitch.
Hot topics: running, running tips, running destinations, running at Disney, Universal or other theme parks, race reviews, running apparel and equipment reviews, bucket list running, stories on how you became involved in running, what it means to you etc. and more.
Browse our website and blog to familiarize yourself with our content.  Kingdom Magic Vacations Blog's guest bloggers gear their content to our predominantly North American audience families seeking incredible vacation experiences. They appreciate our positive perspective and passion for what we do.
Guidelines:
Word count 400-800 words
All submissions will be edited for correct grammar before publication. We may also break up long blocks of text to increase readability.
Keep titles short and simple, preferably no more than eight words.
Content is geared to the Kingdom Magic Vacations audience and is unique, meaning it is not posted on or committed to a media outlet or syndication service
A balanced viewpoint that doesn't singularly promote a specific company or service
We prefer posts that include resources to learn more and stimulate follow-on discussion by posing a question, etc.
We welcome image submissions with your blog, as long as you have the rights to the image and provide a brief caption and photo credit.
Please include a short bio (2-3 sentences). Include your twitter handle and other social media info, and a quality photo
Please submit draft in Microsoft Word to our Editorial Team
We strive to complete the review process within 48-72 hours of receiving a submission. If needed, feedback will be provided for a revision. Please understand we can't guarantee publication until the review board reviews and accepts a final draft.  We also respectfully ask that the content you submit is not submitted or published on any other website.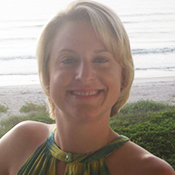 I am your friendly Travel Professional with Kingdom Magic Vacations and a runner as well.  My first RunDisney Race was in 2010, the Wine & Dine Half Marathon Relay…and since then I've been hooked on Disney races and others.  Some of my favorites are the Wine & Dine Half Marathon, the Turtle Krawl 5K and the USA Beach Running Championships.  If you're a runner and you need help with travel plans for a race, don't hesitate to contact me!  I'm here to help you and support your efforts!