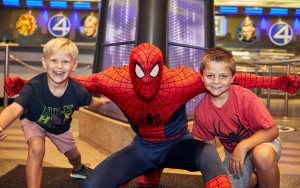 We all love super heroes! They are the definition of bravery and inspire us each and every day! Many of us have a special place in our hearts for these heroes, which is why you will be so excited to hear that you can actually dine with Marvel super heroes during the brand-new Marvel Character Dinner experience at Universal's Islands of Adventure at the Universal Orlando Resort! The Marvel Character Dinner is held inside Cafe 4. This experience allows you to meet several marvel characters as you enjoy your meal! It is the best way to guarantee you get to meet with all the characters you want during your vacation and you can enjoy the convenience of not having to wait in line! The characters come to you throughout your time in the restaurant!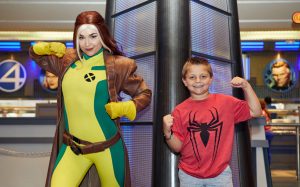 Here are a few tips to make the most of your experience at the Marvel Character Dinner!
Start taking it all in the moment you arrive!
As you head towards Cafe 4 from the entrance of Universal's Islands of Adventure, you are first greeted by the roar of The Incredible Hulk Coaster! The perfect sight to get you in the Marvel spirit! Throughout the Universal theme parks you can enjoy many Marvel attractions such as The Incredible Hulk Coaster and The Amazing Adventures of Spider-Man!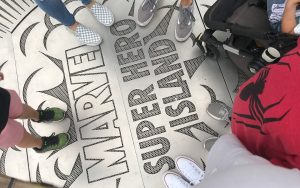 Get ready for your super hero welcome!
Make sure you pick up your tickets at the park entrance before you make your way to the main entrance of Cafe 4. Upon arrival, you and the other guests of the Marvel Character Dinner will have the restaurant all to yourselves. You will soon be greeted by some amazing and enthusiastic Universal Team Members who will be ready to help start your super hero-filled night! This dining experience offers a variety of seating times available for you to book. Make sure you reserve your dining early to guarantee you get the seating time that works best for you and your party.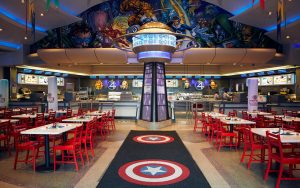 Get settled and prepare for some amazing food and awesome drinks! (Adults…you can even enjoy a "grown up" beverage!)
Your waiter will help you begin your super meal with a variety of great beverage choices! Your server will also guide you through an overview of the buffet offerings! From an assortment of pizzas, pastas and salads to giant meatballs, cupcakes, cookies and so much more, you will be sure to find something for everyone in your party! As always, the wonderful Universal culinary team is always ready to help with any special food requests that you and your family may have. The buffet is all you care to enjoy so you can help yourself to as many plates and trips through the buffet line as you like!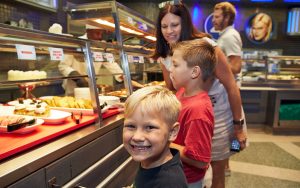 The BEST part! The Marvel Super Heroes!
You will be so amazed by the amount of meet-n-greet time you and your group will have with your favorite Marvel Super Heroes! This quality character time is worth the price of admission alone! The Marvel Super heroes don't just stop by to pose for a quick picture, they truly take their time to stop and chat and laugh with you and your party! You are sure to be best friends with all the heroes by the end of the meal! Remember to bring your autograph books and any merchandise you would like the Marvel super heroes to sign for you! Make sure your camera and phone batteries are fully charged so you can capture every amazing moment with the characters! These interactions are truly memorable and something you will want to look back on! You can also plan to take advantage of 'My Universal Photos.' With this service, Universal Orlando's professional photographers capture all the fun of your super hero encounters for you! Later, you can view, purchase, download and share these high-quality memories! Included with your Marvel Character Dinner, you will receive one free digital photo download!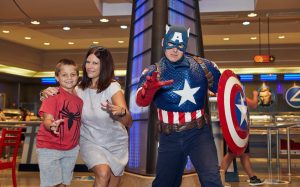 Take a ride!
The fun doesn't stop once your meal is over! After your dinner is the perfect time to hit up your favorite Marvel attractions like, The Amazing Adventures of Spider-Man ride! Depending on what time your meal ends, the rides may be closed. However, you can still always end your fun-filled evening by taking some last-minute photos in Marvel Super Hero Island!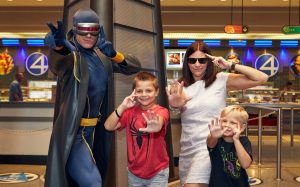 You are sure to have a SUPER time at the Marvel Character Dinner! This is an incredible way to meet the most characters possible all while enjoying a great meal! Contact your Kingdom Magic Vacation Travel Planner to start planning your next visit to the Universal Orlando Resort or to whatever destination you are dreaming of next!