In 2013 and 2014, Disney Cruise Line® will offer new Alaskan itineraries departing from Vancouver. Disney Wonder® will sail 7-night cruises from Vancouver to Tracy Arm, Skagway, Juneau and Ketchikan, Alaska. In 2014 Disney Cruise Line will introduce one special 9-night cruise which will visit Sitka, Alaska – a first for Disney Cruise Line.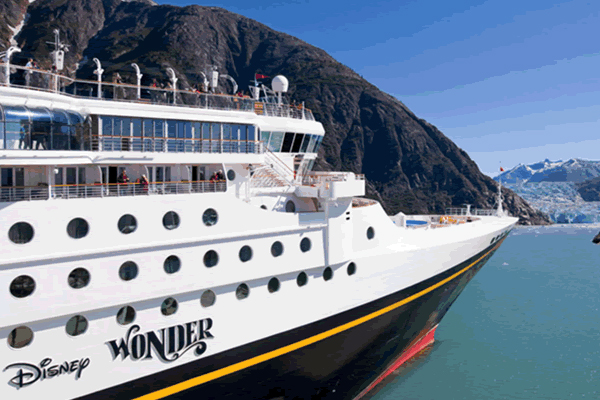 These departures are from May 22 – Sept. 2, 2013 and May 24 – Sept. 1, 2014
The excitement begins when you board the ship to find that all of your needs have been anticipated—and the fun continues as you travel from port to port. In each port, enticing adventures await you and your family—like whale watching, gold mining, dog sledding and more.
Discover all the rugged grandeur and unspoiled frontier of Alaska, renowned for its:
Historic mining and fishing towns
Fascinating Native American culture
Fjords, waterfalls, glaciers and other natural wonders
Majestic wildlife, like bears, elk and humpback whales
And that's just the beginning. During Alaskan cruises, a world of wonder is yours to explore. With all that—combined with the exemplary customer service, magical experiences and unrivaled entertainment that is unique to Disney Cruise Line—you can look forward to the vacation of a lifetime.
Important Information
You will be too far south to see the aurora borealis—or northern lights—during your cruise, but you can still anticipate beautiful scenery as you travel through Alaska.
The Pixar Party takes place in the ship's atrium.
There are no fireworks on Alaska sailings.
The average summer temperatures in Alaska typically range from a high of 62 F° to an average low of 45 F°, so be sure to pack accordingly. For tips on packing for your Alaska cruise, please explore our frequently asked questions.
As a special Thank You to our valued clients enjoy some extra special magic for your Disney Cruise. We'll give you an onboard credit of up to $1000 per stateroom! 
If you want to know more or book your own Alaskan adventure, CLICK HERE.