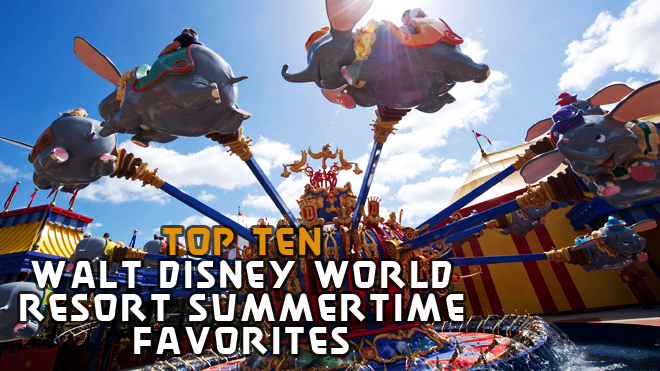 It's Summertime and that means we need to countdown all the great things to to this Summer at Walt Disney World Resort!  Drum roll please…
10 –Walt Disney World Resort will be kicking off Monstrous Summer with an all-nighter at Magic Kingdom Park. On May 24 and help Disney charge up with scream energy to power Magic Kingdom Park for an entire 24 hours!
 9 -If all-nighters aren't your thing, don't worry. A lot of the Monsters University students will be setting up shop around Disney's Hollywood Studios to meet their biggest fans all summer long.
 8 -Amid all this monstrous excitement, look for the "Monsterail" as it zips around in scare-riffic style. Text your favorite joke and see if it gets into the show at the Monsters, Inc. Laugh Floor at Magic Kingdom Park. And make a note to see Disney•Pixar "Monsters University," premiering June 21 at the AMC Downtown Disney 24 Theatres at Downtown Disney West Side!
 7 -Get ready to take a swim without setting foot in the water! Visit New Fantasyland at Magic Kingdom Park and check out Under the Sea ~ Journey of the Little Mermaid. You'll be delighted with a lineup of familiar characters and favorite nautical songs.
 6 – Since you're already in Magic Kingdom Park, make sure to track down a secret frosty treat, the Dole Whip! Dating back to when Walt first opened Disneyland park, the Dole Whip is an elusive pineapple-flavored ice cream concoction that you can only find in a few locations worldwide!
 5 – Sometimes summer weather is best served inside a relaxing (and not to mention air-conditioned) lounge. Soothe away your stresses with one of the many spa treatments at Senses Spa at Disney's Grand Floridian Resort to conquer the dog days of summer.
 4 – With the kids' summer break looming, a night out at Splitsville Luxury Lanes at Downtown Disney is the perfect escape. Roll your way through a few frames and some fresh sushi in this beautifully styled restaurant, lounge and bowling alley.
 3 – What fun would summer be without a trip to Disney's Blizzard Beach Water Park? Enjoy steep drops and adventurous water rides. Sometimes a lazy river can't match the huge thrill of a plunge down Summit Plummet!
 2 – Make some time in your schedule for a lap around Test Track Presented by Chevrolet at Epcot. You'll cool off with speeds up to 65 mph and the gusts that come with them as you tear through the newly re-imagined track.
And our Number 1 Walt Disney World Resort Summertime Favorites…
 1 – The perfect way to end a perfect summer day is with a perfect summer night! Visit one of our nighttime fireworks spectaculars that you'll find in Magic Kingdom Park and Epcot.
That's our list…what would YOUR Top Ten be for a MONSTER-ous Summer at Walt Disney World?