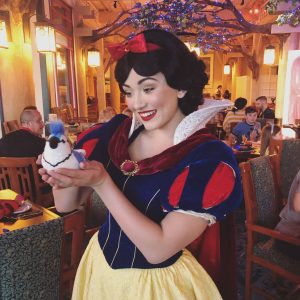 There is now a new character dining experience to be found at the Walt Disney World Resort! Many Disney fans are filled with joy about this brand-new character meal addition! Character Dining is a staple experience at the Disney Parks! During a character meal, you get to meet your favorite Disney characters all while you enjoy the culinary offerings that Disney is known for! A character meal provides a unique and very exclusive way to meet the Disney characters. You get to skip the long lines and wait times that are typical for some of Disney's most popular meet and greets, plus – you get more quality time to spend interacting with the characters in a much more laid-back setting! Booking a character meal gives you a guarantee that you will meet those characters during your vacation!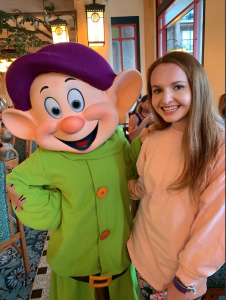 For these reasons, Character Dining is a very sought after experience at Disney World! Character Dining reservations get filled up very quickly, that is why fans are rejoicing over the fact that another character meal experience has been added to Disney World's Character Dining line-up! This new character meal can be found over at Disney's Wilderness Lodge Resort. Artist Point has received a new whimsical overlay and been transformed into Storybook Dining at Artist Point. Storybook dining features characters from Disney's Snow White and the Seven Dwarfs!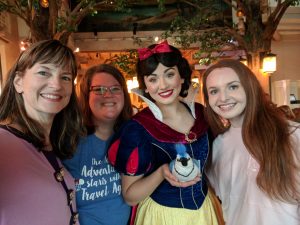 On my most recent Disney World visit I met up with two of our amazing Kingdom Magic Vacations Travel Planners, Alyssa and Karen and we went to check out everything that Storybook Dining had to offer!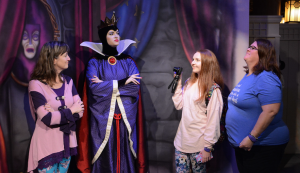 This Dining experience is only one table service credit if you are on a Disney Dining Plan making it an incredible value for everything that you get and the interactions you get to have with the characters! If you are paying for the meal outright, it is a set price of $55 for adults and $33 for children ages 3-9 (tax and gratuity not included).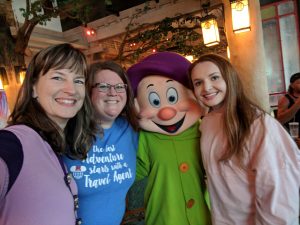 We checked in for our reservation at Artist Point and were soon escorted into the Enchanted Forest! The attention to detail in this restaurant is incredible! Beautifully lighted tree branches cascade down from the ceiling making you truly feel like you are in a fairytale world!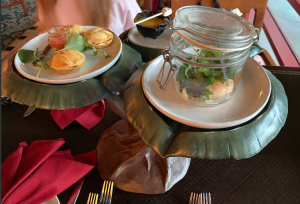 Let's talk about the food! I have been to several other character dining experiences at Disney and this meal by far was my favorite for food quality and selections! Artist Point is known to be a signature dining location and that definitely shows in the menu offerings put together for Storybook Dining! You will first enjoy a selection of creative appetizers! These appetizers are all served family style to your table. Each person gets their own perfectly plated portion! Here is a list of the appetizers your will receive:
Hunter's Pie – with chicken, black truffle, and stone fruit preserve
Winter Squash Bisque – with caramel loli and granola served in a black cauldron
Wicked Shrimp Cocktail – with soy, miso, avocado, thai chili, and greens
My personal favorite was the Hunters Pie!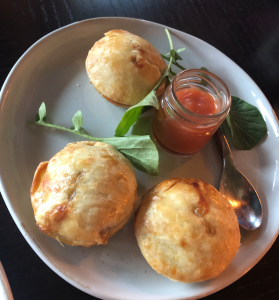 Kids have their own special selection of appetizers that they will love! Our waiter was so kind to bring us over one of the children's appetizers so we could see what it included. This restaurant truly has something for everyone. Artist Point had every member of the family in mind when crafting this incredible menu!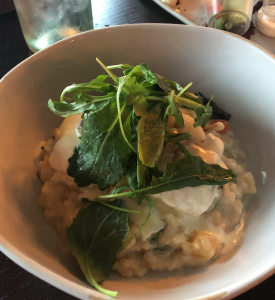 Now it is time to talk about the entrees! As part of your pre-fixe meal each guest gets to select one entrée. There is a very wide array of entrees offered here! Everyone in your party is sure to find something that they love! Here are the selection of entrees:
"Cottage" Seafood Stew – Shrimp, Bay Scallops, Mussels, Tomato, Fennel
A Stroll through Nature – Butternut Squash, Arugula, Gnocchi, Sage, Parmesan
Magic Mirror Slow-braised Veal Shank – Celery Root Mashed, Wilted Winter Greens, Jus
Royal Prime Rib Roast -Horseradish Mashed Potato, Hay-smoked Carrots, Popover, Jus
Brother's Grimm Roasted Chicken – Confit Potatoes, Roasted Brussels Sprouts, Apples, and Chestnut Butter
Bashful's Butter-poached Snapper – Root Vegetable Risotto, Wild Mushroom, Citrus-Butter Sauce
I ordered the snapper based off of our waiter's recommendation and I LOVED this meal! The fish was fresh and that citrus-butter sauce made this dish in my opinion! I really enjoyed this meal! Alyssa and Karen both also enjoyed their entrees! We cannot rave enough about how fantastic the food is at this restaurant!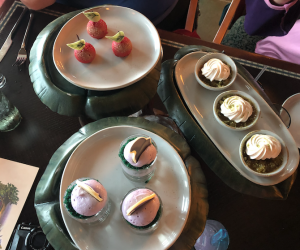 Now for the best part… dessert! Just like with the appetizers the desserts are also served family style as part of your pre-fixe meal. This was another major highlight for me! Here's what you can look forward to:
The Miner's Treasure – sponge cake, chocolate gems, and buttercream icing
Fairy Tale Gooseberry Pie – with meringue.
"Poison" Apple – white chocolate apple mousse with a sour center.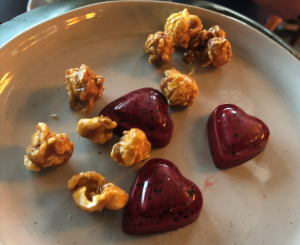 Soon after being presented with these three delicious goodies our waiter then presented us with, "The Hunter's Gift to the Queen" the presentation here is amazing! Have your camera ready because this box of treats comes out steaming with smoke! A very cool effect! Inside the box, you will find crackled maple popcorn and ganache hearts!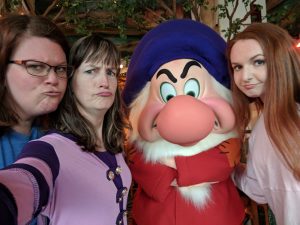 Now that you know about the incredible food to be enjoy here let's talk about the characters! During your meal, you will get to meet Snow White, Dopey, Grumpy and the Evil Queen. Snow White, Dopey and Grumpy all come around and visit every table. While the Evil Queen makes her grand arrival and then stays in her location in the center of the restaurant as an optional meet and greet that you can partake in after your meal. This is a great set up. This way children who may be scared of the evil queen will not have to see her unless they want to.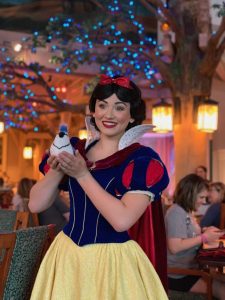 The character interactions that we had were wonderful! Each character truly took their time to interact with us and take lots of pictures. Intermittently throughout the meal music will begin to play and the characters will dance around the restaurant! It is very cute and so fun to watch!
If you would like to join us on our journey into the Enchanted Forest you can do so by watching our new YouTube Video!
Contact your Kingdom Magic Vacations Travel Planner today to book your next adventure!