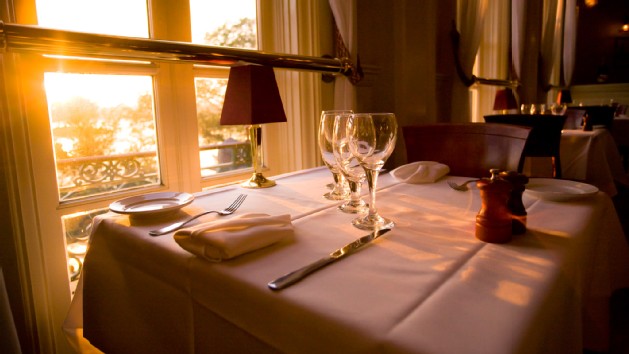 Make it an evening to remember at Monsieur Paul, a gourmet restaurant serving classic French cuisine.
Location: Epcot, World Showcase
Type: French Cuisine
Price: $$$ ($30 to $59.99 per adult)
Reservations: Yes
Gourmet Dining, Magical Surroundings
Delight in the culture and flavors of France that renowned chef Paul Bocuse has shared with the world for decades.
Formerly Bistro de Paris restaurant in Epcot, Monsieur Paul is recently refurbished and located just upstairs from Les Chefs de France, the other gourmet French restaurant in the France Pavilion.
Here, you'll discover a focused wine list, inventive twists on traditional French dinner and breathtaking views of World Showcase. This is the perfect place to celebrate a special occasion or simply savor delectable cuisine in a serene setting.
---
The Menu
The new menu is created by Chef Francisco Santin, who worked with Chef Bocuse in Lyon, France. Selections reflect the Bocuse tradition of French classical cuisine served with the freshest ingredients, at the perfect temperature and with just the right seasonings.
Menu items may include:
Black truffle soup, the dish that earned Chef Paul Bocuse the medal of Commandeur de la Legion d'Honneur in 1975 at the presidential dinner at the Elysee Palace
Lobster a l'Americaine
Herb-crusted rack of lamb
Mussel soup
Salad with braised leeks and dry-aged ham
Grand Marnier soufflé
Triple chocolate cake
Here, you'll enjoy the classic dishes and techniques of French cuisine—made with seasonal and local ingredients.
---
The Ambiance
Enjoy an elegant-yet-relaxed approach to French dining. The décor in this newly refurbished restaurant presents classic French architecture with bright colors and a touch of modern design. If a window-side table becomes available when you arrive, you'll enjoy a unique vantage of Epcot.
At Monsieur Paul, you can experience authentic French cuisine after a day at the park—without the need to change your attire.
---
The Bocuse Connection
Chef Bocuse first opened Les Chefs de France at Epcot in 1982—it was the first Bocuse-affiliated restaurant in America. His son, Jerome Bocuse, owns the company behind Monsieur Paul.
Named Best French Craftsman in 1961 and Chef of the Century in 2011 by the Culinary Institute of America, Chef Bocuse has achieved extraordinary culinary honors throughout his career. He achieved 3 Michelin stars for 48 straight years at his famous Lyon restaurant, Auberge du Pont de Collonges.
And at Monsieur Paul, you can enjoy the classic culinary stylings of Chef Bocuse amid all the magic of Epcot.