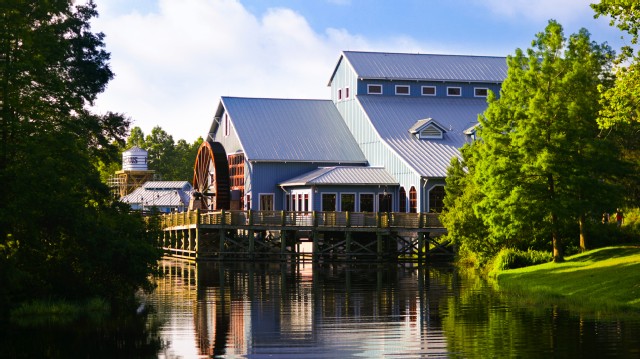 Discover a place where simple pleasures flourish and Southern hospitality abounds. From the stately white-column mansions of Magnolia Bend to the quaint backwoods cottages of Alligator Bayou, delight in this picturesque Resort hotel that evokes the romance and tranquility of the rural Louisiana Bayou.
Dining | Recreation | Amenities
What Makes This Resort Hotel Unique
Pool with Waterslide
Cross the bridge to a 3.5-acre hideaway with an old-fashioned swimmin' hole and a sawmill slide. Inspired by the story of Tom Sawyer, Ol' Man Island even features a catch-and-release fishing hole and stories told around an evening campfire. The nearby Muddy Rivers pool bar and a hot tub provide fun for grown folks.
---
Royal Guest Rooms
These fully refurbished rooms boast fun regal touches from Tiana and her prince and princess pals.
---
Boatwright's Dining Hall
Savor hearty, Southern-inspired dinner fare in a unique setting styled like a shipbuilding yard.