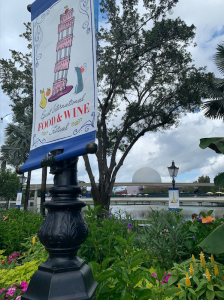 The Epcot International Food and Wine Festival is an event that I look forward to every year! Just like looking forward to a holiday or birthday, I love the excitement and anticipation that comes before getting to attend this great Epcot festival! I always enjoying getting to feast upon my favorite items that our returning from previous years. I also love the thrill of getting to expand my palate and try something brand new at the event!
This year's 2019 Epcot International Food and Wine Festival started on August 29th and is running this year through November 23rd. I was able to attend this year's festival on two different trips during this 2019 season. I was in Disney World in August during the opening week of the Food and Wine Festival and I just recently returned from a family vacation to Disney two weeks ago and got to partake in more food and wine fun then!
I enjoyed getting to spend time in Epcot on these trips and getting the opportunity to sample a lot of Food and Wine Festival items! So now that I have experience this year's 2019 Epcot International Food and Wine Festival, I am so excited to bring you my list of my favorite items I enjoyed:
Baked Shrimp and Scallop Scampi Dip
Festival Marketplace: Coastal Eats
This was an item that was a first for me to try at this year's festival. I am a big fan of seafood and this Baked Shrimp and Scallop Scampi Dip from Coastal eats was a winner for sure. You get a lot of nice pieces of shrimp and 2 whole scallops in the dip itself making this item a great value. It also was a nice portion size and very rich in flavor making this item great to share. This item was served along with a generous amount of bread slices to accompany the dish. I will definitely be getting this item in the future!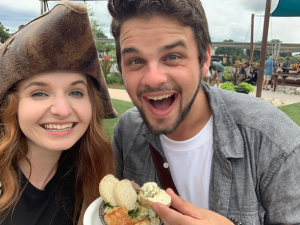 Suja Organic Kombucha Flight
Festival Marketplace: Earth Eats
This was an item that was another first for me to try at this year's festival. It was the Kombucha Flight. I recently was introduced to what kombucha is and have enjoyed buying it to enjoy at home for the health benefits that this drink provides. When I saw that the Earth Eats booth had kombucha at this year's festival, I knew I had to try it! Earth Eats had 3 variations of kombucha that they sold, a green apple, a pineapple passionfruit and a ginger lemon. You could order these individually or get them in a flight like I did so you can sample all three. They were all excellent but I have to say that the green apple was my favorite!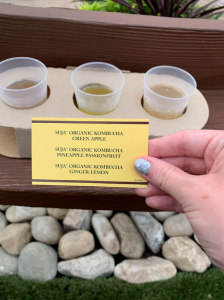 Smoked Corned Beef
Festival Marketplace: Flavors from Fire
The Smoked Corned Beef has been around the Food and Wine Festival since the Flavors from Fire Booth first premiered. I have had this particular item every year since then and it remains on my list as a must get dish because it is that good! This item features corn beef, crisp potatoes, cheese curds, pickled onions and to top it all off – a beer-cheese fondue! All of these flavors accompany each other so perfectly making one unbelievable dish! The beef is always so tender and just melts in your mouth! I love this item!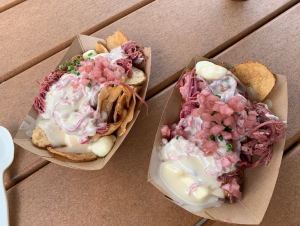 Mala Chicken and Shrimp Bao Bun
Festival Marketplace: China
I am a huge fan of bao buns! I get so excited any time I see a bao bun on a menu. China typically has a bao bun at the Food and Wine Festival each year. Something that I love is that each year they mix it up with a different variation of a bao bun. This year inside the bao bun was a mix of both chicken and shrimp. I really enjoyed this take on one of my favorite food items!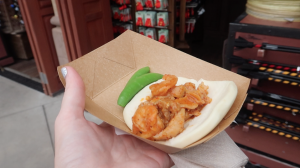 Warm Indian Bread
Festival Marketplace: India
I consider this item to be one of the many hidden gems at this year's Epcot International Food and Wine Festival. This item consisted of pieces of delicious traditional Indian naan bread served alongside 3 dipping sauces. If you have ever been to Sanna, the restaurant over at Disney's Animal Kingdom Lodge then you know that they are known for their naan bread that you can enjoy with their selection of sauces. This is one of my favorite things to enjoy on Disney property and this item at the Food and Wine Festival felt like a miniature Sanna bread service experience! The 3 sauces that came with this Indian bread at the festival were a pickled garlic sauce, a mango salsa and a coriander pesto. My personal favorite was the mango salsa!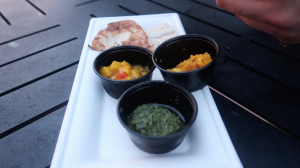 I hope you enjoyed hearing about my highlights from this year's Epcot International Food and Wine Festival! Contact your Kingdom Magic Vacation's Travel Planner today to plan your next magical vacation!