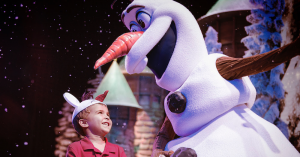 You have made the decision to take the family on a trip to Walt Disney World. This trip may be many months away but there are things you can do while you wait for your magical trip to begin that will get the excitement started.  In my family the trip planning has become a special part of the whole trip experience.  There is so much fun in the anticipation of the upcoming trip.  Let me highlight five ways to get everyone in the family excited for the trip and make the waiting half the fun!
1. Listen to Disney Music and Watch Disney Movies
Disney music and movies are so fun and entertaining for the whole family. It is a favorite pasttime for my family to listen to Disney music and watch our favorite Disney Movies. You can find some great music to listen to while driving around with your family.  It will make your drive time more fun and keep you excited waiting for your Disney trip. Check out your favorite streaming services for great Disney movies and music. It is sure to get everyone excited.
2. Check out YouTube
YouTube is a great resource for learning all about the Disney Parks. If you want to see what is going on at Disney, you are sure to find a great video out there. This is a great way to show your family all that Disney World has to offer by seeing what other people have experienced while there. You can find things on rides, shows, resorts dining and so much more. If you have young children that may be a little afraid of certain rides, watching a video about the rides can prepare them and help you decide which rides are best for your family. This can help you decide what is a priority and then when it is time you will be able to secure the Fastpasses that you will want.
3.  Dining Reservations
There are so many places to eat at Walt Disney World. From quick service to signature dining, there is something that everyone will enjoy.  Check out the Dining section of the My Disney Experience app and have the family go through the menus of the restaurants and get everyone involved in making the dining reservations. Maybe let each member of the family pick a special restaurant for each day of your trip. Don't forget to check out all the Character meal choices if this is something your family would enjoy and pick out the ones that sound the best to all of you.
4.  Save Money
It's no secret that a Disney World vacation can become expensive so the months leading up to the trip is a great time to start a trip fund for souvenirs or a special experience.  You can make a cute Disney jar to save your money.  Get everyone involved and get creative. If your children get an allowance they can put some money in the jar.  For birthdays and Christmas the kids can ask for Disney gift cards to add to the savings. Parents can add to it with extra change at the end of each day.  Its fun to see how much you can save and then split up the money for souvenirs or use it for a special experience like one of the character dining meals or renting a boat or taking a carriage ride. There are so many possibilities and it will be fun deciding what to do with your extra cash!
5. Make a Disney Count Down
I know it may seem like your trip is a long way off and it is fun to have a countdown.  This is especially good for younger kids that don't understand the concept of time.  There are so many count down ideas. From making your own like a chain to purchasing something premade.  There are many sites with ideas and printables or shops that sell really unique count down items.
I hope you enjoyed these ideas and can incorporate them into your Disney trip planning.
If you want to book a trip our Kingdom Magic Vacations travel planners are here to help.  Please call today to start planning your next magical Disney vacation.