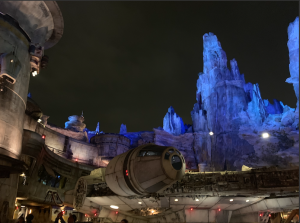 It's official! Star Wars Galaxy's Edge is here! This incredibly immersive new land is now officially open to all guests at both the Walt Disney World Resort in Orlando Florida as well as the Disneyland Resort in Anaheim California. After literally years of anticipation and waiting we can now all travel to the land planet of Batuu (the name of the planet depicted in Star Wars Galaxy's Edge) whenever we want!
I just returned from a Disney mega trip where I started in Walt Disney World in Florida then travel to Disneyland in California and then straight back to Walt Disney World! It was so much fun and Galaxy's Edge was the common theme during this entire trip! When my trip began in Florida, I got to celebrate my birthday by attending a preview of Galaxy's Edge a little over a week out from the land's actual opening. I was in awe! Galaxy's Edge is truly unlike anything else!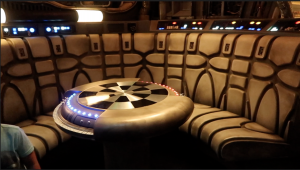 After checking in for the preview my group and I stood in front of the tunnel for a moment – the tunnel that serves as the entrance way into Galaxy's Edge. I remember feeling in such disbelief that this was all real! I couldn't believe that I could actually now walk through that archway! For years, I saw the very archway with scrim and boards all around it, blocking it off from guest. Now the day had finally arrived that we could actually step inside the land!
Once you step through the entrance tunnel the tiling and cement around you slowly fade into vibrant rock formations. The transition is seamless and so well done. You feel as though you really are stepping into a whole other planet! Disney did such an amazing job create a completely immersive experience with Galaxy's Edge. You forget you are still in Hollywood Studios! Actually, at one point at the end of our visit in Batuu, one of the members of my group made the comment that we could head back into Hollywood Studios. We were all amazed because it is so true that this land makes you feel completely transported somewhere else. Even though you are still in Hollywood Studios, you somehow separate the two, because Galaxy's Edge feels almost like a whole other park on its own!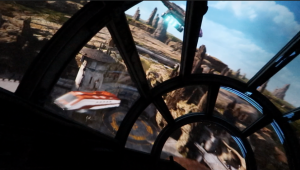 During my visits to both Galaxy's Edge in Disney World and Disneyland, I had a few different opportunities to ride the attraction here in the land, Millennium Falcon: Smugglers Run. This ride gives you and your flight crew the chance to pilot the Millennium Falcon for yourself! What I love most about this ride is how genuine of an experience it is. You really are flying the ship! You can have an extremely successful mission based on your skills or you may crash the ship a couple of times! The ride is completely interactive!
Check out our new YouTube video for a taste of what this incredible attraction is like!
On December 5th at Walt Disney World and January 17th at Disneyland, the second attraction in Galaxy's Edge will open! This second attraction will be called Rise of the Resistance. I am so excited to experience this ride! We know that this ride will actually be several different experiences all rolled into one attraction. Making this ride more like a journey rather than a ride! Disney has stated that the technology being developed in this ride will be groundbreaking! I am so ready to experience Rise of the Resistance for myself!
I am so happy that Galaxy's Edge is now fully open and ready for guest enjoyment! Contact your Kingdom Magic Vacations Travel Planner today to plan your next Disney vacation and experience Star Wars: Galaxy's Edge for yourself!