The MagicBands are up and running at the Walt Disney World Resort and they are Incredible!

It may look similar to the James Bond Spy watch from 1965, but, it is oh so much more. The MagicBands are an all-in-one device and is a part of the New My Magic+! 
When you book your Walt Disney World package you will be given a link by your Travel Planner to log into Your My Disney Experience and associate your reservation. 60 Days prior to your arrival date you will be able to go into your planning center and Customize your MagicBand and it will be shipped directly to your home shortly after. The excitement already starts to build when you have your Magic Box show up at your door step!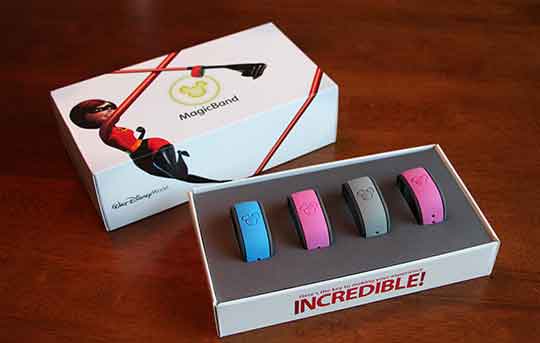 The MagicBands are worn on your wrist and can be sized for all wrist sizes. They can be customized by color and with your name or nickname placed on the back of the band. Be sure to order your band prior to 11 days before you travel so you can have it shipped to your home. If you do a last minute booking, no worries, your band will be sent to the resort for when you check in.
The MagicBands can also be decorated with special accessories — MagicBandits and MagicSliders. One accessory that we found very helpful was the CoverBands. Because the bands are made out of magic rubber, a hot day can prove to be a little sweaty, but, with the CoverBand your wrist will remain comfortable and less sweaty. We felt it was worth the $6.95 for one – or you can purchase a pack of three for $15.95.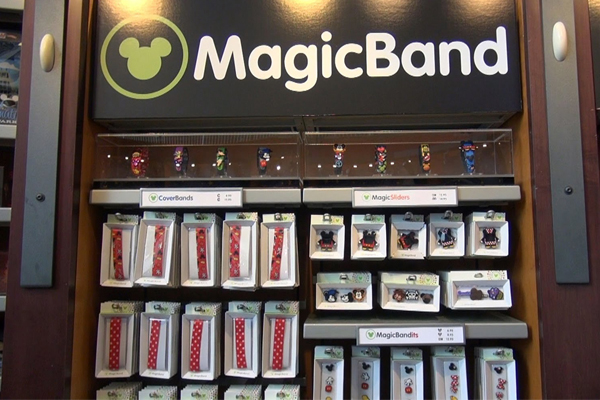 The bands are water proof, even for that long soak in the hot tub! So you don't have to worry about losing your room key when you set it on the chair with the towel! You are wearing it!
Just rolled out this past weekend you can now use your MagicBand for your PhotoPass photos. We loved this feature as well – no fumbling for the card while trying to keep track of the kids and all your belongings. Simply pose for your photo and tap your band.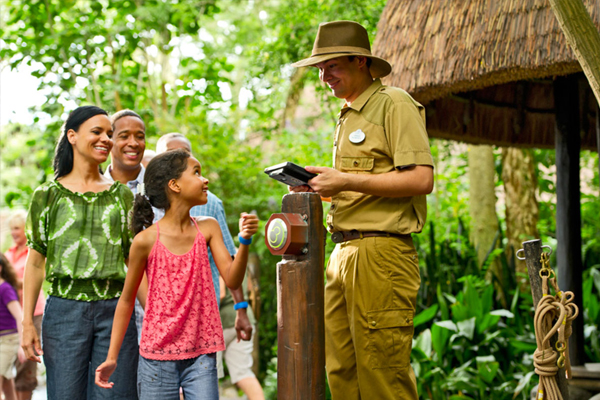 The MagicBand works with your FastPass+ choices that you will select before you arrive or once you get to the theme park. I highly recommend picking them prior to your arrival. We could not believe how much we loved this feature. We thought scheduling them ahead of time would be a pain, but, once you have used it and saw it in action we were sold! Remember the Fast Pass Dash? – Dad gathering all the Key to the World cards and running down Main Street to get the family their fast pass for Space Mountain? Well, now Dad can enjoy the stroll down Main Street with the rest of the family because you already know in advance that you WILL get on Space Mountain. Another really exciting feature with the FastPass+ is the Character Meet and Greet locations. If your daughter always wanted to meet Rapunzel, and you know that you cannot schedule a Character Meal with her, well you can schedule a FastPass + option for the Rapunzel Meet and Greet at the new Princess Fairytale Hall in the Magic Kingdom. You can leave home knowing your little one WILL meet Rapunzel.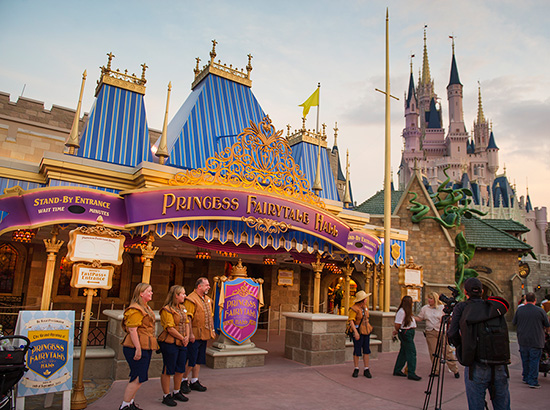 All in all, you will love the benefits of the MagicBands. They are convenient, easy to use, fun to get delivered to your doorstep and to accessorize once you arrive.
---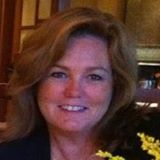 Guest Author – Laura Schiely I am a Certified Travel Agent specializing in Disney Destinations including Adventures by Disney, Disney Cruise , Disneyland and Disney World. I also specialize in Universal Orlando, Princess Cruise Line, Royal Caribbean Cruises, Sandals and Beaches.  As a Travel Planner, I work with my clients to develop a memorable vacation from the point of selecting a vacation destination, to planning the details and follow up when they arrive home. As a home based agent, I have the opportunity to be available for them when they need me. I value my clients time, budget and experience and treat each vacation as if it were my own. Contact me HERE.