The marvelous land of Oz has captured the imaginations of people for over 100 years. Chances are good that this wondrous place has sparked your imagination, whether you're a school kid, bank teller, rocket scientist—or a horticulturist like Eric Darden.
Eric is the Manager of Horticulture for the Epcot International Flower & Garden Festival. This year, the event is presenting one of the most ambitious dreams that Eric, his team and his fellow Disney Parks cast members have ever made come true.
"The Land of Oz Garden is one of the biggest single areas we've ever created for the Festival," said Eric. "It starts in the 'Kansas' section, where kids can play midway games in the tents."
In Walt Disney Pictures "Oz The Great and Powerful" — which opens today nationwide — you'll see Kansas in black and white, Oz in dazzling color and all in three-dimensional RealD splendor (at select theaters). But at this new Epcot garden, of course everything's blooming in full color — from the ring toss game and fun mirrors to the Baum Circus tents (named for L. Frank Baum, author of all 14 original Oz books).
"As you walk along, you'll seem to travel through Oz, where the kids can enjoy the large playground," explained Eric. Newly designed, this playground sparkles with details that celebrate the film. As the kids play, grown-ups will appreciate the nearby shaded chairs. Look on the other side of this area and you'll see that it's actually themed to the Wizard's deflated hot air balloon!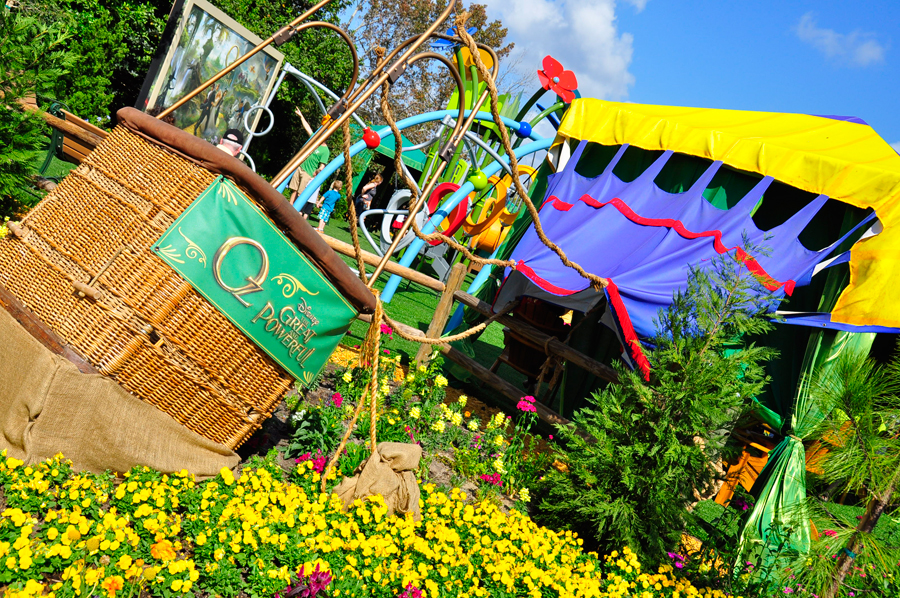 A dazzling array of unusual flowers and plants suggest the setting of Walt Disney Pictures' "Oz The Great and Powerful," including a bed of yellow pansies arranged to resemble a very familiar brick road—plus some dazzling red glass poppies. These amazing creations were prepared especially for The Land of Oz Garden by artist/sculptor Craig Mitchell Smith using his own elaborate technique of cutting, heating, shaping and reheating each flower—a process that takes four days per poppy!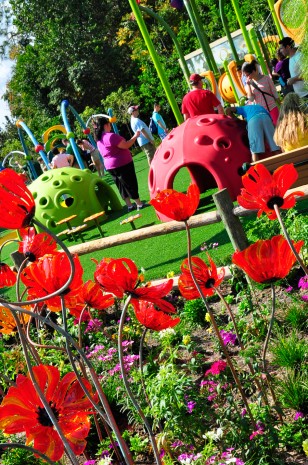 Now through May 19, 2013, The Land of Oz Garden is just part of the overall new excitement at the Epcot International Flower & Garden Festival. "Now we have great food and beverage options at twelve Garden Marketplaces," says Eric. "Now it's all tied together—from the garden to your table—better than ever.