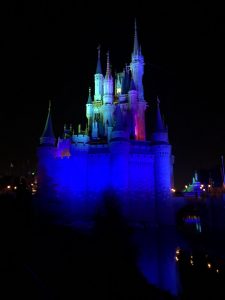 Dining at Cinderella's Royal Table is an experience you will never forget! This restaurant is actually located inside of Cinderella's Castle inside of the Magic Kingdom Park! Not only during your meal will you enjoy the atmosphere of dining inside of Walt Disney World's most recognizable icon but this meal is a character dining experience! During your time in the restaurant you will meet many Disney princesses! Exploring the castle, meeting royalty and enjoying a delicious meal all combine for an unforgettable experience!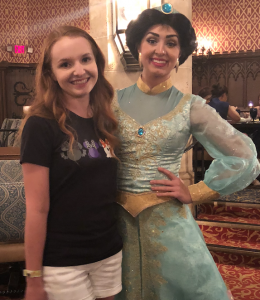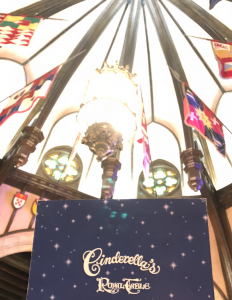 I dined at Cinderella's Royal Table for the first time for dinner during my most recent Disney World Vacation! Through a little Disney Magic we were able to grab this coveted reservation at the last minute! This was something we all always wanted to do so we were filled with excitement!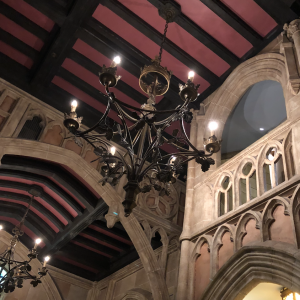 Once we checked in at the downstairs podium located on the backside of the castle we were soon escorted inside the castle were we got to meet Cinderella herself as our first princess of the night. We got the chance to chat with Cinderella and then take a family photo with her! The other princesses in attendance will vary from day to day so it is a surprise who you will get to meet but Cinderella is always a guarantee. It is her castle of course! After meeting Cinderella we got to sit in the grand foyer as we waited for them to call our party's name. As we waited we got to take in the details of the beautiful castle! Everywhere you look the architectural details are regal and elegant! Of course there are magical touches as well such as Cinderella's mice friends Jaq and Gus peaking down from the rafters!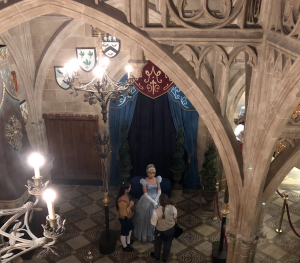 Soon the chimes rang and our party name was announced. We were then escorted upstairs to the dining room! It is absolutely breathtaking! You truly feel like royalty! The menu is a prefix, you get to select an appetizer, an entrée and a dessert. For my appetizer I choose the Castle Salad, with Citrus-marinated Buffalo Mozzarella, Heirloom Tomatoes, Mixed Greens, Parmesan Crisps, and Balsamic Reduction! It honestly was one of my favorite salads I've ever had! For my entree I picked the Beef and Shrimp, delicious Beef Tenderloin and Buttered Shrimp, Fingerling Potatoes with Nueske's Bacon and Blue Cheese, Summer Vegetables, and a Shallot-Herb Compound Butter. For dessert I choose the Clock Strikes Twelves, a Dark Chocolate Mousse with a Dark Chocolate Ganache served with a Raspberry Coulis! We all agreed this was the best dessert!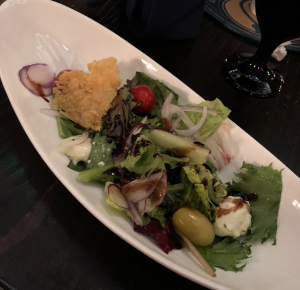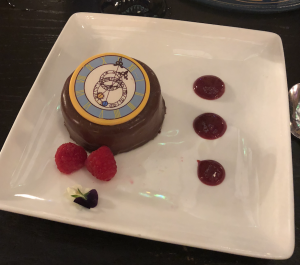 Soon the princesses began arriving! After each princess was announced they made their way around to each table. This is a great way to meet a lot of characters at once without having to wait in line! The characters come to you and you get more time to chat with them and also the opportunity to take pictures! If meeting characters is an important part of your vacation, character meals are a great way to guarantee seeing lots of characters!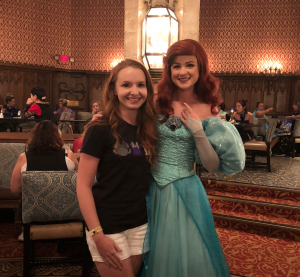 We were first visited by my personal favorite Princess Ariel! Followed by Sleeping Beauty herself, Princess Aurora. Next we got to chat with Jasmine and then Snow White! Another very special part of our meal at Cinderella's Royal Table is the Wishing Star Ceremony! When you are seated at your table everyone receives a wishing star. Princesses receive a wand and Princes are given a sword. During the wishing ceremony you are instructed to hold your wand or sword over your wishing Star and make a special wish! When you open your eyes the ceiling is twinkling with pixie dust! It is a magical Disney moment!
This is such a popular and sought after dining reservation, you will want to try to secure this restaurant 180 days out from your vacation, as soon as you are able to begin making your dining reservations.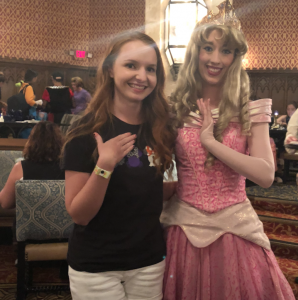 Contact your Kingdom Magic Vacations Travel Planner to plan your next magical vacation to Walt Disney World or to any destination your are wishing to explore next!