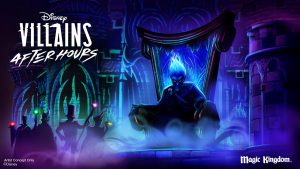 Disney World has announced an exciting brand-new After Hours Event! If you are a fan of the Disney Villains then get excited! This new After Hours Party at Magic Kingdom will revolve around all things Disney Villains! Tickets for this new event will go on sale on April 29. This wickedly fun special event will be offered on select nights this summer from June 6 to August 8!
On these select evenings a dark magic will take over Magic Kingdom Park! You will be invited to run amuck in the Villains' scary world! The party DJ will get this event lit, by energizing the castle stage with wicked beats. This show will transform the entire Central Plaza of the park into a villainous club scene! As the party gets going, the DJ will introduce your "Caretaker" for the evening, the Lord of the Dead, Hades. Hades arrives in a burst of blue flames in this brand-new stage-show, "Villains Unite the Night."
Meg from Hercules joins Hades to host this show. Hades sits atop his dark throne awaiting the alignment of five planets, following a prophecy that states when the five come together he will be able to rule the universe. However, like any good story this dastardly plan doesn't go quite as planned! An entire assemblage of Disney Villains interrupts his party! In this villainous crew, you will see Jafar, The Queen, Dr. Facilier and Maleficent arrive with henchmen in tow. These Villains are prepared to demonstrate their powers with some thrilling displays of skills. These gang of Villains have also heard the prophecy and believe THEY are the ones who will rule all.
As you can image the story will get very intense with this twist! The brand-new show is going to be more than 20 minutes long! This will be one incredible stage show! Villains Unite the Night will have three showings during each event, giving all party attendance the opportunity to watch these Villains rule the stage!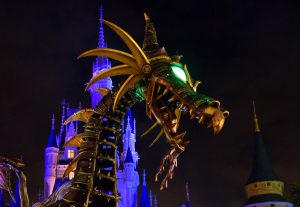 If you have been to Magic Kingdom Park during the daytime recently then I am sure you have seen Disney's Festival of Fantasy Parade! This happens to be my favorite parade Disney has ever done! If you are familiar with the Festival of Fantasy parade then you will know that one of the floats is a gigantic Maleficent Dragon! During this special after hours event, the Maleficent Dragon from Festival of Fantasy, will be let loose at night for the first time! She will be breathing fire as she creeps through the park with her minions as she makes her way to join the party at the Central Plaza!
Past the castle forecourt, ominous lighting and music will be found throughout various areas of the park. There will even be attraction overlays! In Tomorrowland, the Villains will invade Space Mountain, taking brave travelers on a villainous trip they are sure not to forget. This overlay will feature a new music underscore and the vilest Villains taunting you as you whiz by. I am very intrigued to find out what this exciting overlay will consist of!
Meanwhile over in Adventureland you will find a live crew of scurvy scalawags having invaded Pirates of the Caribbean in search of treasure. This reminds me of what Disney did at Pirates of the Caribbean during last year's Mickey's Not So Scary Halloween Party! During the event, they had live actors in the attractions queue as well as in the attraction itself! This was a highlight for me at the Halloween Party, so I am very excited Disney is doing something along these lines during this brand-new after hours event!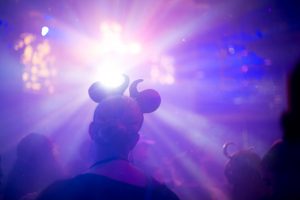 No party is complete without great food! Disney Villains After Hours will feature some wickedly good food and beverage offerings! Additionally, you will be able to find special event merchandise made specifically for this brand-new party! Another perk of Disney Villains After Hours will be the low wait times at more than 20 attractions and experiences across the park! Just like with the other after-hours events and parties there are a limited amount of tickets sold, meaning you can enjoy the parks with limited crowds! All of this excitement and thrill adds up to a one-of-a-kind party!
Tickets for Disney Villains After Hours will be available for purchase on April 29. The cost is $139 plus tax in advance or $144 plus tax on the event night. This party sounds like such a unique and fun new offering! I can't wait to check it out!
Contact your Kingdom Magic Vacations Travel Planner today to plan your summer vacation at the Walt Disney World Resort so you can experience Disney Villains After Hours as well as all the other summer fun for yourself!