Are you looking for something fun to do this labor Day Weekend? DISNEY•PIXAR'S MONSTERS UNIVERSITY is returning to theaters this Labor Day Weekend just in time for school to start back up!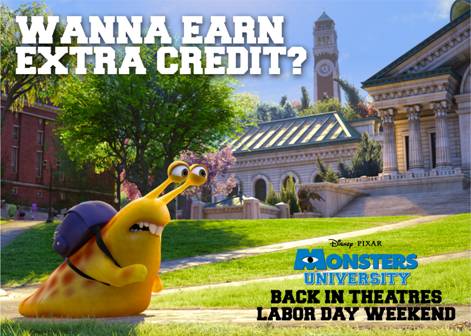 Reunite with Mike, Sully, and the whole Monsters University student body and enjoy some Pixar fun this holiday weekend!
In Case You Missed It The First Time…
Ever since college-bound Mike Wazowski (voice of Billy Crystal) was a little monster, he has dreamed of becoming a Scarer—and he knows better than anyone that the best Scarers come from Monsters University (MU). But during his first semester at MU, Mike's plans are derailed when he crosses paths with hotshot James P. Sullivan, "Sulley" (voice of John Goodman), a natural-born Scarer. The pair's out-of-control competitive spirit gets them both kicked out of the University's elite Scare Program. To make matters worse, they realize they will have to work together, along with an odd bunch of misfit monsters, if they ever hope to make things right.