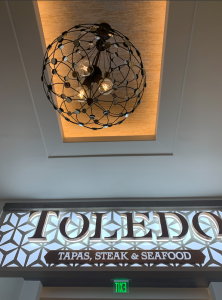 Disney's Coronado Springs Resort recently went through many exciting enhancements! The biggest of these enhancements being the addition of Gran Destino Tower. This new tower is home to 545 guest rooms. Fifty of these guest rooms being suites. The tower is beautiful! Here you will find rich touches of Spanish architecture mixed with a fresh, modern and contemporary feel!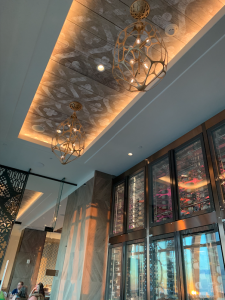 Our team stayed at Disney's Coronado Springs on our most recent company event last month. We loved taking in the beauty of this resort during our time there and getting to explore the luxurious new Gran Destino Tower.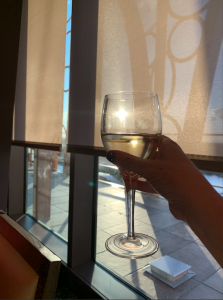 At the very top of Gran Destino tower sits a new Disney restaurant, Toledo! Toledo is known for their great Tapas, Steak & Seafood. This luxurious restaurant is themed after a Spanish haven inspired by surrealist art and the 1930s avant-garde. This restaurant has a very relaxed feel to it. It is classic and sophisticated, yet still so warm and inviting all at the same time.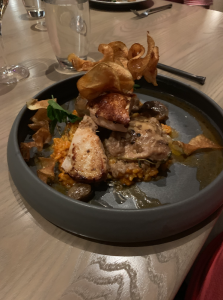 By far my favorite part of this amazing restaurant was the views! Being on the top floor of Gran Destino Tower you can enjoy views all over Disney World property. It very much reminded me of the experience of being at one of my other favorite Disney restaurants, the California Grill at Disney's Contemporary Resort. Similar to how Toledo sits at the top of Gran Destino Tower, the California Grill sits on the top floor of the Contemporary Resort. If you have ever dined at the California Grill then you will know that the views from the top are simply breathtaking. Out the restaurant's windows you can see gorgeous views of Seven Seas Lagoon, Bay Lake, the Magic Kingdom Resorts and even over into Magic Kingdom Park!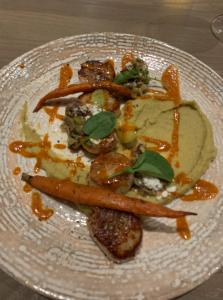 From Toledo, you get that same feeling as over at California Grill with the beautiful views this restaurant offers! At Toledo you get birds-eye views of a whole different area of property. Here at this location you are close to Epcot and Hollywood Studios. You can see some of the icons of these nearby parks from up above! I loved at night spotting the tall pieces of rock work in the distance that are a part of Star Wars: Galaxy's Edge over at Hollywood Studios. At night, these rock formations of the land are all illuminated in a purple color. It was so cool seeing this from up at Toledo.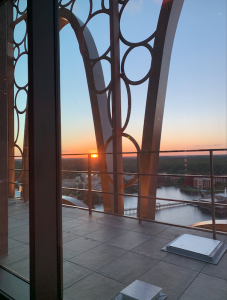 The menu here has something for everyone. They are known for their steak and seafood. So, whether you are in the mood for surf or turf you will find something you like here! I can't wait to get back to Toledo soon for the great food and spectacular views!
Contact your Kingdom Magic Vacations Travel Planner today to plan your next visit to the Walt Disney World Resort.