After completing the Happy Haunted Family Fun 5K earlier in the morning our guest blogger recaps his day leading up to and including the Tower of Terror 10-Miler!  How many races would you run in one day?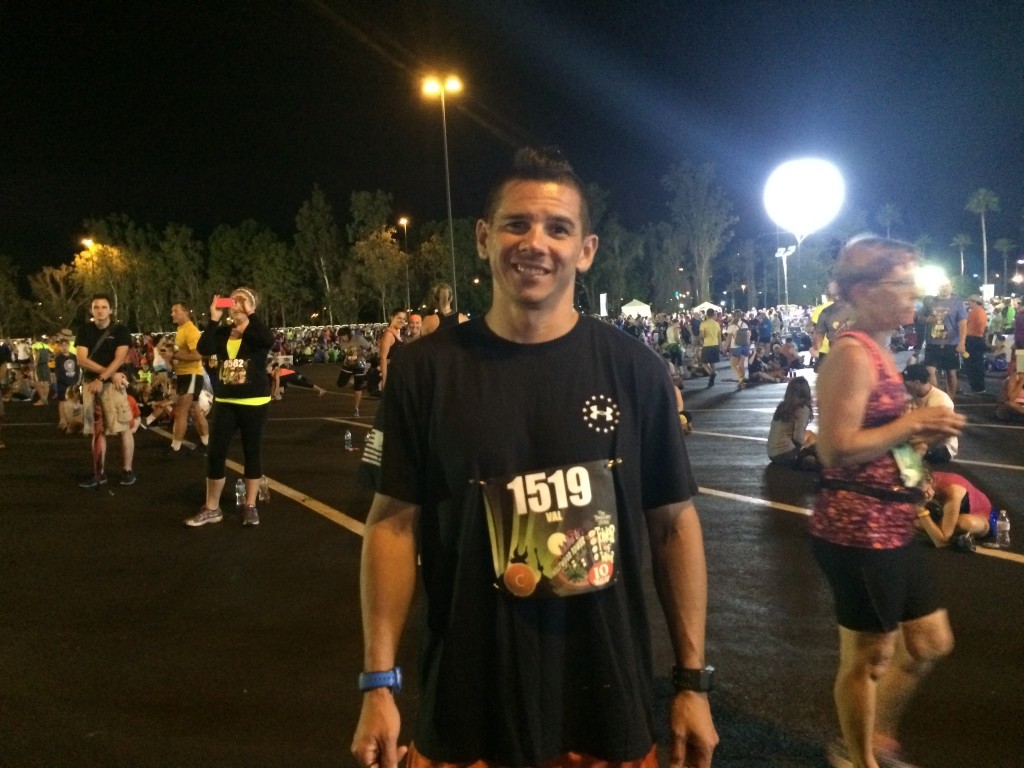 This go around it seems like runDisney had problems with participant's proof of time and people not being assigned the correct corals. Lots of emails and phone calls were made to get those corrections in place. I was not one of those people I was right where I was supposed to be…so I thought. But when I got to the expo I found out I was placed in Corral C, one up from where I thought I would be for the 10-miler. My family and I were running earlier in the day for the Happy Haunted 5K and we were placed in Corral F.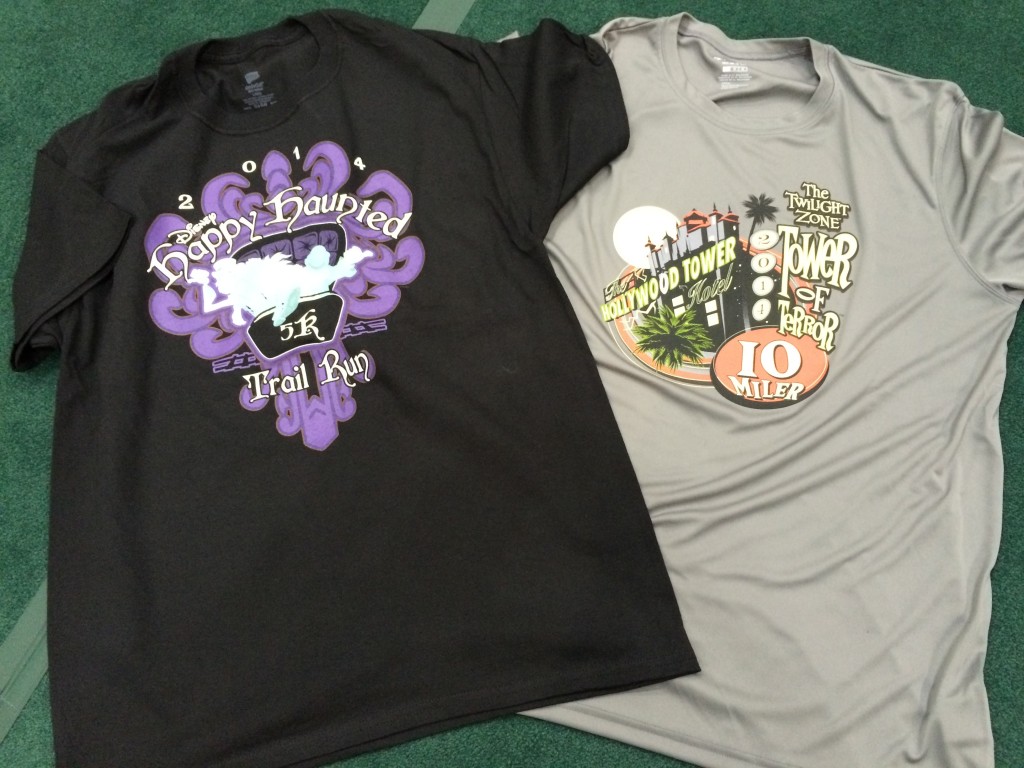 Together we attended the expo on the first day.  It was full of the usual vendors and had the speaker series with nice information about ways to train and prepare for running events. If needed you could buy anything you may have forgotten to bring; and at decent prices. You could also get KT tape applied or take part in quick massage demos with various massage tool as well.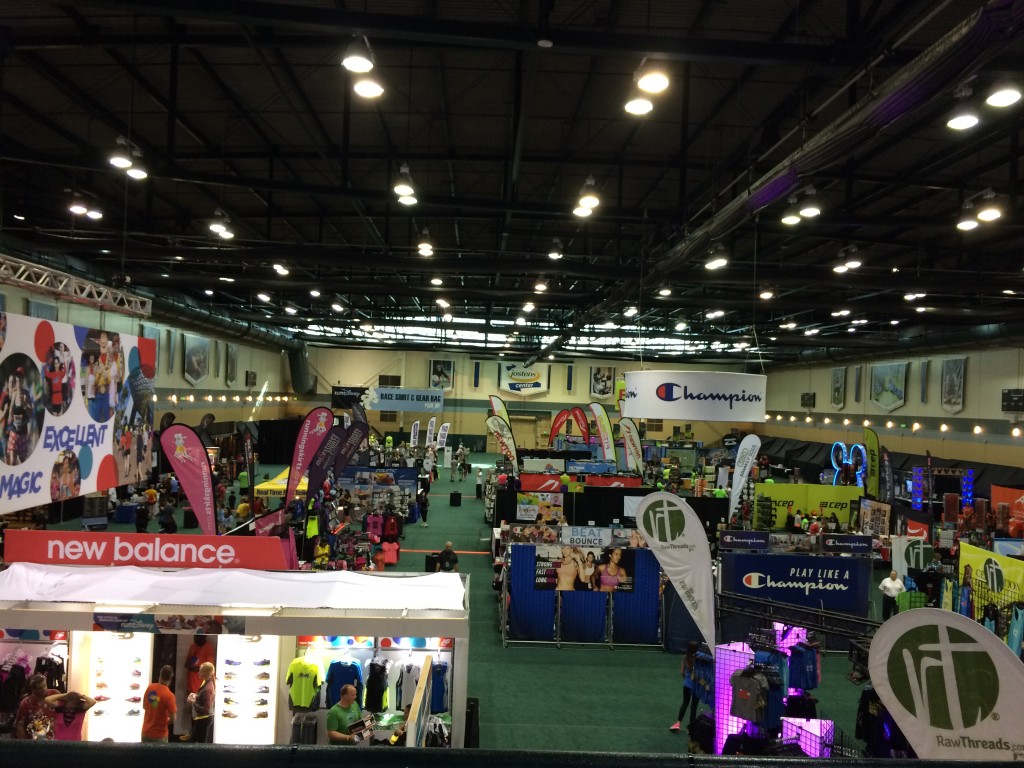 My evening began with dinner was at 5:15PM at Chef Mickey's. I am not a diehard runner that watches everything I put in my body but I feel overall most  Disney dining options have foods that are good to fuel the body for running events. To me it is about making right choices and portion control.
That night  at 7:30 we were on our way to Hollywood Studios for a 10pm start. This run from what I understand has a history of horrible weather but on this night it was great! No rain, light breeze and perfect temperature as far I'm concerned, for Florida. The starting area was loaded with people but only about half the amount of the bigger events. Disney works very hard to keep things organized and managed.  They have the same style entertainment as other runDisney races;  jokes and  dancing to try and loosen up the body and get warmed up for the run.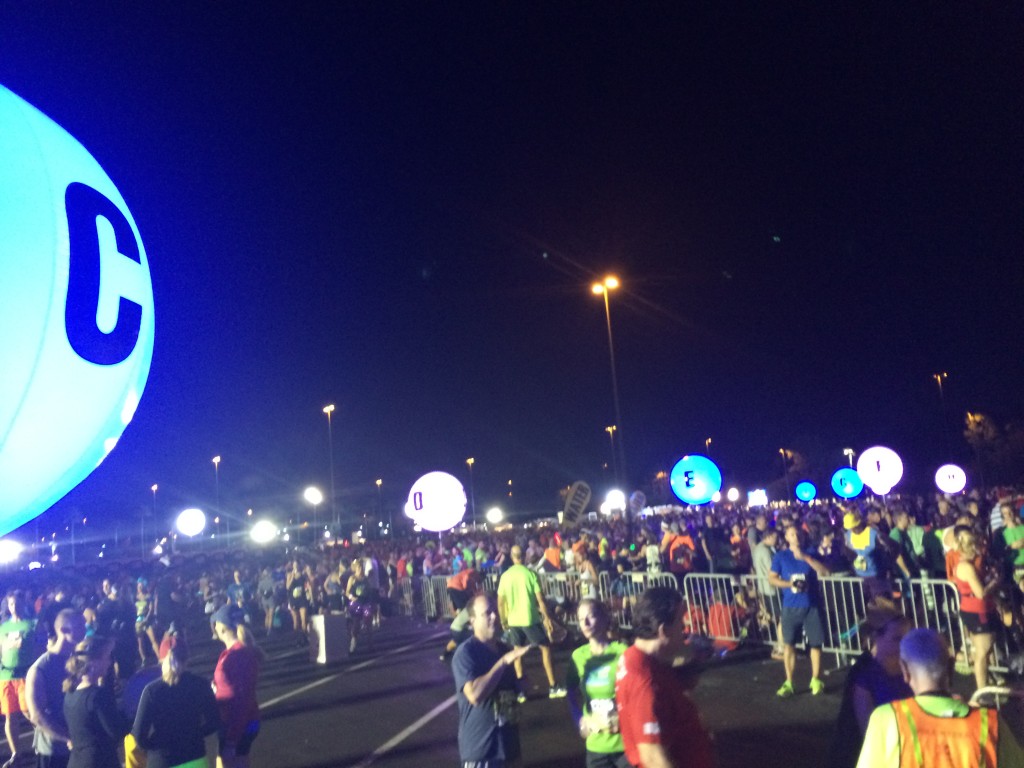 I started just after 10pm behind Hollywood Studios and headed towards Animal Kingdom. It's pretty much a run down the highway with character stops.  We went through Animal Kingdom's gate and shortly made it to the turn around, heading back towards ESPN Wide World of Sports. A small portion of the course was on the same trail and through the sports complex as the 5K that morning.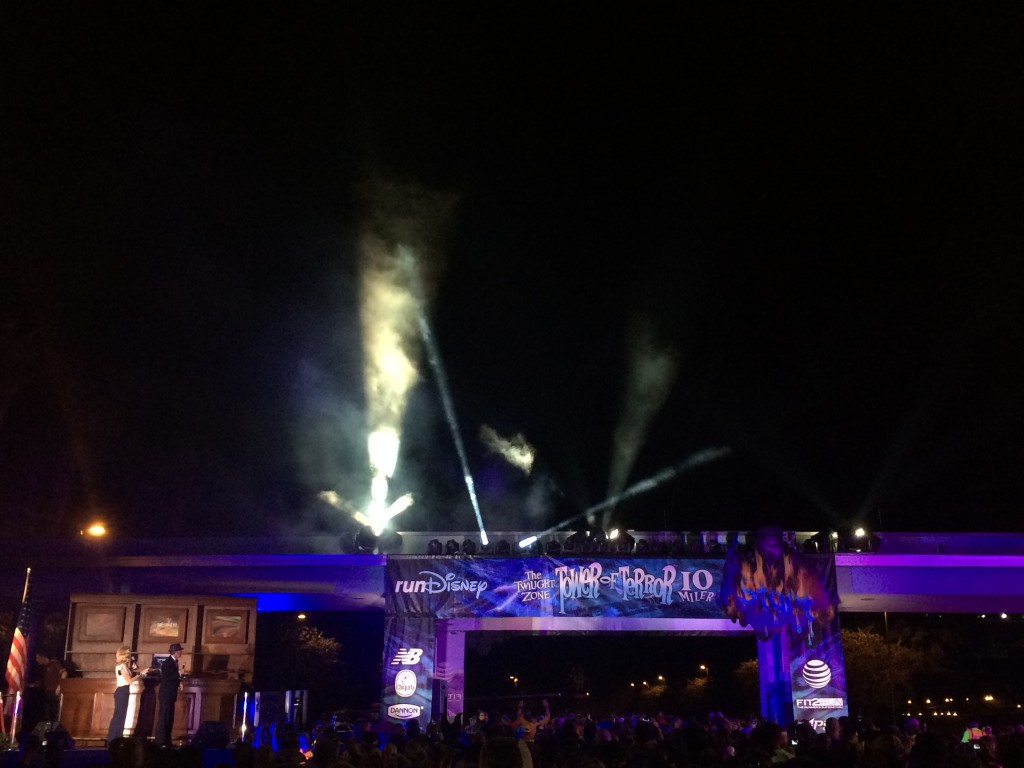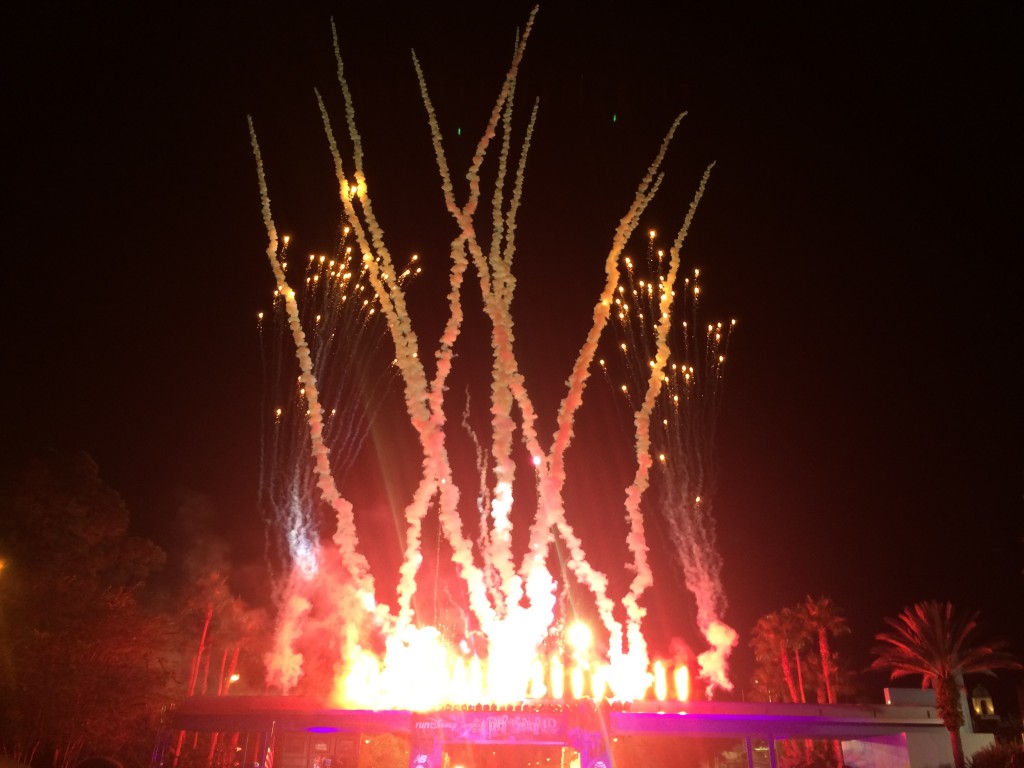 For me the trail wasn't as bad as I expected knowing how crowded it was earler in the day. The run around Champions Stadium was pretty cool; being a sports fan and just being in big stadiums. From there it was back on the road towards Hollywood Studios. I have now run through Hollywood Studios twice doing runDisney events and even though it is the smallest park I always end up feeling like it was the biggest! I think that's due to the fact that I know it's the smallest park and just feel like the finish line is going to be around the next turn.
The spectator viewing throughout the park is pretty awesome. Running through the parks is always fun. It always helps getting that encouragement from the people cheering you on your way to the finish line. We went through the Lights, Camera, Action set, parts of the no longer existing Back Lot Tour attraction, through Streets of America, by Toy Story Midway Mania, in front of The Sorcerers Hat, and finished behind the Tower of Terror.
I collected the pretty awesome finisher medal and had the long walk to the family reunion area. I'm not the picture type, so I once again skipped all the character spots. It is cool to see them on the course and there was plenty of them. The walk way leading to changing areas and bag check could be a bit confusing, but by listening to volunteers I knew right where to go, and finding my wife was easy. The Villians Bash was a bit crowded but nothing I didn't expect from a runDisney event.
Overall the weekend was a great time and the volunteers were great! I don't think I would do the Happy Haunted 5K again unless my daughter wanted to just because of the congestion, but I would deffinetly do the Tower 10-Miler run again.  I would also recommend runDisney events for families! The entire weekend experience is full of fun and excitement for everyone in the family!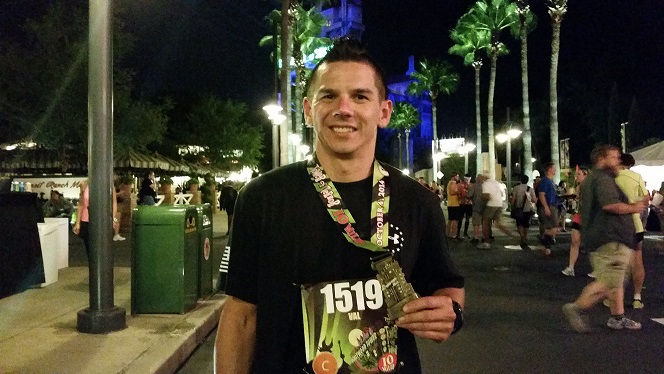 ---
Guest Blogger: Val Carillion
About 3 years ago I decided I needed to change my lifestyle and decided running was an easy, affordable choice. I set my first goal of running in a half marathon deciding The Wine and Dine Half Marathon would be it. Training for it went well because I gave myself almost a year to train for it; completing a 15K and a Half before my goal race. Since I started running I have completed a local race called the Pensacola Double Bridge Run twice (15k), Gulf Coast Half Marathon (twice), Wine and Dine Half, Glass Slipper Challenge, and now the Tower of Terror 10-miler. Through this whole process I started doing crossfit to balance out my overall fitness and would like to try the Dopey challenge when I go all  "Dopey" with my fitness goals. 
Would you like to be a Guest Blogger for Kingdom Magic Runners?  We'd love to share your race review (Disney or other race), product review or personal running accomplishment here!  Feel free to email Carrie@KingdomMagic.com or Donna@KingdomMagic.com!