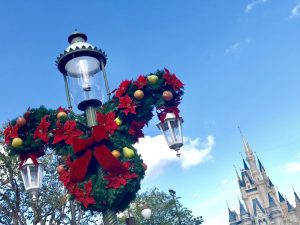 Christmas is just around the corner! I can't believe how fast this season has flown by! I am feeling so fortunate to have experienced the magic of the holidays at the most magical place on Earth this year, Walt Disney World! During my visit to Disney last month I made sure to check out all of my favorite Christmas displays and festivities across Disney property! What I love about the holidays in Walt Disney world is that there is SO MUCH to discover! Every inch of the park is decked out and in such a unique and creative way! Disney doesn't just put up a generic tree and garland in a gift shop. Oh no! Quite the contrary they theme every decoration specifically to the restaurant, shop or resort that it is in! For example, the ice cream shop on Main Street has garland and trees featuring ice cream cone ornaments! Over at Disney's Grand Floridian Resort and Spa all their decorations have a Victorian style to them to perfectly compliment the theme of resort itself!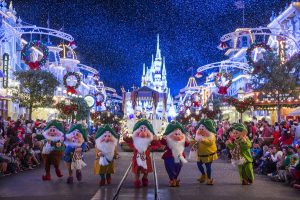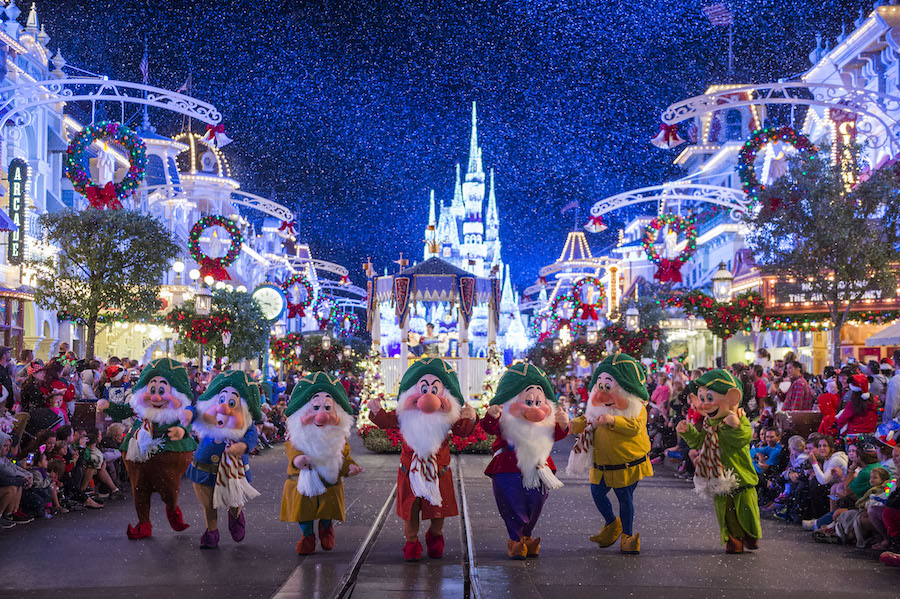 There truly is so much to see when it comes to the decorations around Walt Disney World! I recommend truly taking your time going through the parks this time of year. Be sure to stop and truly appreciate the details of the holiday decorations. There is so much to discover! Today I would like to share with you my top 5 favorite Disney World Christmas displays that are more hidden gem displays! I am leaving out the well-known park icon trees and big centerpiece decorations and going to countdown my favorite decorations that are a bit more obscure! These displays both big and small are something that I look forward to seeing year after year!
#5 Mickey Wreaths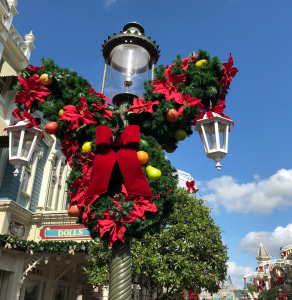 Christmas wreaths in the shape of Mickey Mouse adorned every lamppost down main Street USA! This decoration is a Disney classic! I love it for its simplicity. It is very traditional and from a distance you may not even notice it is a Mickey, but as you begin to stroll down Main Street towards the castle you can't miss this little touch of magic!
#4 Poinsettia Trees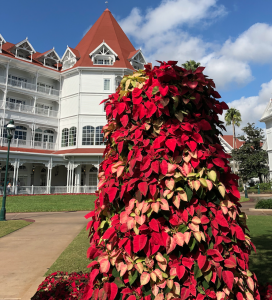 I have always loved poinsettias! I think they are so beautiful and I always know the Christmas season has begun once I start seeing those festive flowers! Disney uses gorgeous poinsettias in many of their holiday displays. By far my favorite creation Disney produces using poinsettias is their poinsettia trees! Using a towering framework in a rounded tree shape Disney florists will cover every inch of the framework with poinsettias! These poinsettia trees are spectacular and make an amazing backdrop for a family Christmas photo! Poinsettia trees can be seen in multiple places across Walt Disney World property! There are always some lining the walkway between Future World and World Showcase in Epcot as well as poinsettia trees in the entrance hub of Magic Kingdom. Pictured here you will see a poinsettia tree on the grounds of Disney's Grand Floridian Resort and Spa.
#3 Rockette-Style Christmas Ornaments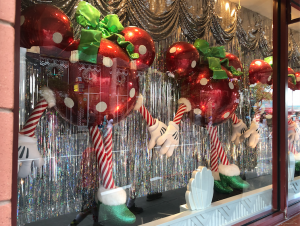 A display that I get so excited to see every year can be found in a storefront in Hollywood Studios! Disney is known for creating incredible window displays in many of their shopfronts and this particular display at Hollywood Studios can't be missed! Larger than life Minnie Mouse Christmas ornaments are forming a Rockette kick-line! This display is so adorable and fun! It definitely fits into the glitz and glamour of Hollywood Studios!
#2 Echo Lake Decorations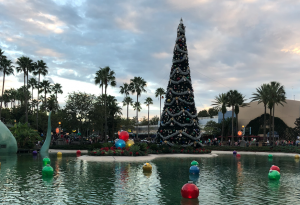 A few years ago, Hollywood Studios icon tree moved from out-front of the park to inside the park to the center of Echo Lake. I know I said in this countdown, main centerpieces such as icon trees don't count and that is still true. The decorations I am referring to in echo lake are the smaller accent pieces that compliment the area around the icon tree's new location! The park's tree sits on an island in the middle of the lake. In the water surrounding the island you will find one of my favorite Christmas decorations across all of Walt Disney World… floating Christmas ornaments! These floating baubles are beautiful all day long but at night they become a real showstopper and actually light up! These lighted baubles illuminate the water around them and create such a cool effect! I think this was the area of the park I spent the most time in just admiring the decorations and taking tons of photos!
#1 Grand Floridian Gingerbread House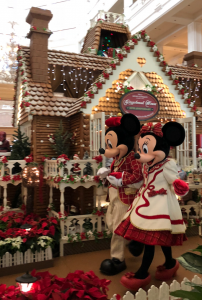 My top spot on my list goes to a hidden gem that I enjoy seeing year after year, the Grand Floridian Gingerbread House!  This is not your normal gingerbread house! This pastry masterpiece is life-size! The inside of the gingerbread house is an actual working store where you can purchase gingerbread treats and other festive snacks and goodies! This year the Grand Floridian Gingerbread house is celebrating its 20th annual year! I highly recommend making the trip over to Disney's Grand Floridian resort and spa to see this one of a kind creation. From the Magic Kingdom park you can easily commute to Disney's Grand Floridian via a boat or monorail! Definitely make sure to take the time to check it out! You will be glad you did!
Give the gift of travel this holiday! Contact your Kingdom Magic Vacations Travel Planner today to plan your next vacation!