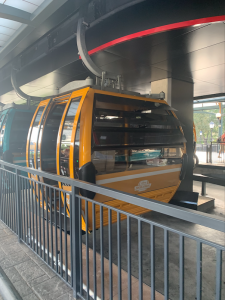 Walt Disney World's newest mode of transportation is here! The Disney Skyliner has arrived! The Skyliner has been added to the Walt Disney World Resort transportation fleet alongside, buses, boats, monorails and even Minnie Vans! The addition of the Disney Skyliner now gives guests another option for Disney transportation. This efficient system is helping to alleviate Disney bus traffic by giving resort guests and park goers another way to get around property.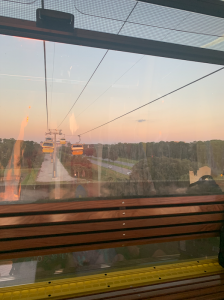 Not only is the Skyliner efficient and convenient, but it is also so much fun! I rode the Skyliner for the first-time last month and truly felt that this transportation system feels more like a fun ride rather than simply a means of getting from point A to point B. With the Skyliner it feels as though your journey is already a part of the destination! The Skyliner is an attraction in itself!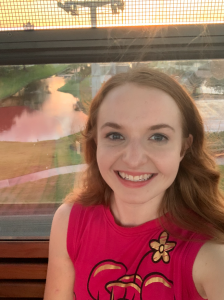 For me riding the Skyliner gave me a similar feeling to riding the Disney monorail system. If you have been to Walt Disney World before, then I'm sure at some point you have experienced the famous Disney monorail. The Disney monorails are icons of the Disney Parks and Resorts and I'm sure you agree that riding the monorail is a fun form of transportation and gives you that feeling of being on a ride rather than just a transportation system. I had that same feeling while riding the Skyliner. The way I see it, I am predicting now that soon the Disney Skyliner will be just as iconic as the monorail. I see the Skyliner becoming one of those staples that you think of when you picture Walt Disney World!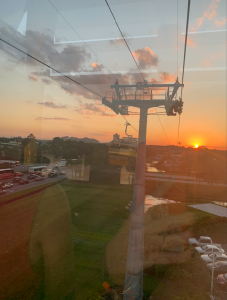 Currently the Disney Skyliner takes flights to Epcot, Hollywood Studios, Disney's Caribbean Beach Resort, Disney Pop Century Resort, Disney's Art of Animation Resort and Disney's NEW Riviera Resort opening next month! All Disney guests are welcome to ride the Skyliner. It is not just exclusive to guests staying at the resorts that are on the Skyliner line. In fact, the Disney Skyliner now provides guests a new way to park hop between Epcot in Hollywood Studios. After using the system to park hop between these two parks last month, I would say in my opinion this is now the easiest and fastest way to get between Epcot and Hollywood Studios.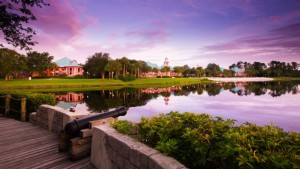 Now let's talk about how the Skyliner works. Prior to me riding the system for myself, I didn't fully understand how the Skyliner operated. I didn't know if each station had direct flights to all the other stations, or if transfer flights were involved in order to get where you were going. My first day riding the Disney Skyliner I took every line available and fully experienced all aspect of the Skyliner and now I have a full understanding of how this great system operates.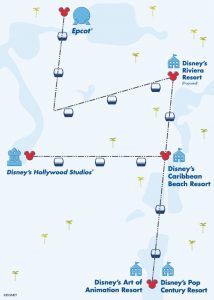 You can refer to the map above to get more of a picture of how the system functions. All of the lines connect through the station located at Disney's Caribbean Beach Resort. From the Caribbean Beach station, you will find 3 lines you can go on. The first line takes a flight that stops at Disney's Riviera Resort and then continues on to Epcot. The Second line at the Caribbean Beach station is a direct line that goes straight to Hollywood Studios. And the third line at the Caribbean Beach station goes directly over to Art of Animation and Pop Century. These two resorts share a central Skyliner Station.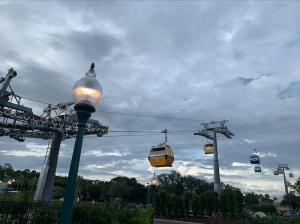 Disney's Caribbean Beach is the main hub station for the skyliner where you will catch all your connecting flights. All of the other stations have one flight option which will take you right to Caribbean Beach. With the exception of the Epcot Line because it offers the stop at Rivera prior to continuing onto Epcot. Likewise Disney's Rivera Station since it is already on the Epcot line is another exception because you have two option here of either catching a flight to Epcot or over the other direction to Caribbean Beach.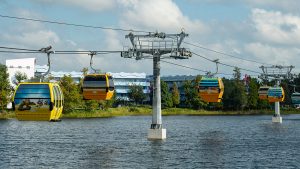 With this knowledge in mind you can now plan out how to get from place to place. For example, if you were wanting to park hop from Hollywood Studios over to Epcot you would get on the line at Hollywood Studios which runs to Caribbean Beach and from there at the Caribbean Beach station transfer to the Epcot Line. Another example, let's say you want to go from Art of Animation to Epcot. You would get on the skyliner at the Art of Animation station for the flight over to Caribbean Beach where you then catch your transfer flight to Epcot.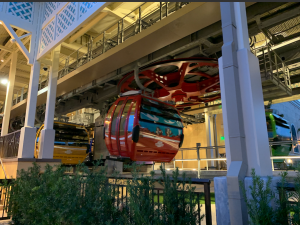 Disney has done a wonderful job with this new transportation system and the Skyliner is very easy to navigate. There are a lot of directional signs everywhere so you know exactly where you are going. And Disney Cast Members are always nearby and happy to help if you have any questions or need directions.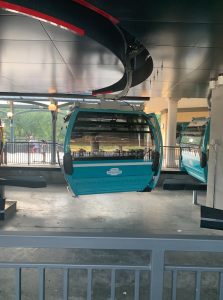 I have become such a big fan of the Disney Skyliner. I enjoyed my experience riding the Skyliner so much and it fills me with so much joy to know that this system is now open at Walt Disney World. I am excited for the future and what this means for new transportation or even a possible expansion of this system in the future!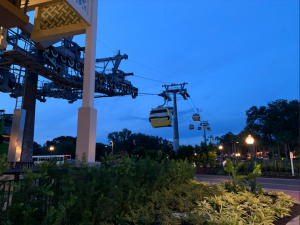 Watch our new YouTube video to hear more in-depth about my experience and thoughts on riding the Disney Skyliner!
Contact your Kingdom Magic Vacations Travel Planner today to plan your next Walt Disney World Vacation!