In today's blog post I am excited to share with you part 2 of my experience at the 2019 Epcot International Festival of the Arts! If you read my previous post then you know how excited I was to be attending this festival for my very first time in person! This was the one festival that I had yet to experience for myself and now having returned from my vacation I can say that this festival just might be my favorite Epcot festival! The event encompasses everything from visual arts to culinary arts and even performing arts! Every corner of the park had something new and fun to discover!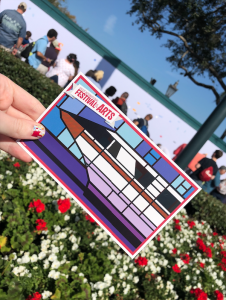 I filmed my entire experience at Festival of the Arts and you can watch it all in our new video series on our YouTube Channel! Join me on part 2 of my Festival of the arts journey! Here's what you will see in part 2:
We continued our first day at the festival by making our way to the Morocco Pavilion where we found "Mosaic Canteen," the festival marketplace in Morocco. Looking over the menu I was instantly drawn to the Mediterranean Flatbread with Za'atar, Olive Oil Artichoke, Olives, Mozzarella, and Feta Cheese. This dish received a 5 out of 5 on my rating scale! It had a little kick of heat but the creaminess of the feta cheese definitely cut the spiciness. This flatbread was packed full of flavor and was such a unique item!
It was then time for our Frozen Ever After Fastpass! We changed up our path around World Showcase and backtracked toward Norway to get to our Fastpass. Along the way, we stopped to look at a few more of the art booths and some of the vendors. You can definitely make multiple laps around World Showcase and always end up coming across something new! We stopped to admire and browse through many of these art galleries. I found a table that I absolutely loved! This table's base was made up of beautiful sculptures featuring characters from the Little Mermaid! Ariel has always been my favorite princess so I was fascinated with this beautiful work of art!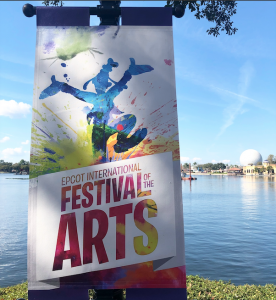 We then took a detour from festival activities to ride Frozen Ever After in Epcot's Norway Pavilion, followed by a ride on the Grand Fiesta Tour in the Mexico Pavilion. After enjoying these two attractions it was time to experience the Festival of the Arts offering that I had been anticipating the most… the Animation Academy! If you have been a Disney parks fan for the past few years or more than you will most likely remember when the Animation Academy was a year-round attraction with a permanent home at Hollywood Studios. In this experience, you get to participate in a 20-minute-long drawing class with a Disney animator! By the end of the session you will have completed your very own Disney character drawing that you get to take home. My family and I always loved this experience! In the days back when Animation Academy was at Hollywood Studios we would at times go around and around, getting back in line and taking the class over and over again! Over the years, we brought home enough sketches to make our own gallery! A few years back Animation Academy at Hollywood Studios was replaced by Star War Launch Bay. Here's the good news, the Animation Academy lives on at Festival of the Arts! During the event, you can visit the Animation Academy over at Epcot's Odyssey Center! The class is structured exactly the same as when the experience was at Hollywood Studios! I was so excited to be back at the Animation Academy! We did two classes back to back. During our first class, we drew Pluto and during our second class we drew Chip from Beauty and the Beast!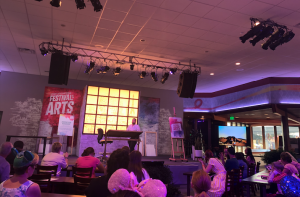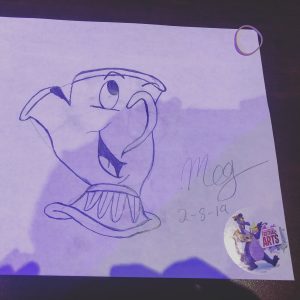 After our class at Animation Academy we ventured into Future World to explore more of the offerings for Festival of the Arts. Over by Test Track we found "Taste Track," a festival marketplace. There was one item here that I specifically wanted, the Paintbrush Churros! These are Mini Cinnamon Sugar Churros Dipped in Colorful White Chocolate! Be sure to snap a picture of these before enjoying them because the presentation is too cute! The churros are served to you inside of a paper cone. The tops of each churro features cascading colorful white chocolate that gives the look of paint running down a paintbrush! It is adorable and it taste incredible! A churro is a classic theme park treat and the white chocolate just enhanced it to a whole new level of deliciousness!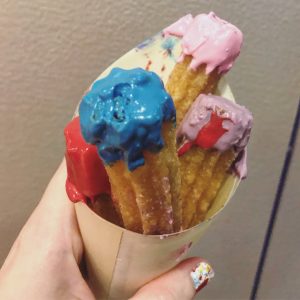 After enjoying those delicious churros, it was time to head out of the park for the night and back to our resort. We made our way to the front of Epcot, but before heading to catch our resort bus we made sure to stop and admire the Festival of the Arts display at the front entrance of the park! We had entered early this day through the entrance at International gateway so this was our first time seeing the beautiful and colorful festival display that is at the front of the park! The display featured a topiary of figment holding a paintbrush and all around him were rainbows and splashes of color!
Watch our YouTube Video:
We then said goodnight to Epcot and caught the bus back to our hotel, but this was just the begin for our time at the Festival! Stay tuned for part 3, when we come back for our second day at the Epcot International Festival of the Arts!
Contact your Kingdom Magic Vacations Travel Planner to plan your next trip to the Walt Disney World Resort or to any destination that you are dreaming of visiting next!