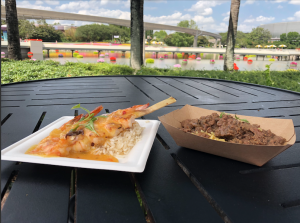 Spring has officially sprung at Walt Disney World! The 2019 Epcot International Flower and Garden Festival is now in full swing! This annual event transforms Epcot into a springtime paradise! Everywhere you turn you will find Disney character topiaries and gorgeous floral displays. In addition to the many breathtaking landscapes you can also taste the flavors of springtime with the many outdoor kitchens that can be found throughout Epcot! The Flower and Garden Festival is one of my favorite festivals that Epcot puts on. You have the culinary element with the food booths, the visual element with all the breathtaking displays and so much more to discover!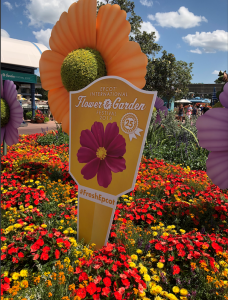 This year's festival runs from March 6, 2019 to June 3, 2019! This festival has a nice long duration and there is still time to plan an awesome springtime getaway to Walt Disney World to experience the event for yourself! Contact your Kingdom Magic Vacation Travel Planner today to talk about package options! I personally just booked my visit and I am so excited to attend the Flower and Garden festival during its 2019 season! From what I have seen online there have been some incredible additions added to the festival offerings this year! Today I am excited to share with you my top 5 things I am looking forward to at the 2019 Epcot International Flower and Garden Festival!
1. New Outdoor Kitchens!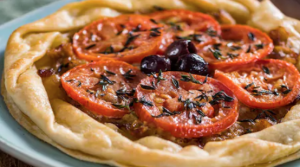 I always love the food and beverage offerings available from the outdoor kitchens during the Flower and Garden Festival! This year four brand-new outdoor kitchens are being introduced for their very first festival season! The new outdoor kitchens are:
The Citrus Blossom
Flavor Full Kitchen hosted by AdventHealth
Trowel & Trellis Hosted by Impossible Foods
Arbor at The Gardeners Terrace
These four new booths making their festival debut will each bring many new offerings to the event! At The Citrus Blossom, I am most excited to trying the Lobster Tail with Meyer Lemon Emulsion and Grilled Lemon! From Flavor Full Kitchen, I am looking forward to trying this booth's featured sweet treat, the Mickey Tart Peanut Butter Mousse with Strawberry Jam and Boba Pearls. Trowel & Trellis is hosted by Impossible Foods and will feature many vegan and vegetarian options. I am most interested in trying the Grilled Street Corn on the Cob with Savory Garlic Spread. From Arbor at The Gardeners Terrace I want to try the Fried Green Tomatoes with Blue Crab-fennel Salad, Remoulade and Smoked Paprika Oil. Each of these new outdoor kitchens look like they will become instant fan-favorites at the festival! I love all the unique offerings that each of these new booths is bringing to the event!
2. Returning Outdoor Kitchens with New Offerings and Old Favorites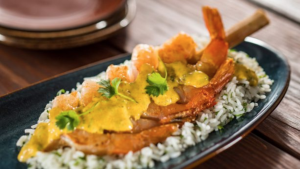 So I've mentioned how excited I am for the 4 new outdoor kitchens but I also can't wait to revisit the returning booths that are festival icons! From looking over the menu offerings from these outdoor kitchens, all of these returning booths will be returning with a twist! Many of the menus have received an update with brand new offerings for guests to enjoy! I always love when there are so many new items added to experience for the first time! This year we are in luck because there seems to be new food and beverage offerings practically everywhere! Here's a quick list of a few new items I am going to be sure to get my hands on!
From: Jardin de Fiestas – Beef torta: Braised Beef served on a Crispy Sourdough Roll with Queso Oaxaca, Avocado, Pickled Onions and Jalapenos in a Spicy Habanero Sauce
From: Lotus House – House-made Crab and Cheese Wontons
From: Primavera Kitchen – Pomodori Verdi e Mozzarella: Fried Green Tomatoes, Mozzarella Cheese, Balsamic Reduction
From: Taste Track – Violet Blueberry Vanilla Croissant Doughnut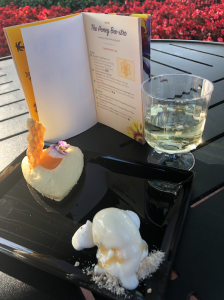 In addition to trying all these new items I am equally as excited to get to enjoy many returning favorites! If you attend the festival each year than you will know exactly what I am talking about! We all have those classic favorite items that we love so much and wait all year to get to enjoy it again! Here's a few of my go-to items that I am thrilled to see back on the menu!
From: The Honey Bee-stro – Honey Tandoori Chicken Flatbread with White Cheddar Cheese, Charred Vegetables, Clover Honey Sour Cream and Micro Citrus Greens
From: The Honey Bee-stro – local Wildflower Honey-mascarpone Cheesecake with orange Blossom Honey Ice Cream garnished with Fennel Pollen Meringue Kisses and Petite Lavender Shoots
From: La Isla Fresca – Caribbean Conch Salad with Mango, Papaya and Pickled Red Onions
From: Hanami – Frushi: Pineapple, Strawberry and Melon rolled with Coconut Rice garnished with Whipped Cream, Berry Sauce Drizzled and Toasted Coconut
From: Pineapple Promenade – Frozen Desert Violet lemonade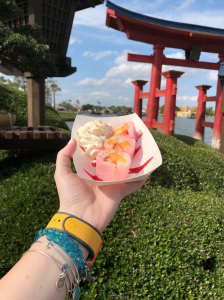 3. Topiaries!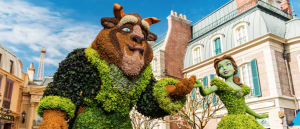 The incredible character topiaries are the heart of the Flower and Garden Festival! Over the years the food booths, concert series and all the other favorite activities associated with the event became exciting additions. The festival beginnings stem back to being all about showcasing the incredible work of the Disney floral team who create topiary masterpieces that resembled different Disney characters. These topiary displays are beautiful! Over the years, the topiaries themselves have become more and more defined and detailed, and the displays around the topiaries have become more and more elaborate each year! These floral displays are always a festival highlight for me! These pieces are works of art and so creative!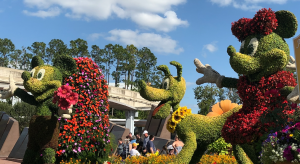 From the pictures I've seen online this year, I think Disney just dialed it up 10 more notches when it comes to incredible displays! There are brand new characters such as Kermit the Frog, Miss Piggy from the Muppets and Bo Peep and her sheep from Toy Story! From the pictures I've seen it appears many of the returning topiaries have been given even more elaborate backdrops and details! For example, Lightning McQueen looks like he is driving down an actually road that is made up entirely of flowers! Also, Lady and the Tramp who can always be found in the Italy Pavilion have been given a new backdrop down by the gondolas on the terrace part of the Italy pavilion! It looks absolutely beautiful!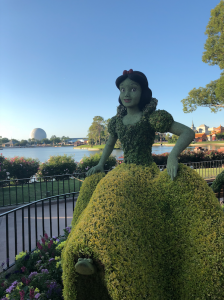 4. Festival Merchandise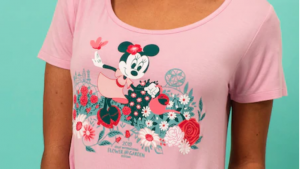 This year's merchandise is the cutest I've ever seen! One of my favorite items to enjoy at the Flower and Garden Festival is the Desert Violet Lemonade! This frozen drink complete with an edible flower on top is a fan-favorite at the festival and because it is so photogenic it is probably safe to say it is the most Instagrammed festival item!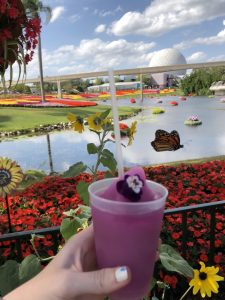 Disney knows how much us guests love our Desert Violet Lemonade and they have actually created an entire line of merchandise inspired by the drink! You can rock some dessert Violet Minnie Mouse ears, a spirit jersey and more!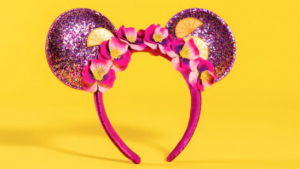 There are also some very adorable items featuring this year's festival logo! I love to collect the Disney Dooney and Burke bags and this year they have an exclusive flower and garden print available in multiple bag styles! The design is set on a white backdrop and features butterflies that are styled after many classic Disney characters! I think that might just have to come home with me!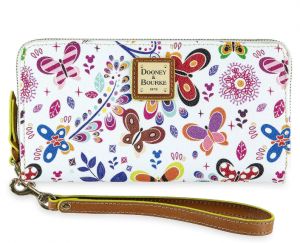 5. Springtime!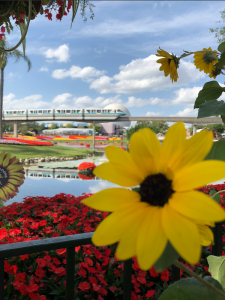 Finally, I am simply just so excited to enjoy this beautiful time of year in my favorite place Walt Disney World! Spring always comes early in beautiful sunny Florida! As I type this I am currently up north where I am looking outside at piles of snow! Planning a getaway to Disney World this time of year is the perfect way to experience the beauty of spring that we are all so ready for! The Flower and Garden Festival does the most incredible job of capturing the beauty and excitement of springtime! This festival has such a happy and fresh atmosphere! After all, Disney does give this event the slogan and hashtag, #FreshEpcot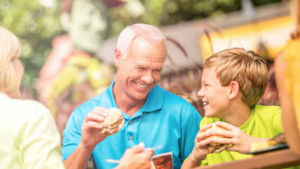 Are you ready for springtime?! Contact your Kingdom Magic Vacation Travel Planner to book your next visit to Walt Disney World or to any destination that you are dreaming of visiting next!