I have talked in blog posts before about how attending the Epcot International Food and Wine Festival is an annual tradition for me and my family! We look forward to this time of year in Epcot all the time and always get excited to have new experiences at our favorite Epcot festival! This year we got to experience an Epcot Food and Wine festival first… attending the festival on its last day! That's right this year we visited the Epcot International Food and Wine festival on November 12, 2018, which was the last day of the festival during this 2018 season!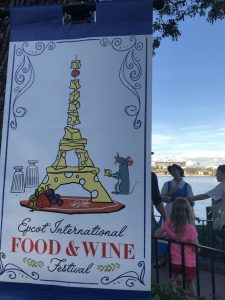 Being at the festival on its final day for the year was a very cool experience. It gave us the perfect opportunity to try all of the food items that we did not get to sample during our visits to the festival on our vacation the previous month. The festival has so many items to try! So after a visit to the International Food and Wine Festival I always wish I would have had more time to try the items I missed! Being able to catch the last day of the festival gave us the opportunity to do just that! Another cool thing we got to experience was the transition that was taking place between Food and Wine decorations and Christmas decorations! It is rare to see the park with a mix of both and it was an awesome sight!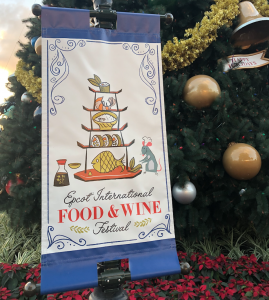 We landed at MCO, hopped on the Magical Express, headed to Disney's All Star Sports Resort, then caught the bus straight to Epcot! The first festival item we sampled was from Earth Eats! This Festival Marketplace was home to an item that had made my top 5 items during our first visit to Food and Wine, the Impossible Burger gets its name because it is a 100% vegan burger! The Impossible burger was delicious and made my top 5's because it was delicious, flavorful and maintained the same char-grilled taste of a real burger! After loving the Impossible Burger from Earth Eats I was excited to try another item from this marketplace! I got the Steakhouse Blended Burger! It was incredible, I enjoyed it even more then the Impossible burger because of how it was doctored up! This burger is a blend of beef and wild mushrooms accompanied by brie cheese fondue, arugula, truffle and blue cheese potato chip all on a brioche bun! My favorite part was the brie cheese fondue! So delicious!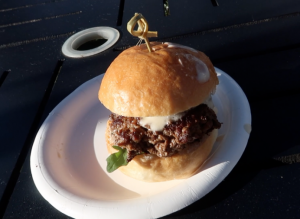 The next item I tried was the Steamed Green Lip Mussels! This was the item I was most excited to try on this day! I tried mussels for the very first time during a vacation at the beach this past summer and ever since then I've been a mussel fan! I then became very excited to try the mussels from the New Zealand Marketplace at Food and Wine! These steamed green lip mussels are served in a garlic butter and topped with toasted breadcrumbs. This was my favorite item I tried on this day! The 3 mussels you get in the portion are very large. I was a little skeptical because sometimes larger mussels can be chewer, however that was not the case with these! These mussels were cooked to perfection and melted in your mouth! I am so glad I got to try them this year and I will absolutely be getting them for every year that they return!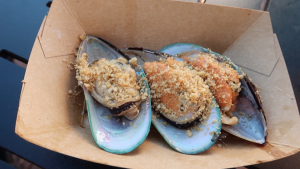 Our next item we tried out was from the Brazil Marketplace. The item we tried was hands down the most popular item among festival goers! We got the Brazilian Cheese Bread! This item has been around for a few festivals now and I have always heard so many rave reviews about it! I had not tried it yet and was very curious to do so. I see now why this item is so popular, it was very unique and the perfect savory snack! After my first bite, I instantly thought that the cheese bread had a familiar taste! We determined it reminds us of a combination between a crescent roll and a mozzarella stick! Definitely so unique! You have to try it for yourself!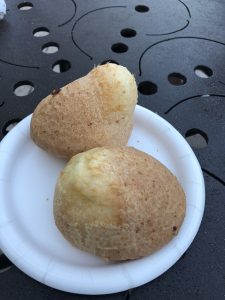 The last item we tried during our festival visit for this 2018 season was the Short Rib Tostada from the Mexico Marketplace. This is a brand-new item that just debut at Epcot's International Food and Wine Festival this year! This tostada is a fried corn tortilla that is topped with short ribs, black beans, salsa verde and spring onion. This was the winner for me at the Mexico Marketplace this year! All of the accompaniments paired so well on top of the crunchy fried tortilla! I have a strong feeling that this item will be returning during the 2019 festival!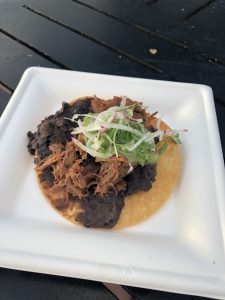 I vlogged our experience of attending the Epcot International Food and Wine Festival during the last day of the festival's 2018 season! You can watch our new video on our YouTube channel:
And on that note… that was the conclusion of our time at this year's 2018 Epcot International Food and Wine Festival. And now I can't wait until 2019! Let the countdown begin! You can start planning your vacation now with one of our experienced and knowledgeable travel planners today! Our team is excited to make your vacation dreams a reality!