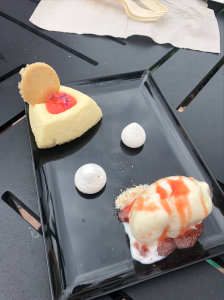 EPCOT is a food lovers paradise.  There are so many things to taste in all the 11 countries around World Showcase, not to mention all the additional food and drinks that come along with the four festivals that happen around the year.  But today I am going to focus on my favorite snacks that I have to get on my trip.  Let's see if any of them are your favorites too!
Norway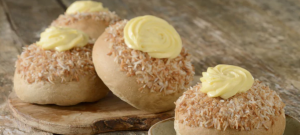 In Norway there is a wonderful Café which is the Kringla Bakeri Café.  You will find many delicious Norwegian treat and sandwiches.  My choice here is the famous School bread.  This is a sweet bread roll, which is injected with vanilla custard and covered with sweet icing and toasted coconut.  The recipe comes from a classic Norwegian snack, which kids took to school in their packed lunches.
China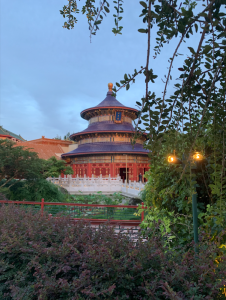 Here in China I always stop by the Joy of Tea cart to pick up a Bubble Milk Tea.  The tea I love is a sweetened peach flavored black tea with tapioca pearls.  This drink is creamy and decedent and I love to stroll the World Showcase while sipping!
Germany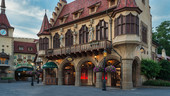 You can smell my next stop before you even see it and that is the Karamell-Kuche shop.  This shop specializes in caramel treats of the maker's of Werther's Original Caramels.  The smell just pulls you into this shop and I grab a bag of their fresh popped caramel corn.  The popcorn is made fresh right there as you watch!
Japan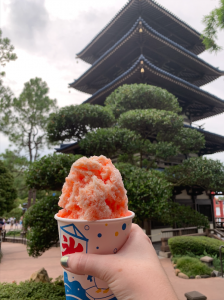 It is usually pretty hot in Florida and nothing can beat the heat like a nice refreshing cold treat.  That is why I stop by the Kaki Gori stand in Japan.  Kaki Gori is shaved ice with a sweet flavored syrup.  I always do the add on of the creamy sweetened milk which gives it a creamsicle taste.  Some of the flavors to choose from are strawberry, melon, cherry and tangerine.  If you can't make up your mind you can ask for rainbow and get a little of everything!
France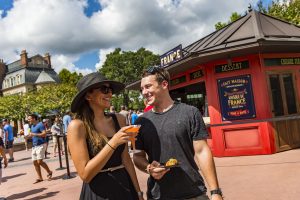 Here in France is a wonderful ice cream shop called L'Artisan des Glaces.  There are many flavors to choose from and even some special treats like ice cream filled macaroons.  My top two flavors are the Caramel Fleur de Sel Ice cream and Coco-white chocolate.  You cannot go wrong with any of the choices.
I hope you enjoyed my top five list and I am sure in the future, I'll have some new favorites as the chefs are always coming up with new treats for us to try.
Contact you Kingdom Magic Vacation Travel Planner to start planning your next Walt Disney World vacation!