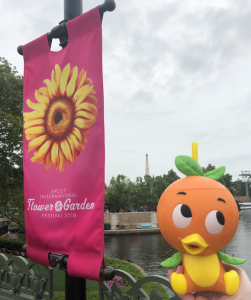 I recently got back from an incredible trip to the Walt Disney World Resort! This spring time trip was extra exciting because we visited during the Epcot International Flower and Garden Festival! This annual festival takes place every spring in Epcot! The event puts Epcot in full bloom with floral displays covering every inch of the park, character topiaries and some incredible outdoor kitchens offering springtime inspired food and beverage items!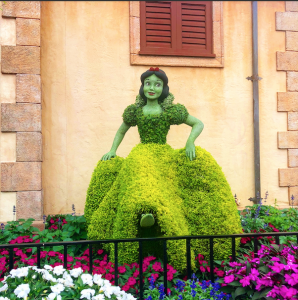 Last week I took you on a tour of some of the beautiful and detailed character topiaries that could be found around the festival! Now this week I am excited to show you more about the outdoor kitchens at the Event! Let's dive into the culinary offerings at this year's 2019 Epcot International Flower and Garden Festival!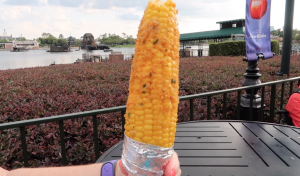 On our first visit to the festival of this trip we made our first outdoor kitchen stop at Trowel and Trellis! This booth was hosted by Impossible foods. Everything at this outdoor kitchen is vegetarian and vegan. From here we tried our first festival food item, the Grilled Street Corn on the Cob! It was a 5 out of 5! The corn was cooked to perfection and popped right off when you ate it. The corn was doctored up with a savory garlic spread that added the perfect amount of flavor without being too overpowering.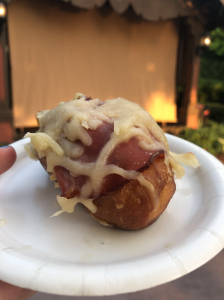 The next festival booth we stopped at was the Bauernmarkt in Germany! Here we had the Toasted Pretzel Bread. The pretzel bread was topped with black forest ham and melted gruyere cheese! YUM! It was the best comfort food! Declared this to be another 5 out of 5!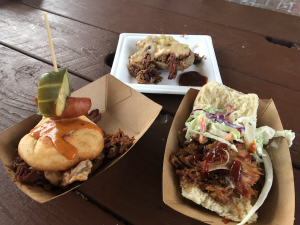 As we continued a lap around World Showcase we then stopped off in America for The Smokehouse! Here we got 3 festival items! The first was The Pulled Pig Slider that was accompanied with coleslaw on top. Then we had the Beef Brisket Burnt ends and Smoked Pork Belly Slider which also featured garlic sausage, chorizo, cheddar fondue and a house-made pickle. The third item we got here was the Shredded Beef Brisket which featured a smoked potato, chorizo fondue and green tomato relish! All of these items were excellent! The Smokehouse always hits it home year after year at this festival! The Beef Brisket Burnt ends and Smoked Pork Belly Slider ended up being my favorite out of the 3 items with tried here! The barbecue sauce had a bit of sweetness to it and accompanied the cheddar fondue so well!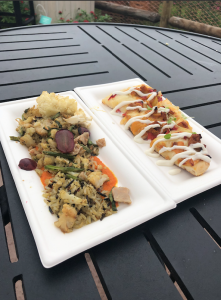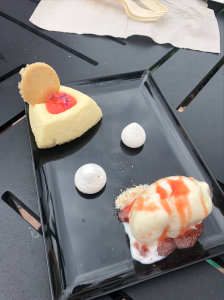 The next day that we visited the Flower and Garden Festival we began with a stop at The Honey Bee-stro! This was my favorite booth during the previous 2018 festival so I was so looking forward to stopping here this year! It lived up to my year long wait! We got the Honey Tandoori Chicken Flatbread which featured white cheddar cheese, charred vegetables, clover honey sour cream, and micro citrus greens. This was my favorite item of the festival! I loved it! The second item we tried here was the Roasted Cauliflower which featured a buckwheat honey carrot puree, wild rice pilaf, asparagus, honey-blistered grapes, sunflower brittle, and coriander flowers. We also indulged in a dessert item here, the Local Wildflower Honey-Mascarpone Cheesecake! This dish is so decadent and delicious! It features orange blossom honey ice cream garnished with fennel pollen meringue kisses and petite lavender shoots. This item is a must-try!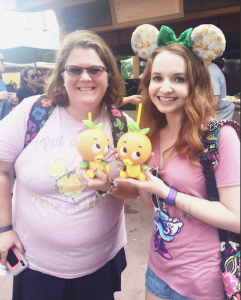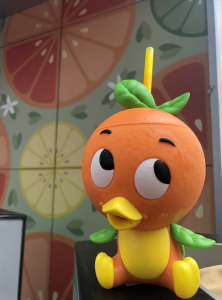 Next we made our way over to The Citrus Blossom. I had one very special item in mind that I know I wanted to get here, the Orange Cream Slushy! This slushy taste just like an orange creamsicle and it is served in a souvenir orange bird sipper cup! I am a huge Orange Bird fan so this item was a must for me! It is the perfect refreshing treat!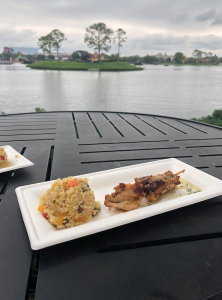 From the taste of Marrakesh booth in Morocco we tried the Harissa Chicken Kebab. It was served with a dried fruit couscous salad! Another big hit for this year's festival!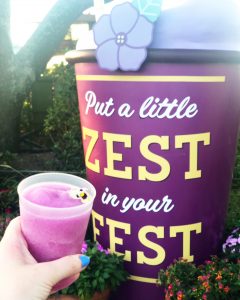 The final item I enjoyed at this year's Epcot International Flower and Garden Festival was a festival icon! The Frozen Desert Violet Lemonade! The Violet Lemonade is a very popular Instagram phenomena! It is a pretty purple color and is adorned with an edible flower! This item has been a must-get beverage for me at the flower and garden festival year after year! I am not the only one who loves this very photogenic drink! People love this item so much that this year it was actually used in a lot of the Flower and Garden Festival merchandise designs! Everyone loves this drink! Be sure to check it out!
You can watch my full festival journey in our new YouTube video!
I hope you enjoyed this 2019 Epcot International Flower and Garden Festival culinary tour! Be sure to contact your Kingdom Magic Vacation Travel Planner today to plan your next trip to the Most Magical Place on Earth or to any destination you are dreaming of traveling to next!