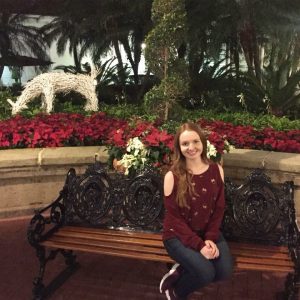 I hope everyone had a wonderful Christmas filled with peace and joy! Even though Christmas is over for the year that doesn't mean the holiday festivities are slowing down anytime soon! Now we are counting down to New Year's! Last year I spent New Year's Eve at the Walt Disney World Resort and the experience became my favorite New Years to date! There are many wonderful ways to ring in the New Year at Disney! I wanted to share with you my evening last year and what my experience was like!
I enjoyed a fireworks boat cruise that set out from Disney's Grand Floridian resort and Spa. We got to dock in the middle of Seven Seas lagoon and have one of the best spots in the house for the Magic Kingdom fireworks!
We arrived to Disney's Grand Floridian Resort early for our dinner reservation at Grand Floridian Café. It was my very first time dining at the restaurant and now this dining location is on the top of my list for my favorite restaurants at Walt Disney World! A great meal is always a must for any New Year's Eve celebration!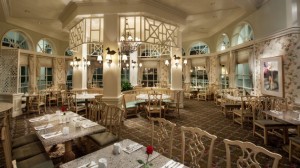 Then we made our way to the Grand Floridian's marina. Included in the fireworks boat cruise for the New Year's celebration was a private dessert party only for those groups taking fireworks cruises that evening! They had a roped off section just out front of the marina near Gasparilla Island Grill. They had such a nice spread for us of delicious desserts, soft drinks, coffee and alcoholic drinks for those in the party over 21. Disney also provided all of us with festive gear including noise makers, party hats and more!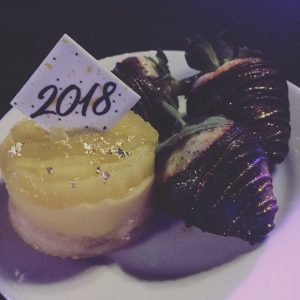 After a wonderful dessert party, it was soon time for the fun to begin! We meet our very own boat captain who escorted out party to our private pontoon boat. We set out for a tour around all of Seven Seas Lagoon and Bay Lake. The voyage was very relaxing and beautiful. Our captain was very knowledgeable and told Disney history and facts about the property throughout our voyage.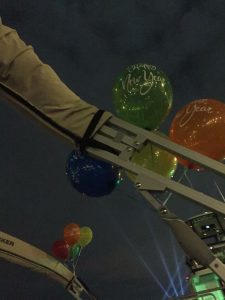 As midnight approached we then got our spot and docked on the middle of Seven Seas Lagoon to enjoy a wonderful viewing of the New Year's Eve fireworks from the Magic Kingdom! My favorite part is the grand finale where the Disney characters countdown from 10 until we reach the stroke of midnight! Fireworks in the shapes of numbers 10 through 1 explode in the sky! It is truly incredible! Once the new year is here the night sky is illuminated with tons of fireworks from every direction! It will take your breath away. Your boat captain will then provide a champagne toast for all those in the party old enough to enjoy it.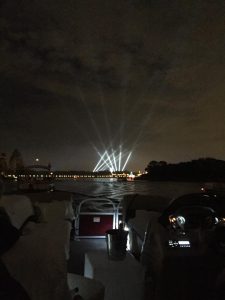 I had the most incredible time ringing in the New Year at Walt Disney World. I vlogged my entire experience from the evening. You can watch it on our YouTube channel:
Have a wonderful New Year! Now is the perfect time to book your 2019 travel plans! Contact your Kingdom Magic Vacations Travel Planner today!