The Epcot International Flower & Garden Festival chefs have chosen some fun dishes to encourage youngsters to try something new as part of Disney's TRYit campaign.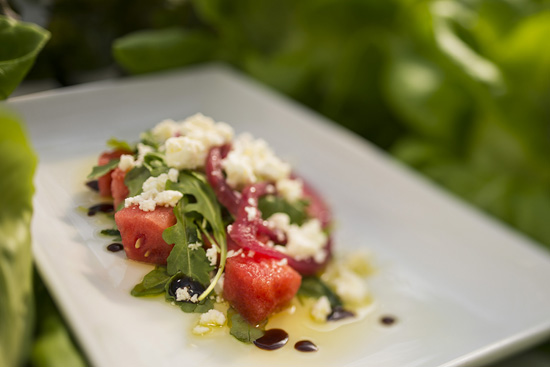 Jens Dahlmann, executive chef for Epcot says, "I approached the TRYit dishes for the Epcot International Flower & Garden Festival like I approach new foods with my own children, focusing on great ingredients and finding ways to make them interesting for our younger guests.  For some dishes, we found fun and interesting ways to present them, like the 'Frushi' [fruit sushi] for example, while other dishes such as the Watermelon Salad combine a familiar fruit paired with the unusual tastes of arugula and feta cheese, making it a whole new experience."

TRYit is part of Disney's Magic of Healthy Living initiative, partnering with parents to inspire kids to try new foods and new activities. You'll see TRYit dishes all throughout the World Showcase Promenade. The festival is a fun way to try small bites of something new.
Look for the TRYit logo on these diverse dishes in the Garden Marketplaces and Festival Center.
The festival runs from March 6 – May 19, so there's lots of time to try them all:
Beet Lollipop (Intermissions Café in the Festival Center)
Wild Berry Slush (Fruits by the Glass)
Baked Goat's Brie with Kumquat Chutney (The Cottage, United Kingdom)
Frushi (Fruit Sushi) (Hanami, Japan)
Lasagna Primavera (Primavera Kitchen, Italy)
Potato Pancakes with house-made Apple Sauce (Bauernmarkt, Germany)
Spring Pancake with Grilled Chicken & Green Apple (Lotus House, China)
Watermelon Salad with pickled Red Onions, BW Farms Baby Arugula, Feta Cheese & Balsamic Reduction (Florida Fresh)
Angel Food Cake with macerated Florida Berries (Florida Fresh)
Ratatouille Tarte with Goat Cheese (L'Orangerie, France)
Moroccan Sweet Pancake (Taste of Marrakesh, Morocco)
Waterkist Farms Heirloom Tomatoes with house-made Mozzarella, Minus 8 Vinegar & Basil (The Cottage, United Kingdom)
To learn more about TRYit and Disney's Magic of Healthy Living, visit the Magic of Healthy Living web site.