I was running and I had the Robert Palmer Song "Addicted to Love" in my head.  If you replace the word "kiss" with Medal and "love" with Bling, the song really says it all. This is exactly how I feel when I'm ready to hit "send" on my next race registration. It may be my new mantra.
Your lights are on, but you're not home
Your mind is not your own
Your heart sweats, your body shakes
Another medal is what it takes
You can't sleep, you can't eat
There's not doubt, you're in deep
Your throat is tight, you can't breath
Another Medal is all you need
Ohh ohhhh
You like to think that you're immune to the stuff.. oh yeah
It's closer to the truth to say you can't get enough
You know you're gonna have to face it
You're addicted to BLING!
My Bling obsession started out innocently enough.  I had run a few 5ks because it was a way for our family to have some fun together.  I had participated in the Great Aloha Run a few times when we lived in Hawaii. That's an 8 mile course from Aloha Tower to Aloha Stadium. Lots of fun.  No Bling.  I decided that my husband and I needed some common hobby that we could do together, maybe travel a little, and have fun at the same time now that the kids are out of the house. So I started training.
I first heard about RunDisney races in 2010. I decided that we needed to sign up for the 2011 Wine and Dine Half Marathon. My husband being the foodie, wine guy that he is I figured this weekend would make us both happy.  Well, long story short, I trained using the Galloway method and was ready and hubby wasn't able to go.
That was it. I was hooked.  I wore that first medal with such pride and accomplishment but like a junkie I needed more.  I went right home and registered for the 2012 Princess Half Marathon (can you believe I was able to register that late??? Those days are gone).  Since that first race I have participated in 3 princess Half Marathons, 2 Wine and Dine Half Marathons (finally got hubby there), 1 Tinkerbell Half Marathon, 1 Expedition Everest 5k, Royal Family 5K, 2 Castaway Cay 5ks, and Princess 10k. I have my Coast to Coast and a Glass Slipper Challenge medals that I am very proud to show off.  This January I'll add the Half marathon medal from Marathon weekend and hopefully Dumbo Double Dare and new Coast to Coast medals later in 2015.
I have also branched out to help fill my Bling need when I can't get to Disney. I have run the Hershey Half marathon (Helloooooo chocolate at mile 11), the Cherry Blossom 10 miler and the Nike Women's' Half Marathon where I received my Tiffany necklace at the finish.  Now, that's BLING!
It's an expensive habit, but lets face it, there are more destructive things I could be addicted to that would harm more than just our bank account.  I love the RunDisney races and will try to run all of the Half marathons so I can check them all of my ToDo list.  Problem is they keep adding new races.  It looks like my list will never be complete… and I'm ok with that.
Donna Genco ~ Collector of Bling
Guest Blogger – Donna Genco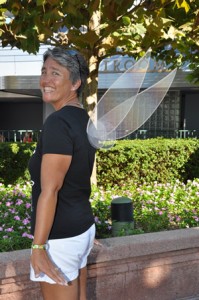 Donna is not only one of Kingdom Magic Vacations Independent Travel Planners, she is also a runner and contributor over at Kingdom Magic Runners Facebook Page. She's participated in numerous RunDisney Events from the Wine and Dine Half Marathon, Expedition Everest and more on the East Coast, but she's also been to Disneyland for the Tinkerbell Half Marathon as well.  Her passion may be RunDisney races, but she has also participated in other races as well.