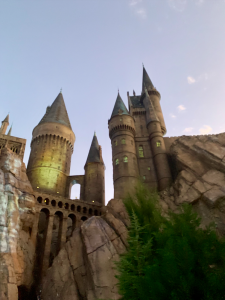 Last week I shared that on our most recent company event I had the incredible opportunity to experience the Universal Orlando Resort for my very first time! In last weeks post I detailed what the experience was like and everything that I had the chance to do in the resort and parks during my time there.
Last week's post:
This week I wanted to get more personal and share what my top 3 favorite things were from the Universal Orlando Resort! Let the list begin!
Race Through New York Starring Jimmy Fallon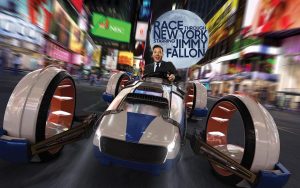 Race Through New York Starring Jimmy Fallon was the very first Universal Ride I experienced inside Universal Studios Florida! I enjoyed this ride so much that it made my highlights list! Something that really struck me about this experience was actually the wait before you board the attraction. Instead of standing in your average queue forming a winding line like most rides, here the process is completely different. Soon into your wait your party gets handed a card with a color group on it. You then head upstairs to what is set up as the Tonight Show stage. Here you will find lots of displays to look at and nice seating areas to go relax. It is one big open space where you can explore or simply just sit down. Then when they call your color group you make your way to the ride entrance and are inside the attraction in minutes. This was really neat to see! My favorite part of the waiting area was the stage where live acts would come out and perform for everyone! While we were there the entertainment was a barbershop quartet that did covers of many modern day pop songs! They were so entertaining! Everyone in the room was having such a great time. You would never know we were really all waiting in "line" Here at this ride the waiting is part of the actually attraction!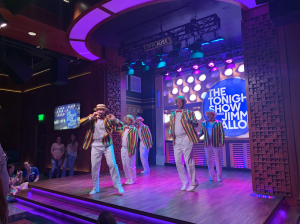 Diagon Alley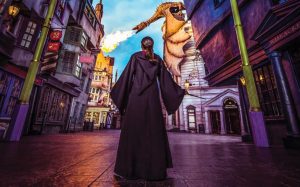 Another highlight from inside Universal Studios Florida for me was exploring Diagon Alley! Diagon Alley is part of the Wizarding World of Harry Potter. At Universal Orlando the Wizarding World of Harry Potter is actually built in two locations. There is a Harry Potter section in both Universal Studios and in Universal's Islands of Adventure. Universal Studios is home to Diagon Alley and Islands of Adventure holds the Wizarding World of Harry Potter Hogsmeade. Out west in Universal Studios Hollywood they also have the Wizarding World of Harry Potter Hogsmeade. I have been out to Universal Studios Hollywood before so I was already familiar with Hogsmeade. But Diagon Alley, which can only be found in Universal Studios Florida was entirely new for me. if you read my post from last week about my full experience visiting Universal, then you will know that the day I visited the parks was the night of a Halloween Horror Nights. This meant Universal Studios closed early in preparation for the event that night. By the time I got into Diagon Alley the park had just closed so I wasn't able to ride anything or go in any shops but as the park was clearing out, I was able to walk around Diagon Alley and see everything! This is something that I have always wanted to do! I am a big fan of Harry Potter so I appreciated getting to see all of the details and references there were from the movies!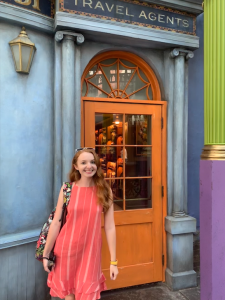 Harry Potter and the Forbidden Journey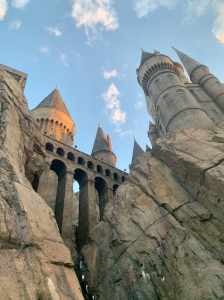 Once Universal Studios closed for the night we used our park-to-park ticket and made our way over to Islands of Adventure to spend the rest of the evening. It was there that I had my next highlight, getting to ride Harry Potter and the Forbidden Journey. As I said earlier, Universal's Islands of Adventure park is home to the Wizarding World of Harry Potter Hogsmeade. Hogsmeade was very similar to the Hogsmeade found out in Universal Studios Hollywood that I had recently been to and it felt so good to see it again and enjoy another butter beer! But on this Hogsmeade visit I had my next highlight. Something I didn't have time to do during my visit out in California, I got to ride Harry Potter and the Forbidden Journey! This is the main attraction in the Wizarding World of Harry Potter! It was spectacular! I loved everything about this experience. The queue line for this attraction is actually inside of the Hogwarts castle! I felt like I had stepped inside of the movie! Similar to the Jimmy Fallon attraction, I found I did not mind the wait because there was so much to look at! Most notably – the talking portraits on the castle walls! They keep you very entertained while in line. The ride itself was very immersive. You feel as though you are flying on a broom alongside Harry Potter. This ride is part simulator and part roller coaster track. There are many exciting dips and turns. It is a great thrill!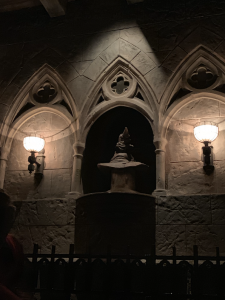 These were just a few of my top highlights I got to enjoy on my quick visit to Universal Orlando. I am already so eager to get back! I know that my list will keep growing and growing as I experience all of the great attractions and rides these parks have to offer.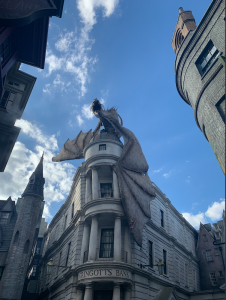 I learned on this visit to the Universal Orlando Resort how incredible this destination truly is. There is something for everyone here! From the gorgeous Universal Resort Hotels to the thrills and theming in the amazing parks – it all adds up to one incredible vacation. Contact your Kingdom Magic Vacations Travel Planner today to book your next vacation to the Universal Orlando Resort!