If you are anything like us, you love Fall and Halloween at the Magic Kingdom and especially Mickey's Not-So-Scary Halloween Party!  These parties are extra special events where they close the Magic Kingdom to regular park guests and bring in some extra special Halloween decorations and treats that you can only experience at the Party!
Here are 5 tips to help you enjoy these parties and get the most treats with no tricks!
1.  This is a Family Friendly Event  – Like the name implies, this is a Not-So-Scary Halloween Party.  Unlike other Orlando Theme Parks, Walt Disney World offers a purely family-friendly environment that is suitable for children of all ages.  There are some dark areas, but if your kids loves the Haunted Mansion, that is about as dark as the entire evening gets!
2.  Wear A Costume – Children are always allowed to wear Princess Outfits or Pirate Costumes in Disney Parks, but adults do not have that luxury…except for Mickey's Not-So-Scary Halloween Parties!  As long as you wear a costume that does not cover your face (ie. a full head or face mask) you are welcome to enjoy the party.  Remember, it's still pretty warm in Orlando during the Fall, so make sure that your costume is lightweight an not too heavy!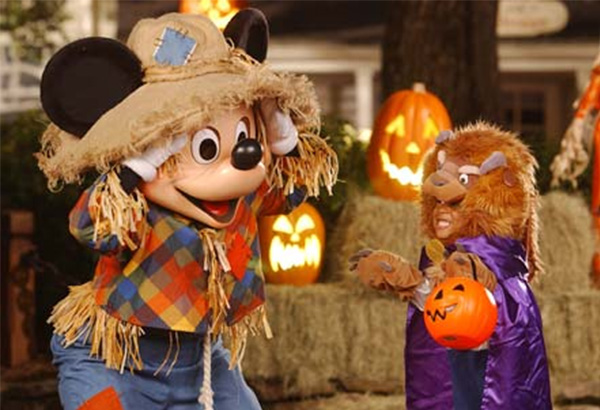 3.  Trick Or Treat All Night Long – During the party, there are several locations located all around the Magic Kingdom…and you can trick-or-treat as much as you want.  You can return as much as you want and as the night progresses, many Cast Members often become more generous in their treat giving.  We suggest bringing your own bag though…the bags that Disney provides are a little small.
4.  Arrive A Little Early – Even though Mickey's Party officially starts at 7 p.m., which is when all of the entertainment actually begins, guests can enter with their Halloween Party tickets as early as 4 p.m. This is not something Walt Disney World advertises, but it absolutely is true, and you will see plenty of other guests arriving at 4 p.m., and Cast Members in their Halloween outfits at the turnstiles.  This allows you to enjoy a full 8 hours inside the park, for 1/2 the price!
5.  Make Time to Meet Characters – Haloweentime is one of the best times to meet your favorite Disney Characters, and during Mickey's Not-So-Scary parties, all your favorite characters are dressed in special Trick-or-treat costumes!  Past favorites are Winnie the Pooh and friends, Snow White, and all 7 dwarfs – they are all not to be missed!!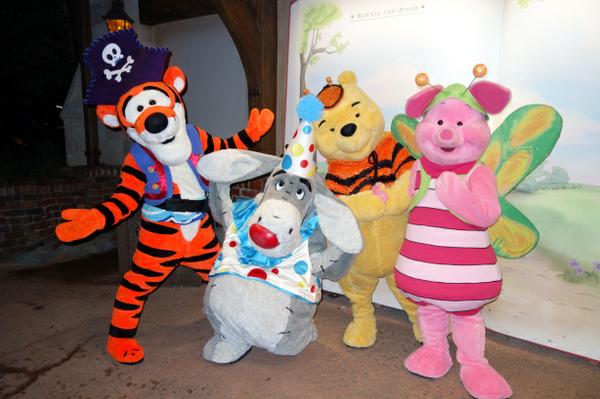 Mickey's No-So-Scary Halloween Parties are Hard Ticketed events, which means you have to buy a separate ticked for entrance to the party.  The parties run on select nights in September and October from 7:00 pm to Midnight.
Contact your Kingdom Magic Travel Planner when you book your Walt Disney World Vacation and let them know you need tickets to Mickey's Not-So-Scary Halloween Party today!