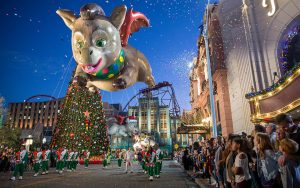 This past week we celebrated Thanksgiving! I am still enjoying the leftovers now! I don't know about you but for me and my family a holiday tradition for us is to always watch the Macy's Thanksgiving Day parade! This is a tradition for so many families that look forward to seeing those dazzling musical performances and towering character balloons each year! If you have ever dreamt about going to watch the parade live but don't want to fight through the New York City crowds or deal with the frigid winter conditions then I have great news for you! You can experience a version of the Macy's holiday parade all season long at the Universal Orlando Resort in sunny Orlando Florida!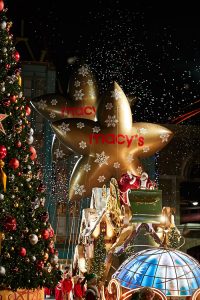 Universal's Holiday Parade featuring Macy's guests can look forward to experiencing light snowfall, twinkling lights, joyful music and a mix of both merry and mayhem! This parade made it's debut last year in 2017 and was an instant hit with park-goers! The festive parade will return as part of Universal's resort-wide Holidays celebration, running Nov. 17 – Jan. 6. The parade's theme is inspired by beloved childhood memories and brought to life by many popular Universal characters!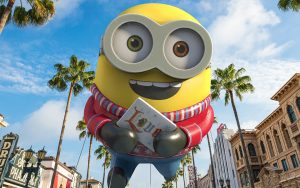 Here are a few festive fun facts about Universal's Holiday Parade featuring Macy's:
The parade will travel a grand total of more than 26 miles as it makes its way down the Universal Studios Florida streets each night!
There is no question that the highlight of the parade is its 15 intricately hand-crafted floats featuring characters from Despicable Me, Madagascar, Shrek and more. And these floats are MASSIVE. You can't miss them!
The float featuring Shrek, Fiona and Dragon rivals the size of two large African elephants. This float Weighs in at about 30,000 pounds and measures 35 feet long! Also thanks to Dragon's 16-foot wingspan, it's also one of the widest floats!
It's not a holiday parade without those classic Macy's star balloons! The star balloons in the parade measure 24 feet wide! That's the same size as the width of five taxi cars!
Piloting floats and balloons of this size requires a lot of practice! Training begins each summer for Universal's team of nearly 300 people, including float operators, balloon handlers and parade escorts!
Guests will see more than 100 dancers and characters during the parade! They are all dressed to impress in their holiday best!
Last year, over 220 gallons of snow machine fluid were used to create a special Florida snow flurry during the parade's finale!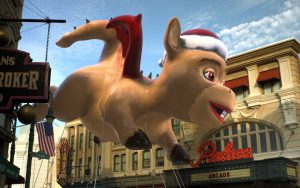 Watch our videos from last year's Universal's Holiday Parade featuring Macy's:
Universal's Holiday Parade featuring Macy's is a dazzling experience that you have to see for yourself! There is still time to plan a last-minute getaway to the Universal Orlando resort this holiday season! Contact your Kingdom Magic Vacations travel planner today!