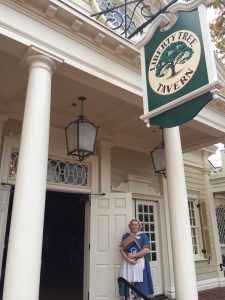 If you have been following our blog then you may remember that on my most recent vacation with my family to the Walt Disney World Resort, one night of our trip I met up with some of my wonderful Kingdom Magic Vacations Travel Planner friends and we enjoyed a very fun night at Storybook Dining at Artist Point! On this same evening, my parents headed to the Magic Kingdom to enjoy a meal at a restaurant they had both never been to before, Liberty Tree Tavern. They loved their experience here so much that we are now talking about all making a reservation here together on our next trip! I am very excited about this because I have never dined here but I have always wanted to! Now hearing how much my parents enjoyed their meal  I am all the more excited to check Liberty Tree Tavern out for myself!  I sat down with my parents and they described their dinner experience.  I will share with you now what they told me.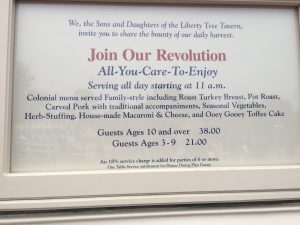 They were looking for a last minute reservation and really wanted a sit down meal at Magic Kingdom instead of counter service.  They checked on My Disney Experience and were able to secure a reservation at Magic Kingdom's Liberty Tree Tavern for the exact time they wanted.  They checked in at the restaurant and were told to have a seat in the waiting area, which was very Colonial looking with a field stone hearth in the center.  When their table was ready, the hostess announced from across the room "Hear Ye Hear Ye Liberty Tree Tavern welcomes the Przychodzien Family from Pennsylvania".  The restaurant has a few different rooms and is decorated in a Colonial Williamsburg theme.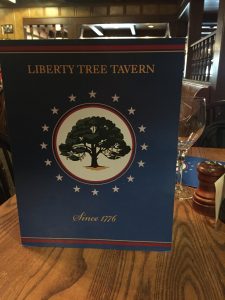 Their server explained that the meal would be all you care to enjoy and that they could ask for more of anything that they liked.  Dinner rolls and a large bowl of salad came out first.  Both my parents loved the salad and said it was so fresh and the dressing was light and very delicious.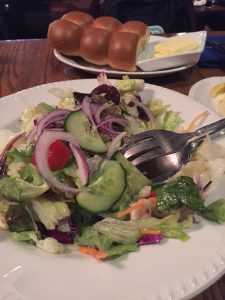 Since it was just the two of them, they were each served their own plate with all of the food offerings on it.  Other larger parties were served family style with large platters of the food that they could plate themselves.  The meal consisted of roast turkey breast, pot roast, carved pork with mashed potatoes, stuffing, dressing, green beans and cranberry.  They also received a bowl of mac and cheese.  They both enjoyed their meals very much and said it was just like your traditional Thanksgiving feast without all of the work!  They loved the turkey breast and pot roast best and said that all the sides were very good.  Neither of them asked for seconds of anything because they said the portion size they received was big enough, they could not finish it all and they still had dessert coming!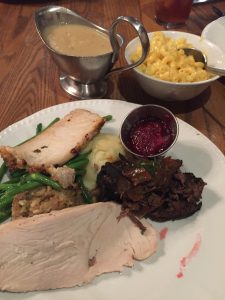 A platter of three desserts were brought to them which consisted of warm banana cake with butter pecan ice cream-salted caramel and candied pecans, apple fritters with powdered sugar and maple caramel and then their famous ooey gooey toffee cake.  They said all three desserts were good but the best was the ooey gooey toffee cake, which is their signature dessert.  They said it lived up to the hype!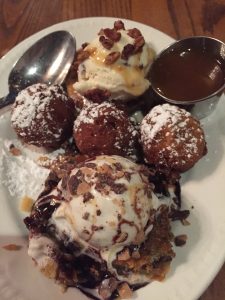 The meal was $38.00 a person for guests ages 10 and over and $21.00 for guests 3 to 9.  My parents felt it was an excellent value for everything you got with beverages and dessert included.  Like I said earlier they plan to return to this restaurant and next time I am making sure I am with them to experience all this yummy food for myself!
Contact your Kingdom Magic Vacations Travel Planner today to plan your next magical vacation! Our knowledgable team is always happy to assist you in making any dining reservations to enhance your trip, so you can relax and enjoy while you leave the planning up to us!