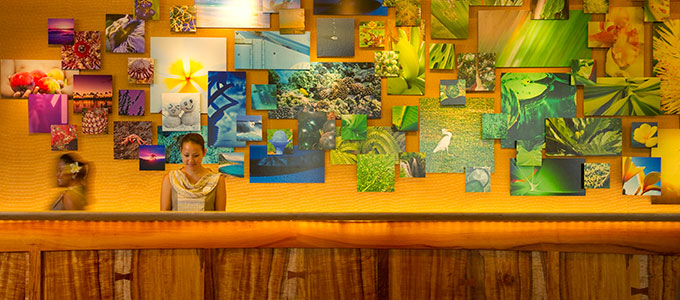 Guest services at Aulani, a Disney Resort & Spa in Ko Olina include ATM, babysitting, concierge, wireless Internet, laundry, groceries and more. A number of services are available at the Resort to make your stay as easy and stress-free as possible.
ATM
For some quick cash, an Automated Teller Machine is located in the lobby for your convenience.
Bell Services
Does your luggage need a lift? Take advantage of our handy bell service any time of the day or night!
Car Rental
Renting a car is one of the best ways to get around the island. Visit the Alamo Rental Car desk next to the 3rd floor lobby for assistance. Hours are limited.
Concierge Desk
Whether you need help making reservations for dining, recreation, excursions or the spa, visit the Concierge Desk located next to the Front Desk in the lobby. Our staff can also assist you with transportation arrangements and provide many other services.
Early Check-In/late Check-Out Lounge
For Guests with late flight arrangements, this lounge provides restrooms, showers and dressings rooms, as well as a TV viewing area. It's located on the first floor of the South Wing next to the Pau Hana Room.
Holoholo Tours & Travel Desk
Book your excursions with the help of our staff at the Holoholo Tours & Travel Desk, located in the lobby on the 3rd floor.
Groceries
Located in the lobby, Kalepa's Store offers a limited selection of grocery items.
Ice Machines
Ice machines are located on every floor by the rooms ending with the numbers "30" and "71."
Internet
Wireless high-speed Internet access is available in all rooms and throughout the Resort.
Laundry
Laundry facilities are available for a fee on the first floor near Rooms 130 and 171. Or if you'd prefer valet laundry services, just fill out the laundry list in your hotel room and attach it to the items you wish to be laundered. Charges will be billed to your room at the end of your stay.
Parking
Both self- and valet parking are available to Guests for a fee.
Telephones
House telephones are located throughout the Resort, while pay phones located specifically in the lobby.
Trash and Recycling
Rooms for depositing trash and recyclable items are located on every floor of the Resort beside rooms ending in the numbers "30" and "71."
Vending Machines
Snacks and drinks are available from vending machines on every floor of the Resort beside rooms ending in the numbers "30" and "71."