Disney Cruise Line Destinations
Disney Cruise Line has selected the most stunning itineraries—in the most exciting regions around the world—for cruises you and your family will not soon forget. Enjoy the service and expertise of our dedicated crew as we guide you in your exploration of international ports of call, from the Caribbean region to Europe and beyond. Discover, in detail, the world of delights waiting for you.
---
Set sail for the unspoiled natural wonder of Alaska, on cruises that include stops in Skagway, Juneau and Ketchikan, among other ports of call.
---
Chart a course to the breathtaking beaches, incredible recreation and singular leisure of Nassau and Disney's very own Castaway Cay.
---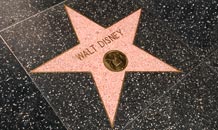 California Coast
From the star–studded scenery of Los Angeles to the iconic architecture of San Francisco, you can explore the Golden State with California Coast sailings!
---
Explore a tropical treasure trove of sun, sand and surf on cruises to Antigua, St. Kitts, St. Lucia, Grenada, Barbados, Grand Cayman, St. Maarten and more.
---
Take off from historic Barcelona or Venice on an unforgettable Mediterranean cruise that includes spectacular ports of call in Greece, Italy, Spain, France, Turkey and Croatia.
---
Embark on a 14- or 15-night cruise to the historic Panama Canal, with scenic stops in Cozumel, Cartagena, Cabo San Lucas, Puerto Vallarta and Key West.
---
From the tropical splendor of the Caribbean to the historic wonders of the Mediterranean, this 12- or 14-night cruise boasts ports of call in Spain, Portugal, Antigua, St. Maarten, Disney's Castaway Cay and more.
---
From the comfort of a Disney cruise, experience the breathtaking beauty of the Pacific Coast or the Caribbean all while visiting unique ports of call along the way. On these special cruises you're bound to discover a vacation that holds incredible fun for the whole family.