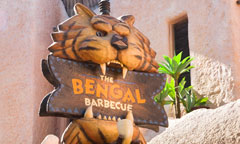 Bengal Barbecue
Sink your fangs into savory skewers of beef, chicken, veggies and bacon-wrapped asparagus. Delectable desserts are also available to satisfy sweet-tooth cravings at this wild counter-service restaurant.
---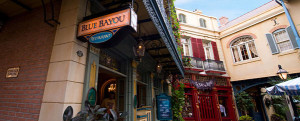 Blue Bayou
Relish Louisiana-inspired cooking and full table service in a moonlit setting while boats from Pirates of the Caribbean float past. Savor rich Cajun creations like jambalaya and gumbo as well as specialty entrees including mahi-mahi and surf and turf.
---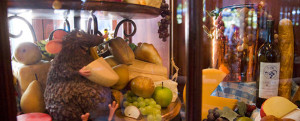 Café Orleans
Enjoy a grand view of the majestic Rivers of America at this delicious table-service restaurant serving classic American flavors with Cajun-Creole flair. Select from appetizing French Quarter favorites — including signature crepes and the irresistible Monte Cristo sandwich.
---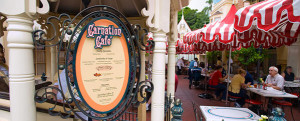 Carnation Café
This quaint courtyard eatery on Main Street U.S.A. features café classics such as chunky chicken pot pies, juicy roast beef and crowd-pleasing "Butcher Block" sandwich plates for lunch. Popular breakfast items include croissant sandwiches and Mickey Mouse waffles.
---
Churro Carts
Grant sweet wishes with pastry wands of fried dough coated in cinnamon, sugary goodness.
---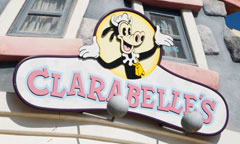 Clarabelle's
This spotted snack stand in Mickey's Toontown features kid-friendly items like the Kid's Power Pack, a healthy yet tasty meal, and other Moo Plate Specials — in addition to the sweet ice cream treats.
---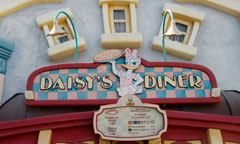 Daisy's Diner
Stop by Daisy's Diner for personal pizzas, delicious house salads and choice outdoor seating in the middle of Toontown City Hall.
---
Edelweiss Snacks
Visit this alpine chalet where you'll be happy to meet turkey legs, chimichangas and buttered corn on the cob. Then, chill out in the shadow of the Matterhorn with a fountain drink or frozen beverage in blue raspberry, cherry or apple.
---
French Market Restaurant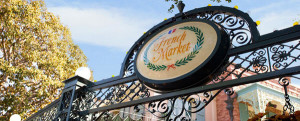 Groove to the rollicking sounds of a jazz band on the Dixieland Stage as you enjoy a cafeteria-style meal — including sumptuous Cajun-Creole dishes like Cajun chicken salad, Creole salmon and seafood jambalaya.
---
Fruit Carts
When you feel your hunger raisin', keep snacks nutritious with peachy-keen carts offering wholesome produce.
---
Galactic Grill
Embark on a culinary adventure at this Star Wars-themed eatery teeming with out-of-this world options. It's your destiny to decide between the Dark Side and the Light Side of the menu—then feast on creations that shall fuel your future travels.
---
Gibson Girl Ice Cream Parlor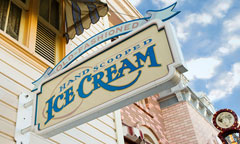 Treat someone you love to scoops of delicious ice cream and handmade cones at this delightful old-fashioned ice cream parlor. Hosted by Dreyer's.
---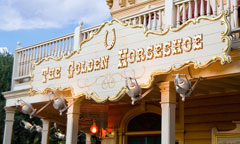 The Golden Horseshoe
Chow down on chili fries and burgers, and top off your meal with one of the show-stopping desserts. Enjoy your meal inside the Golden Horseshoe — an old West theater known for its zany stage entertainment. Continuous seating is available throughout the day.
---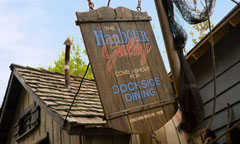 Harbour Galley
Tie up the sails and enjoy a hearty waterfront snack including chili, clam chowder, soups and salads.
---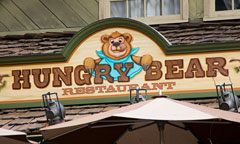 Hungry Bear Restaurant
Dine on a rustic riverside patio — surrounded by the scenic wilderness — serving classic American favorites like cheeseburgers, chicken sandwiches, onion rings and salads. Hosted by Dixie.
---
Jolly Holiday Bakery Cafe
Have a Jolly Holiday with Mickey Krispie Treats, chocolate croissants and other goodies at this bakery that also serves scrumptious sandwiches, entrée-sized salads, soup, quiche and kid favorites.
---
Lemonade Carts
Slow your slush while slurping frozen lemonade with an extra shot of flavor!
---
Market House
Visit Market House where you can find Disney-favorite sweet treats, such as divine cookies and brownies as well as Starbucks signature beverages, delicious artisan breakfast sandwiches and a wide selection of baked goods.
---
Maurice's Treats
Savor each royal bite and adore every refreshing sip while you explore Fantasy Faire. This Old-World European snack wagon, named for Belle's father, offers flavored pastry twists and signature drinks.
---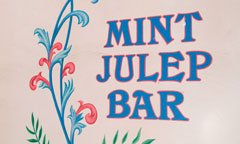 Mint Julep Bar
Treat yourself to non-alcoholic mint juleps, Mickey-shaped beignets, other delicious baked desserts and specialty coffees at this French Quarter quick-service eatery.
---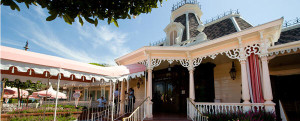 Plaza Inn
Step back in time to a beautiful Victorian restaurant with ornate interior detailing, offering a grand setting for classic cafeteria dining. Enjoy delicious pastas, fried chicken, roast sirloin strip, salads, specialty desserts and a special Character Breakfast.
---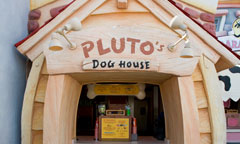 Pluto's Dog House
Stop by this pup-ular quick service stand in Mickey's Toontown for a loaded foot-long or a children's hot dog. Pluto's Dog House serves juicy, hot dogs with all your favorite fixings.
---
Popcorn Carts
This old-fashioned favorite keeps getting better and butter!
---
Pretzel Carts
Summer, spring, winter or fall—doughy park pretzels are always seasoned to perfection.
---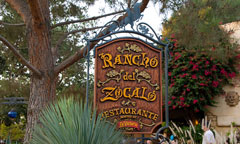 Rancho del Zocalo Restaurante
Savor south-of-the-border specialties like burritos, tacos, enchiladas, grilled chicken and carne asada. Take a seat inside the beautiful Spanish-style courtyard, and see how this hacienda kindles the spirit of early California's romance and heritage. Hosted by La Victoria.
---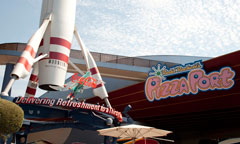 Redd Rockett's Pizza Port
Feed your galactic hunger with giant pizza slices, generously portioned pastas, crisp salads and more. This deep-space casual dining eatery features an open view of the kitchen.
---
Red Rose Taverne
Feed your galactic hunger with giant pizza slices, generously portioned pastas, crisp salads and more. This deep-space casual dining eatery features an open view of the kitchen.
---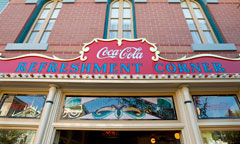 Refreshment Corner
Sit back on the shaded outdoor patio and enjoy a live ragtime piano player as you munch on crowd-pleasing eats like beef hot dogs, Mickey Mouse-shaped pretzels, hearty chili in bread bowls and more. Hosted by Coca-Cola.
---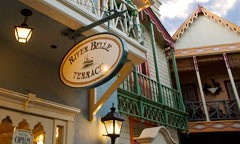 River Belle Terrace
Enjoy hearty and healthful specialties for lunch and dinner including sandwiches, roast New York and turkey breast. Once Walt Disney's cherished breakfast locale, this restaurant remains a favorite for classic breakfast fare including our famous Mickey Mouse pancakes.
---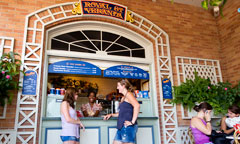 Royal Street Veranda
Succulent soups are the specialty at Royal Street Veranda. Taste fresh clam chowder or steak gumbo among other soup sensations.
---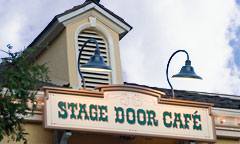 Stage Door Café
Rustle up hearty entrees like fish and chips, chicken breast tenders and mozzarella sticks. For dessert, indulge in the gooey goodness known as Fantasy Funnel Cake!
---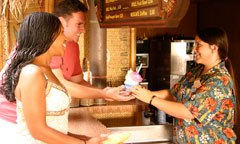 Tiki Juice Bar
Take a vacation to a tropical paradise where tangy pineapples are the main ingredient for an assortment of refreshing treats — including pineapple whips, spears and juices. Hosted by Dole®.
---
Tropical Imports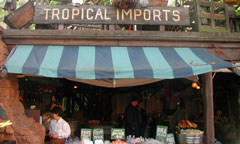 Stock up on provisions at this favorite jungle watering hole. From fresh fruits to sweet treats to beverages, you'll find everything you need for all your adventures.
---
Troubadour Tavern
Indulge your appetite with a royal feast served from a medieval pavilion-style tent. Your taste buds will sing with succulent bratwurst-seasoned pork sausage, baked potatoes and sweet corn on the cob.
---
Turkey Leg Carts
Birds of a feather, drumstick together! Flock to hot food carts offering cured, smoky turkey legs.