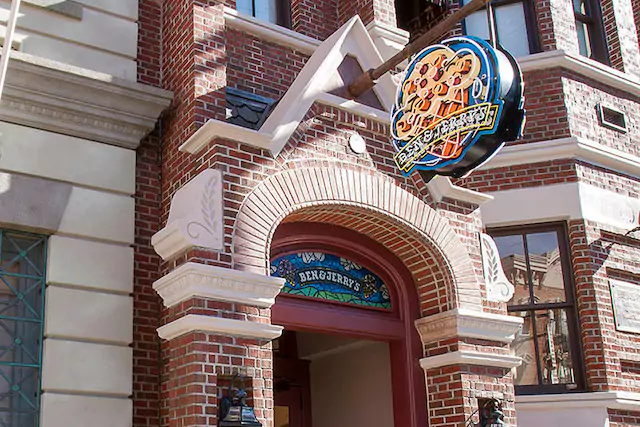 Ben & Jerry's
Vermont's famous ice cream makers have set up shop right inside Universal Studios™ to offer a delicious distraction. This popular parlor serves up Ben & Jerry's indulgent ice cream in waffle cones, sundaes, and shakes, plus refreshing sorbet smoothies. Whether you're a classic chocolate fan or crave Phish Food®, you'll be living the Americone Dream™ with all of their tasty treats.
---
Beverly Hills Boulangerie™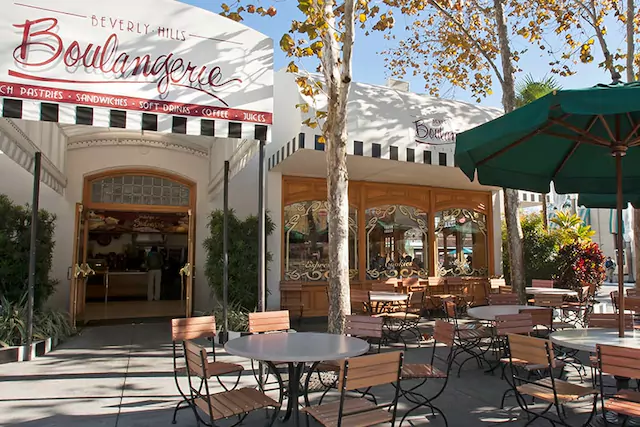 Part Parisian bakery, part American sandwich shop, this charming store is stocked with goodies for each stage of your day. Start the morning off with a flaky croissant or fresh pastry. Make lunch and dinner quick and easy with soup and a sandwich. And don't forget to treat yourself to a well-deserved cookie or decadent slice of cheesecake.
---
Bone Chillin'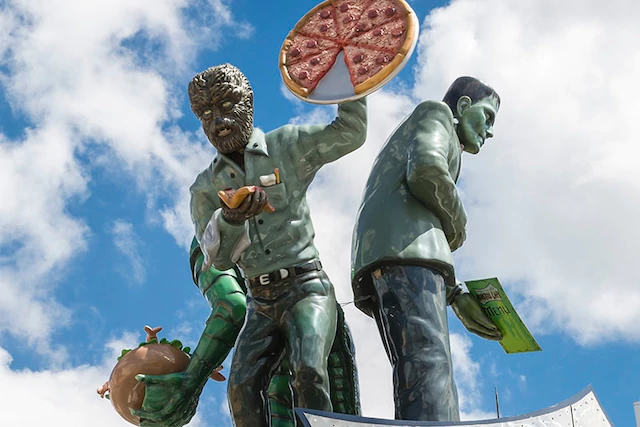 Monstrous thirst is no match for this beverage stand located in front of Universal Studios' Classic Monsters Cafe™. It's easy to find: Just look for the looming, larger-than-life Frankenstein®, Wolfman®, and Gill-Man rotating on the roof. Cool off with a frozen slush drink, soda, or beer and pick up soft pretzels or chips for a satisfying on-the-go snack. Because just like those creepy creatures, you never know when a sudden craving will strike.
---
Bumblebee Man's Taco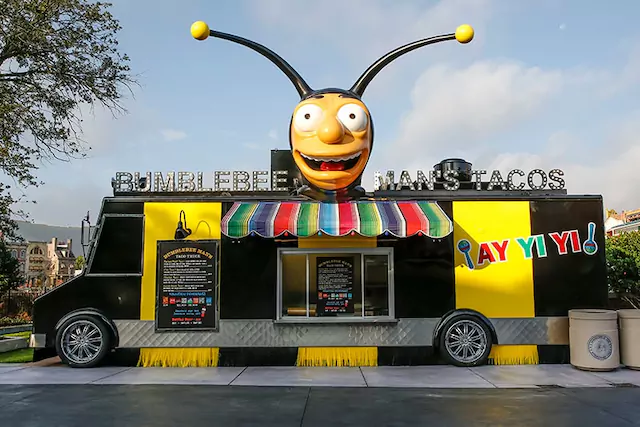 Truck
No one knows great Mexican food better than a man dressed as a bumblebee! When he's not starring in Channel Ocho's longest running variety show, this Bombus pennsylvanicus-Homo sapien is cooking up a variety of the best Mexican street food that Springfield's ever tasted. Choose from Korean beef tacos, carne asada tacos, chicken tacos, and more. It's muy bueno to the last chomp.
---
Cafe La Bamba™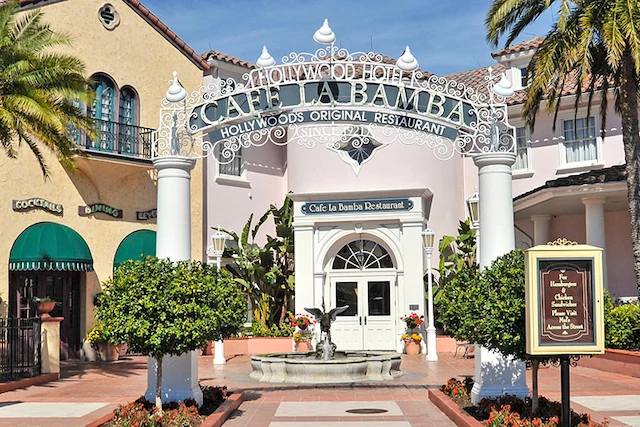 A fountain courtyard precedes this beautiful building, inspired by the legendary Hollywood Hotel. The eye-catching venue is home to Universal's Superstar Character Breakfast and VIP Experience dining.
---
Chez Alcatraz™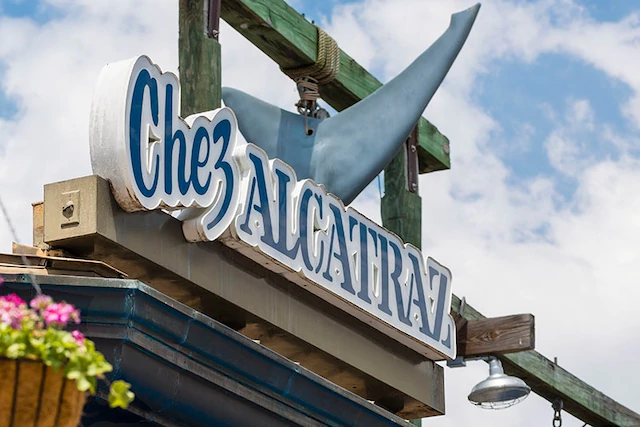 On the wooden docks of the Fisherman's Wharf, there's a watering hole beloved by salty sea captains and landlubbers alike. Create your own cocktail hour with cold beer, mixed drinks, and non-alcoholic refreshments. Sip a handcrafted concoction while you snack on a selection of appetizers. If you're up for a photo op, snap a pic inside the jaws of the massive great white shark hanging next door.
---
Cletus' Chicken Shack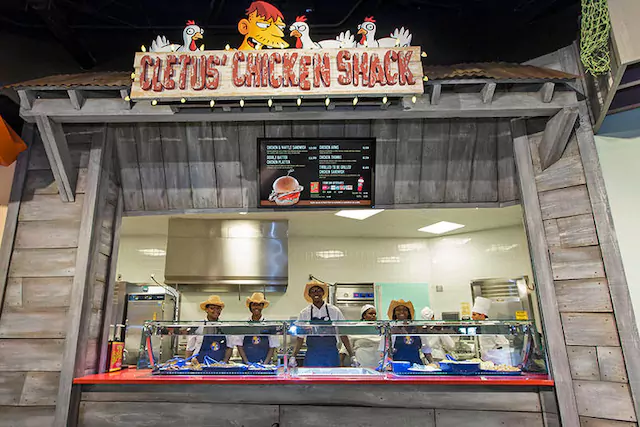 Have a hankering for some fried chicken so good, even the chickens don't argue? You'll reckon your own mama's cookin' in the kitchen. This chicken house serves up the best grub north or south of the Mason-Dixon line. Simpsons fan favorite Cletus takes all the best parts of the chicken and serves them up in true hillbilly style. Choose from the Chicken and Waffle Sandwich, Double Batter Chicken Platter, Chicken Thumbs and more.
---
Duff Brewery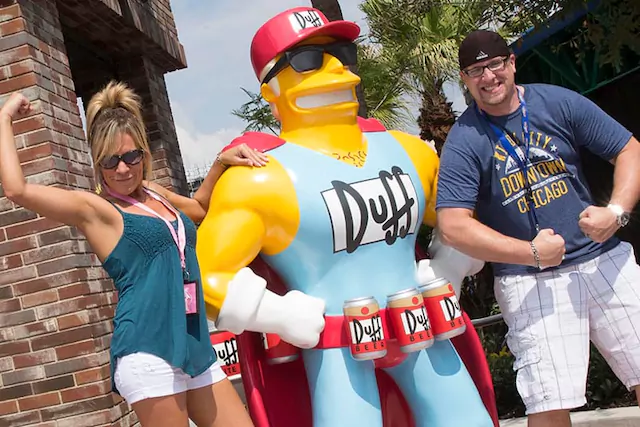 Grab an icy cold glass of Homer's favorite drink and relax in the Duff Brewery beer garden. This open-air bar provides lotsa seating and waterfront tables with umbrellas, making it the perfect place to sip some suds and watch popular clips of The Simpsons™. You'll be surrounded by topiaries of the beloved Seven Duffs: Tipsy, Queasy, Surly, Sleazy, Edgy, Dizzy, and Remorseful. Become the eighth Duff and pose for a picture with the giant statue of Duffman himself. "Oh Yeah!"
---
Eternelle's Elixir of Refreshment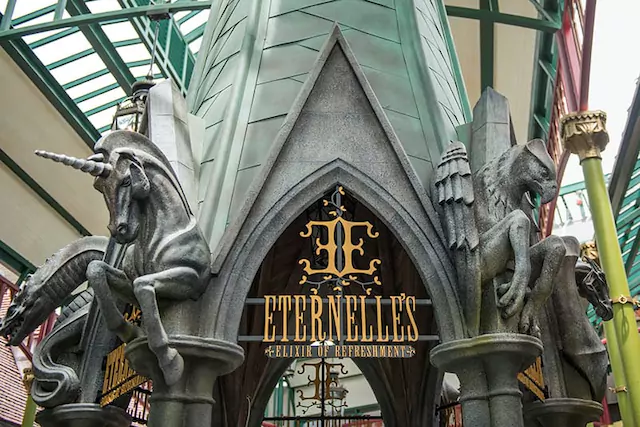 At this small beverage kiosk located in Carkitt Market inside The Wizarding World of Harry Potter™ – Diagon Alley™ you'll find a variety of elixirs that, when combined with water, transform before your eyes into unique, colourful, and flavourful beverages.
---
Finnegan's Bar & Grill™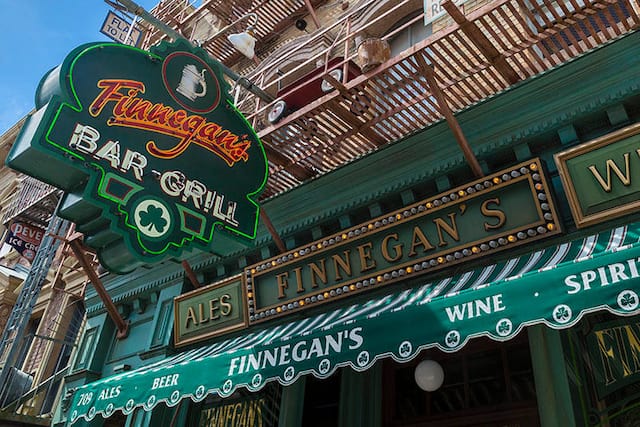 Step off Universal Studios' New York streets into this traditional Irish-American pub that whisks you away to the Emerald Isle. Finnegan's is both a lively bar and a full-service restaurant. Featuring authentic Irish dishes like Bangers and Mash, Shepherd's Pie, and Guinness Beef Stew as well as classic burgers, salads, and steaks, this delicious destination offers a wide array of options to pair with your favorite pint.
---
Flaming Moe's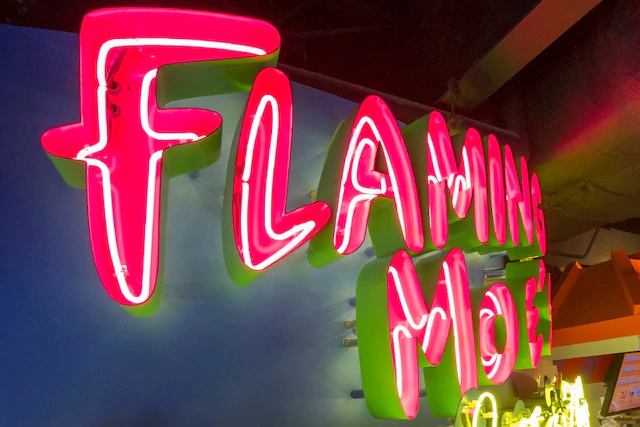 Happiness is just a Flaming Moe away! Sick of the bar scene? This popular walk-up counter offers all the drinks available in Moe's Tavern, as well as several other specialty selections, including a variety of fruit-flavored beverages. And of course, no visit to Springfield would be complete without indulging in a Flaming Moe, the bubbling, citrusy, non-alcoholic concoction. It's the hottest drink in town.
---
Florean Fortescue's Ice-Cream Parlour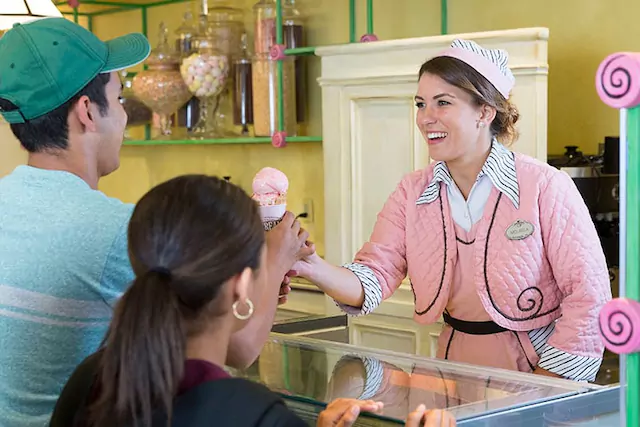 n Harry Potter and the Prisoner of Azkaban, Harry enjoyed numerous ice-cream sundaes here, compliments of Florean Fortescue himself, as he worked on his homework one summer. Wizards and Muggles™ of every age can indulge in scoop and soft-serve ice-creams here, with fantastic flavours like Butterbeer™, Granny Smith, Earl Grey and Lavender, Chocolate Chili, Sticky Toffee Pudding, Salted Caramel Blondie, Chocolate and Raspberry, and more.
---
Halloween Horror Nights Scareactor Dining Experience™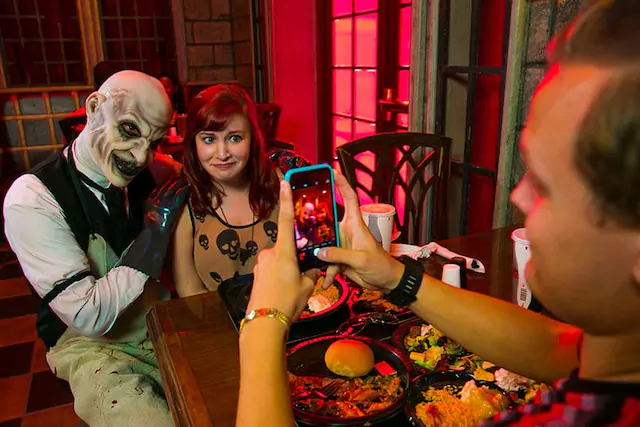 Before you begin your night of terror at the park, fuel up for the fear with this eerily exclusive dining experience at Universal Studios' Classic Monsters Cafe™. Feed on an all-you-care-to-eat themed dinner buffet with a special gore-met menu that's to die for, scareactor photo ops and a digital download of one photo taken during the dining experience.
---
KidZone Pizza Company™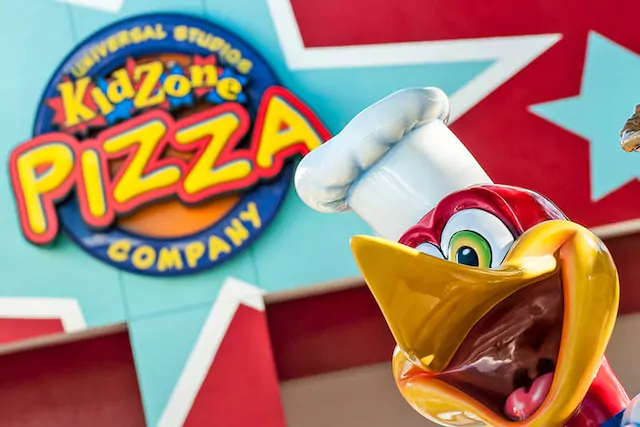 If your little ones work up an appetite exploring Woody Woodpecker's KidZone™, take a break with the family-friendly fare found here. At this colorful walk-up counter you can choose from pizzas, chicken fingers, chef salads, and fruit cups for an easy, on-the-go meal. Sweeten the deal with a hot funnel cake or cool sundae that's perfect for sharing.
---
Krusty Burger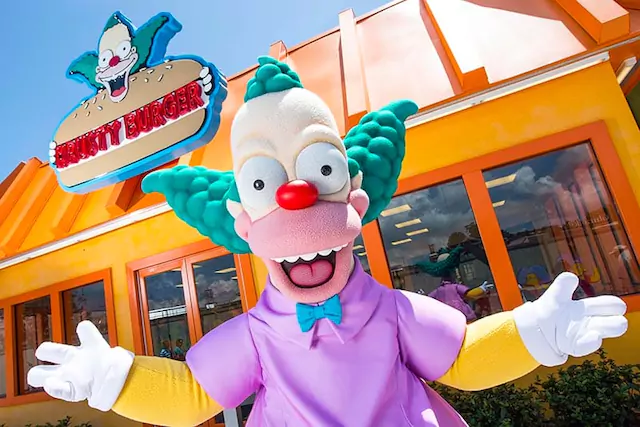 "Hey Hey, Kids!" No visit to Springfield would be complete without stopping by Krusty the Clown's famous burger joint. Chomp into a Krusty-certified meat sandwich including the legendary Krusty Burger, Clogger Burger, the Ribwich, Sideshow Bob Foot Long, or a Heat Lamp Dog. Afterwards, wash it all down with the fizzy refreshment of an authentic Buzz Cola—it's like a seltzer blast in the face. Krusty may serve up stale, old jokes but the food here is always hot and fresh.
---
Lard Lad Donuts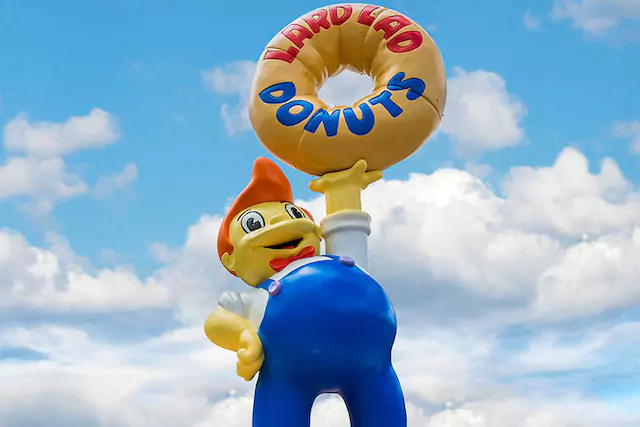 Mmmmm, donuts. Who doesn't love 'em? Towering over the landscape on Fast Food Boulevard is Springfield's favorite purveyor of sweet circular treats. Lard Lad is pulling double duty to make a multitude of his cooked cake confections. Here you'll find giant pink-iced donuts, Brain Freezin' D'oh-Nut Sundaes, delectable cupcakes, and more.
---
Leaky Cauldron™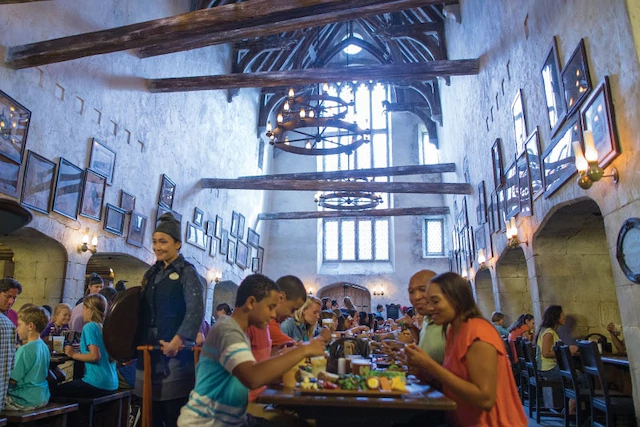 The Leaky Cauldron™ is a small, grubby-looking pub and inn. In Harry Potter and the Prisoner of Azkaban, Harry stayed there for several weeks over the summer before heading off to Hogwarts™ for his third year.
---
Lisa's Teahouse of Horror
Welcome to every veggie lover's dream! Looking for lighter fare? Here you'll find Lisa-loving food options that anyone in Miss Hoover's 2nd grade class would approve of. Healthy and delicious pre-packaged items are available at this satisfying stop on Fast Food Boulevard, including salads, veggie sandwiches, turkey wraps, hummus, fruit plates, fruit cups, and assorted yogurts.
---
Lombard Seafood Grille™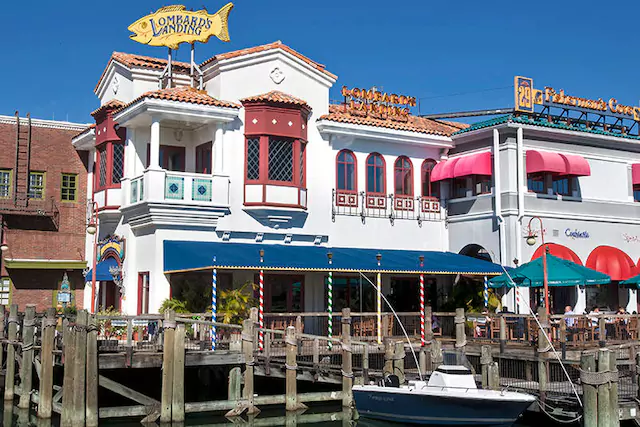 You can almost hear the foghorns and clanging of buoy bells at Lombard's Seafood Grille, a casually elegant full-service eatery located in San Francisco's Fisherman's Wharf. This waterfront establishment is Universal Studios' flagship restaurant and has been charming customers with its delicious food, friendly service, and nautical atmosphere since the park first opened.
---
Louie's Italian Restaurant™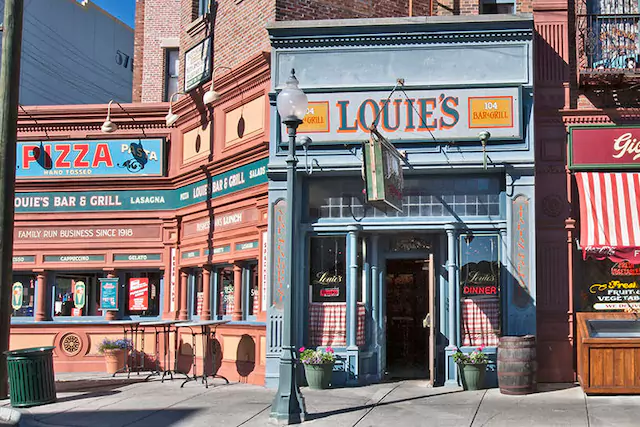 If you can't make it to your Nonna's house for dinner, there's a tasty alternative. Louie's is home to Italian favorites like pizza, pasta, meatball subs and salads, plus creamy gelato and Italian ice (available seasonally). A quick-service counter makes ordering a breeze. Then gather around in the spacious dining room under a string of lights or take your meal outside to take in the New York vibe at a shaded table. Buon appetito.
---
Luigi's Pizza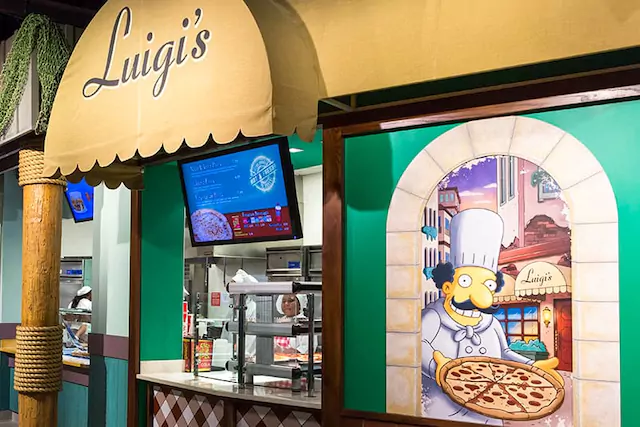 That's a spicy meat-a-ball! Long rumored to be a mob hangout with links to infamous Springfield criminals such as Fat Tony, this classic little pizza joint is also known as Springfield's finest Italian eatery. Owner Luigi Risotto has a delicious menu in store, offering hot and fresh individual pizza pies. Choose from the Cheese Pizza, the Vegetarian Pizza or the Meat Liker's pizza.
---
Mel's Drive-In™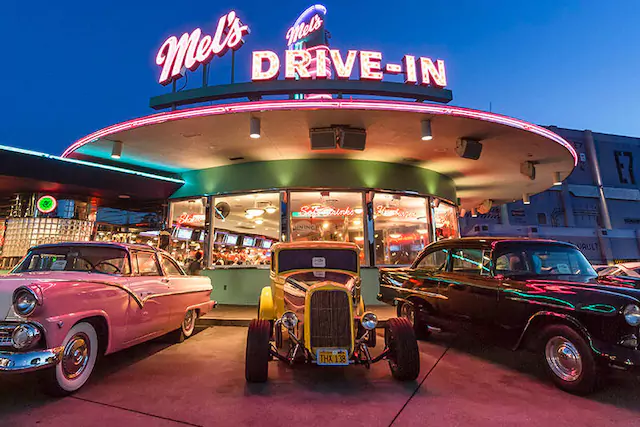 This retro restaurant serves up delicious diner fare that never goes out of style. Choose from burgers and fries, chicken sandwiches, chicken fingers, onion rings, root beer floats, and frosty milkshakes. Dine inside with classic vinyl booths and tabletop tunes, or enjoy your eats outside beneath the glow of neon lights.
---
Moe's Tavern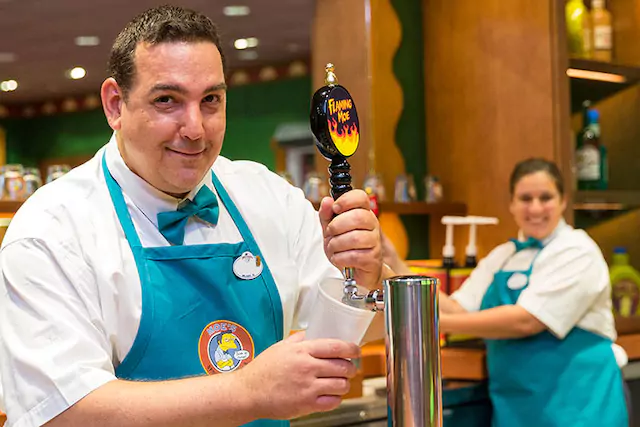 Step inside Springfield's most recognizable pub and cozy up to the bar where you can enjoy a real Duff Beer, locally brewed exclusively for Universal Orlando Resort™. Take a selfie alongside the bar's resident customer, Barney Gumble. Try a famous Flaming Moe or two and be sure to give the Love Tester machine a yank. You're sure to fall in love with Moe's Tavern, where the jukebox is just as broken down as most of Moe's regulars.
---
Richter's Burger Co.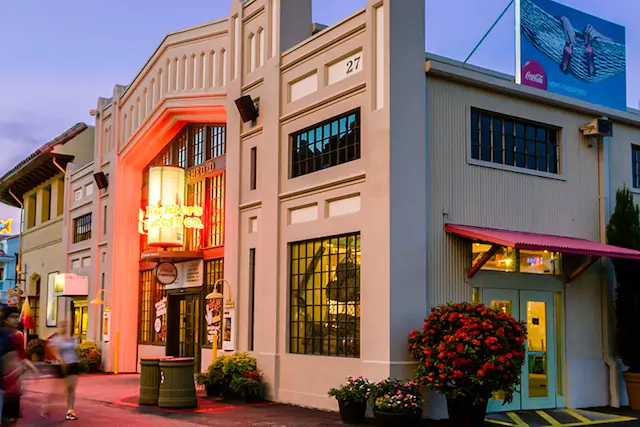 Was that an earthquake, or just your stomach rumbling? Better head to Richter's for an off-the-charts meal. This two-story dockside restaurant features themed menu items such as The San Andreas Sandwich and The Aftershock Burger, as well as traditional favorites like grilled chicken salads and apple pie. A DIY condiment station ensures your selections are just the way you like them. To wash it all down, explore a magnitude of choices at the Coca-Cola freestyle® station or sip on a frosty milkshake.
---
San Francisco Pastry Company™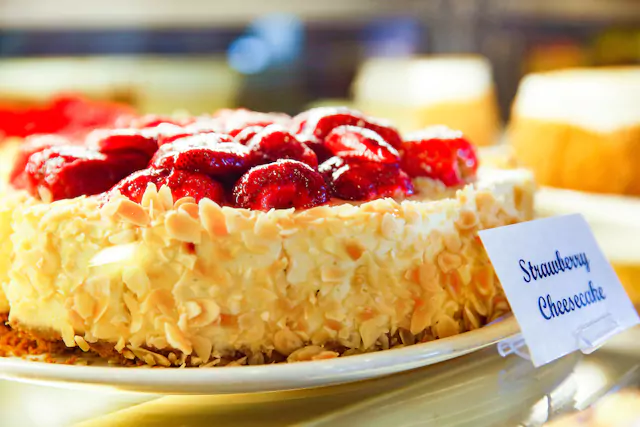 This petite cafe on the Fisherman's Wharf welcomes you with an eyeful of tempting treats. The chilled glass case displays luscious layer cakes, iced éclairs, pies, and breakfast items both sweet and savory. You'll also find fresh fruit, paninis, and sandwiches perfect for a healthy snack or quick lunch at an outside table. But go ahead—have dessert first. It's too delicious to resist.
---
Schwab's Pharmacy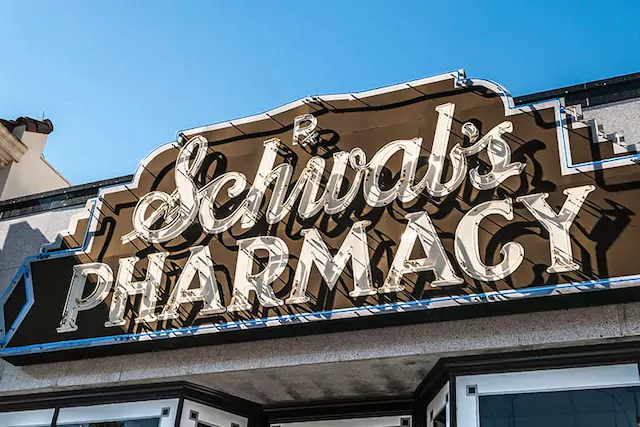 The smell of warm waffle cones welcomes you at the door as you waver between frosty milkshakes, malts, banana splits, soft serve yogurts, and classic sundaes. Quench your thirst with a fountain drink as you enjoy vintage advertisements and photos of stunning starlets. Who knows: If you linger long enough, you might even get discovered.
---
Starbucks®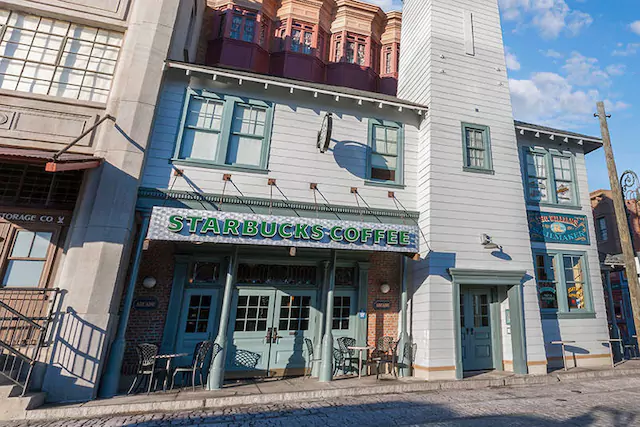 An illuminated "Games of Amusement" marquee sign marks the entrance of this top-notch coffee shop found at the corner of 5th Avenue and South Street. With an international network of more than 20,000 stores, Starbucks® is the premier roaster and retailer of specialty coffee in the world. But they're beloved for more than just java: A menu of pastries, sandwiches, teas, smoothies, and more gives guests enough choices to make each visit especially satisfying. Stop in for a morning boost or afternoon pick-me-up.
---
The Fountain of Fair Fortune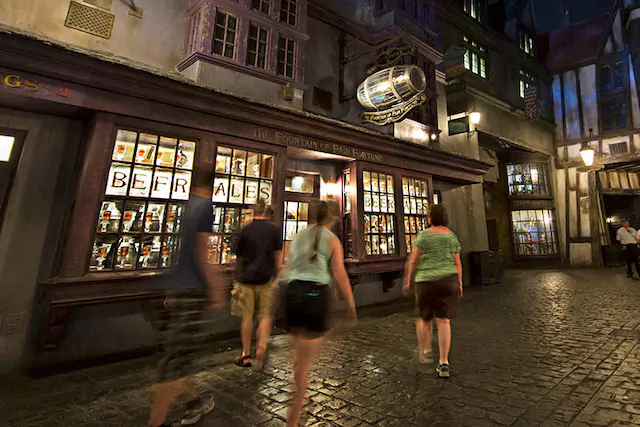 Named for one of the fables in The Tales of Beedle the Bard (a collection of children's stories that many young witches and wizards grew up reading), The Fountain of Fair Fortune serves a variety of beers and other beverages (both alcoholic and non-alcoholic).
---
The Frying Dutchman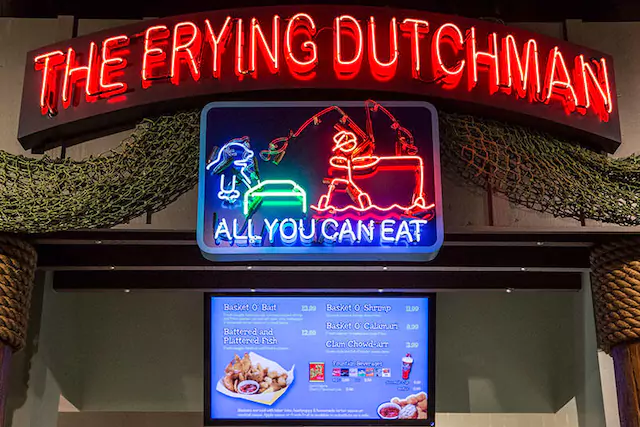 Arrrrr you ready for a delicious seafaring seafood adventure? As Sea Captain Horatio MacAllister would say, if it can be hauled from the ocean and fried, it can be put on your plate. Be you sea captain or swabbie, the Frying Dutchman's fare will fill yer belly and patch up your scurvy. Here you can try the Basket O' Shrimp, the Basket O' Calamari, the Basket O' Bait (fried fish, shrimp, and calamari), Battered and Plattered Fish, or the Clam Chowd-arr.
---
The Hopping Pot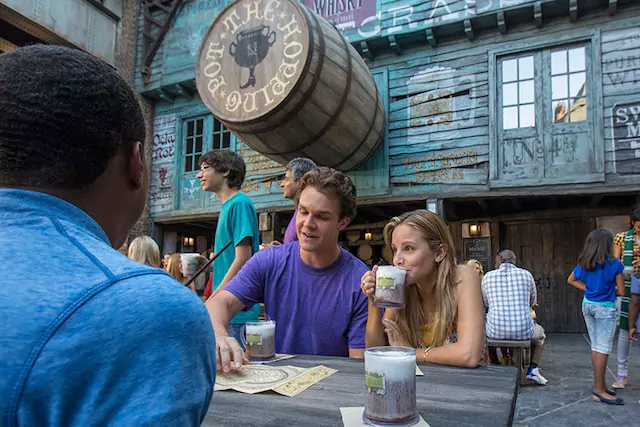 Nestled within the activity of Carkitt Market at The Wizarding World of Harry Potter™ – Diagon Alley™ is this walk-up counter where you can cool off with a variety of delicious drinks. Want to know an inside tip? It's also a great place to grab yourself a cup of Butterbeer™ ice-cream, as well as a light snack before strolling over to watch a live performance by Celestina Warbeck and the Banshees.
---
Universal Studios' Classic Monsters Cafe™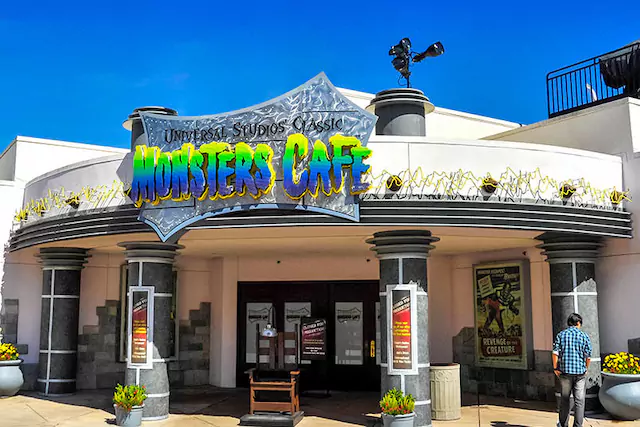 Don't be spooked: The prop electric chair outside is just an ominous homage to Universal's horror movie history. As is the indoor decor, featuring themed dining areas like Dracula's castle, the swamp, and the flying saucer, plus an array of monster movie memorabilia.
---
Universal's Superstar Character Breakfast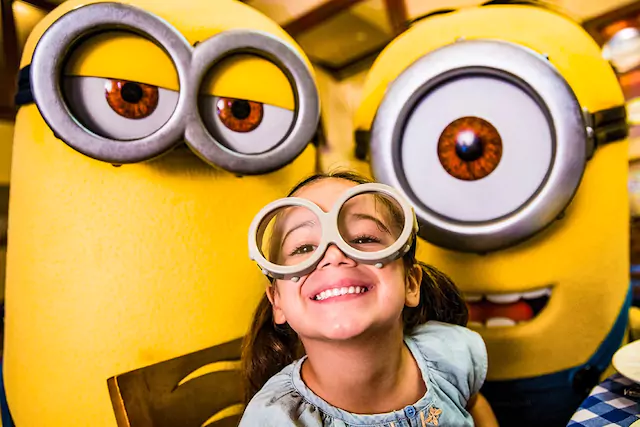 As adults, all it usually takes to get us excited about breakfast is the word "bacon." But imagine your kids seeing SpongeBob heading over to wave hello, or a Minion making his way to your table. That's just what they'll experience at this breakfast buffet featuring characters from Nickelodeon's Dora, Diego and SpongeBob SquarePants, plus friends from Universal's Despicable Me. Meet them here before they appear in Universal's Superstar Parade™. With your breakfast, you'll also get access to an exclusive parade viewing area.
---
Universal's Cinematic Spectacular Dining Experience™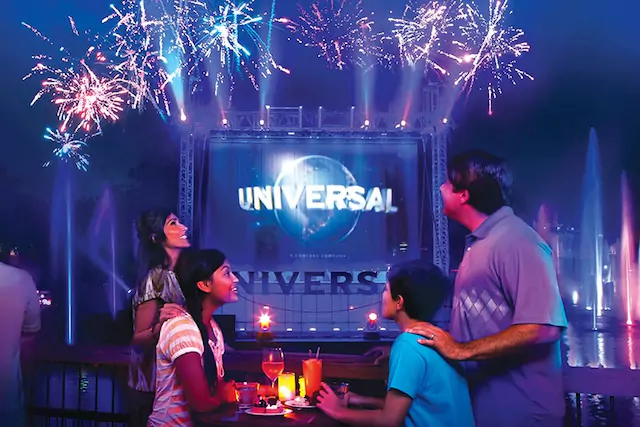 Take "dinner and a movie" to a whole new level. Start with a magnificent meal at Lombard's Seafood Grille™ in Universal Studios Florida™. Enjoy your choice of one appetizer and one entree, including options like fresh seafood, pasta, beef medallions and more.