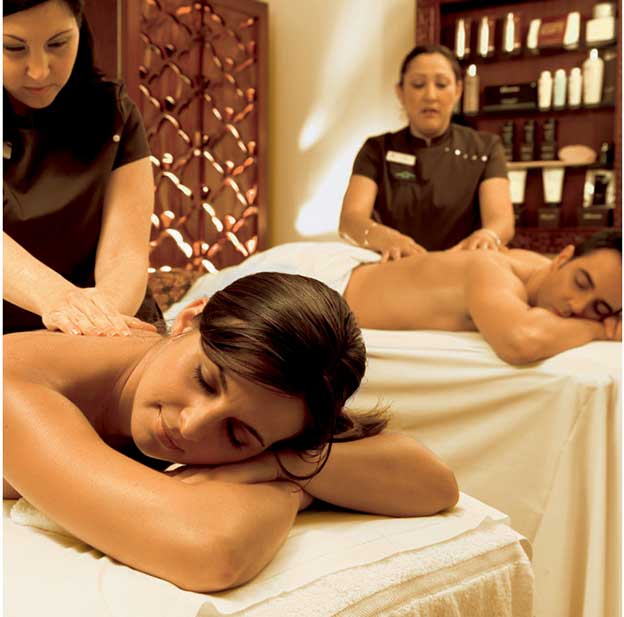 Indulge your senses with exotic treatments, specialty massages, and lavish facials that detoxify, purify and cleanse your mind, body and spirit. Begin your journey to relaxation at this luxury spa that features prime pampering in a setting of rustic elegance steeped in ancient tradition.
Spa treatments and services include:
Rejuvenating facials such as our signature, moisture-packed Visible Brilliance Facial. Or customize your own with LaTherapie facials, all with active ingredients that penetrate deep into the skin and a full dose of vitamin protection.
Massage therapies including Deep Tissue, Sport, Swedish, Aroma Stone Therapy, Balinese, Reflexology, Pregnancy and more.
Exotic rubs and body wraps such as Coconut Rub and Milk Ritual Wrap, Frangipani Nourish Wrap, Lime and Ginger Salt Glow, Traditional Javanese Lulur and more.
Salon services including Ultimate Spa Manicure, Ultimate Spa Pedicure, Ceremony for Hands and Feet, Gentle Touch Tooth Whitening and more.
Other services such as Couples Massage and Teen Program.
A Tea Pavilion where the meditative Zen Buddhist tea ceremony tradition is honored.
To make an appointment, you may call Mandara Spa directly at (714) 300-7350. Guests under age 18 must have parent or guardian permission to call. Advance appointments are recommended.