Holland America Cruises have a long and proud history of delivering extraordinary vacation experiences, a tradition that began in the Netherlands more than 137 years ago. Today, cruises have a higher percentage of satisfied customers than any other travel experience.
Staterooms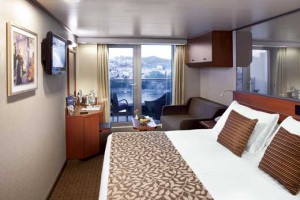 Every Stateroom, a Gracious Retreat
Relax into a world of comfort and easy elegance aboard the luxurious cruise ships of Holland America Line. Luxurious living is found in every detail, from the soft caress of a personal bathrobe to fine chocolates on your pillow at night. Staterooms filled with all manner of sophisticated amenities beckon you to retreat for hours.
Dining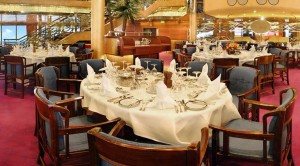 Enjoy exquisite dining across a range of venues
We invite you to dine "As You Wish®" To savor Italian cuisine one night and a perfectly grilled porterhouse steak the next. To take your place in the Dining Room at a specific seating time or be spontaneous, following your desires. On board, there are restaurants to suit every mood, along with the flexibility to choose the dining style you prefer.
Activities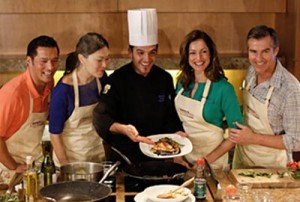 Each New Day, a Wealth of Cruise Activity and Indulgences
Every day aboard a Holland America cruise ship brings a wealth of cruise activities and indulgences, along with the freedom to partake in as many — or as few — as you please. It's an opportunity to try something new that surprises you, every day. Dabble, discover, daydream — do everything, or do nothing at all. Whether you want to workout in the Fitness Center, learn yoga, pamper yourself with a massage and spa treatment, or listen to music and check your email in the Explorations Café, there's a perfect onboard activity for everyone. In every cruise port, make your cruise vacation even more memorable with our extensive Shore Excursions program of activities. See, explore, discover: arts and cultural activities, athletic expeditions, city tours, shopping and more on our cruises.
Entertainment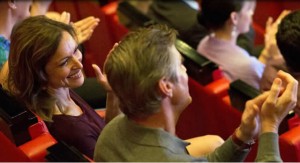 Spectacular Shows, Live Music, Diverse Lounges, Movies and Casino Gaming
Evenings on board glitter with choices. Arrive in a lounge to the strains of a lively dance band. Take in a thrilling show on stage. Share a martini flight in Mix; sing along in the Piano Bar. Stay up late into the night.
Service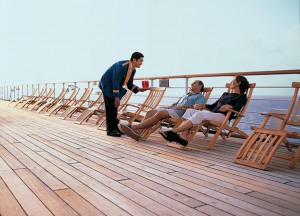 On Holland America Line cruises, your every wish is our pleasure to fulfill
Always at the heart of the Holland America cruise experience is our warm and award-winning style of service that is never in the way and never out of reach. We sail with nearly one crew member for every two guests, providing the intuitive, gracious service that has long defined classic cruising. Our extensive onboard services, from special dining requests to full service laundry and dry cleaning services, are designed with your comfort and convenience in mind. Our specially trained crew takes pride in anticipating and fulfilling your every wish. From our waiters and bartenders to our chefs and wine experts, our spa technicians and fitness instructors to our officers and housekeeping staff, everyone is dedicated to providing you with the gracious and personalized service that will make your cruise vacation memorable. On board the ships of Holland America Line you'll discover a cruise experience that is modern, fresh and appealing — in an ambiance that is timeless and refined.