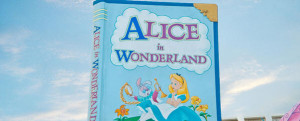 Alice in Wonderland
Follow the White Rabbit down the rabbit hole into the topsy-turvy realm of Wonderland where cats disappear into thinair, giant flowers sing and the spiteful Queen of Hearts commands a mad army of playing cards.
---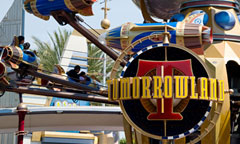 Astro Orbitor
Blast off into the outer reaches of the solar system on this retro rocket ride. Orbit the spiraling planets in your sleek ship that dips up and down at your command!
---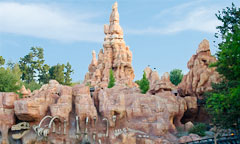 Big Thunder Mountain Railroad
Hold on to your hats and glasses, because you're about to board a runaway mine train through twisting desert canyons, creaking mine shafts and pitch-black bat caverns on "the wildest ride in the wilderness!"
---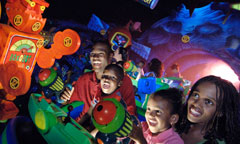 Buzz Lightyear Astro Blasters
Help save the galaxy when Buzz Lightyear recruits you as a Space Ranger to thwart the Evil Emporer Zurg! Spin, twist and turn as you shoot lasers at Zurg's bad robots to keep them from carrying out his evil plan to steal the batteries from good toys everywhere.
---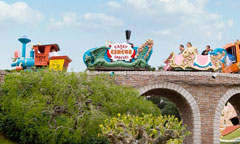 Casey Jr. Circus Train
All aboard Casey Jr. for a charming ride around Storybook Land inside an adorable miniature circus train complete with passenger cars that resemble wild animal cages.
---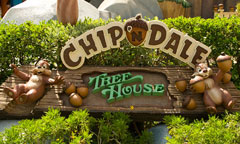 Chip 'n Dale Treehouse
Play like nuts! Chip 'n Dale, the nuttiest twosome in Mickey's Toontown, are having a party in their treehouse and you're invited. Scurry up the spiral staircase in this giant Redwood tree to check out the digs and enjoy the views. Kids of all ages are welcome. Stay as long as you like!
---
The Disney Gallery
Discover original Disney-themed art on display at the foot of Main Street, U.S.A.
---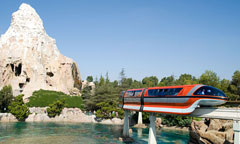 Disneyland Monorail
Ride this "green" transportation system that rockets along a single rail that circles the Disneyland Resort! Board at the Tomorrowland station or the Downtown Disney District and sit back for a scenic trip.
---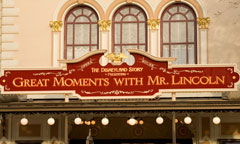 The Disneyland Story presenting Great Moments with Mr. Lincoln
The Opera House hits a new high note with the return of this classic attraction celebrating the 200th anniversary of Abraham Lincoln's birth. Learn about the Disneyland story and be inspired by the spectacular speech of a man who changed the nation.
---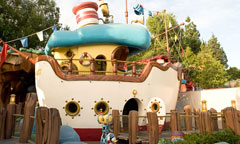 Donald's Boat
Attention all would-be sailors! No one cries "fowl!" when you play on this double-decker houseboat that resembles its owner. Climb the rope ladder, scale the spiral staircase and help steer Donald's pride and joy. Just look for Donald's sailor cap — you'll quack up!
---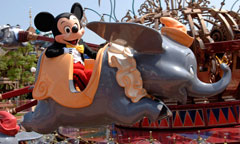 Dumbo the Flying Elephant
Soar through the air aboard a most unusual airborne animal on this iconic Disneyland Park attraction that recreates the magical spectacle of Dumbo the Flying Elephant.
---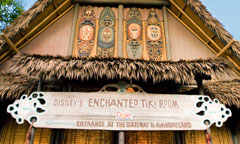 Enchanted Tiki Room
Hear a tropical serenade sung by a delightful chorus of enchanted birds, flowers and Tiki statues. Presented by Dole®.
---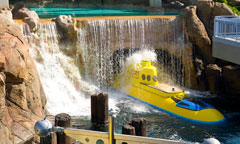 Finding Nemo Submarine Voyage
Dive into the Tomorrowland Lagoon and discover the world of Finding Nemo! As your whimsical Australian submarine sinks into the vibrant waters, explore the undersea curiosities and follow Marlin as he searches for Nemo through the perils that dwell in the ocean deeps.
---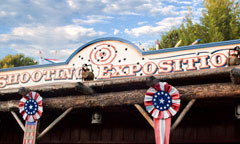 Frontierland Shootin' Exposition
Line up your sights on one of a gallery of animated targets and squeeze the trigger of your infrared-light rifle. Hit a target to see and hear entertaining animated effects.
---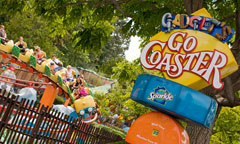 Gadget's Go Coaster
Tumble, twist and turn on this gentle rollercoaster ride created by that inventive mouse from the Rescue Rangers, Gadget Hackwrench. Fashioned from found objects, this coaster is one crazy invention sure to delight! Presented by Sparkle.
---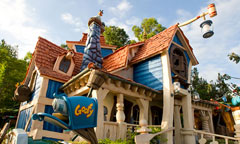 Goofy's Playhouse
Check out the goofy goings-on at this most unusual house! See what's growing in Goofy's garden, take a peek at his pumpkin patch, slide and climb all around the yard. Then walk through Goofy's house to check out the unusual decorations, fun furniture and family photos.
---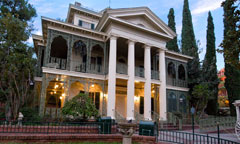 Haunted Mansion
Enter, Mortals, if you dare! The Haunted Mansion is the elegant home of 999 ghosts, ghouls and goblins who are just dying to meet you! Could you be their 1000th gloom-mate? Climb aboard your Doom Buggy for an eerie tour of the place where a most spirited celebration awaits!
---
Hyperspace Mountain
Enter, Mortals, if you dare! The Haunted Mansion is the elegant home of 999 ghosts, ghouls and goblins who are just dying to meet you! Could you be their 1000th gloom-mate? Climb aboard your Doom Buggy for an eerie tour of the place where a most spirited celebration awaits!
---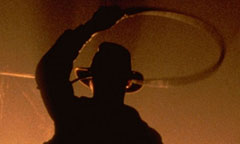 Indiana Jones Adventure
Board a rugged troop transport deep inside an overgrown ancient temple for an unbelievable adventure filled with supernatural forces, screaming mummies, giant snakes and the heroics of famed archeologist Indiana Jones!
---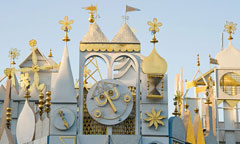 "it's a small world"
Board "the happiest cruise that ever sailed" for a joyful voyage through iconic scenes from around the globe as you are serenaded by dolls representing children from every nation — all living together in perfect harmony. Presented by Sylvania.
---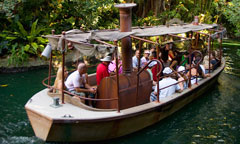 Jungle Cruise
Join homesick Jungle Cruise Skippers on a holly jolly adventure stuffed with seasonal shenanigans from stem to stern. Cast off on a thrilling expedition where tigers, gorillas, elephants and maybe even a headhunter await your arrival.
---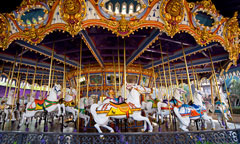 King Arthur Carrousel
Spin around, up and down to joyous music atop a regal steed at this classic attraction inspired by the Knights of the Round Table. Climb aboard an ornate carousel horse and gallop through a whirling backdrop of color and sound.
---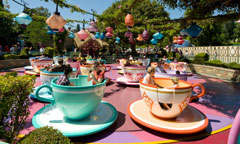 Mad Tea Party
Pour yourself into a giant pastel teacup and rotate madly amid a menagerie of color and sound. Celebrate your "un-birthday" in Wonderland as you glide back and forth around a towering teapot beneath a windswept party of paper lanterns, as festive music fills the air.
---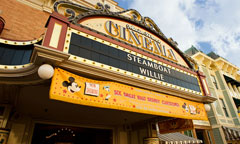 Main Street Cinema
Catch a flick starring Mickey, Minnie and the rest of the gang in this old fashioned movie house that plays film classics on 6 different screens. Don't miss the 1928 short Steamboat Willie, the first synchronized-sound cartoon, where Mickey and Minnie made their debut!
---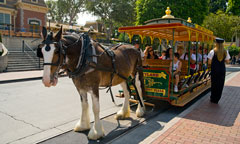 Main Street Vehicles
Climb aboard a vintage vehicle for a ride back in time. Whether it's a fiery red fire engine, a horse-drawn carriage or one of those new fangled cars, there's nothing like a Main Street U.S.A. vehicle for a one-way, turn-of-the-century trip. Presented by National Car Rental.
---
The Many Adventures of Winnie the Pooh
Bounce up and down on a magical journey through the Hundred-Acre Woods for a whimsical visit with Eeyore, Kanga, Roo, Rabbit, Piglet, Owl, Tigger and most of all Winnie the Pooh!
---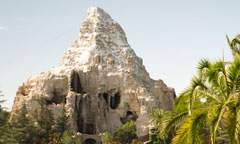 Matterhorn Bobsleds
Slide down Matterhorn Mountain on a daring bobsled run past icy slopes, through twisting caves, near plunging waterfalls, over stone bridges, and maybe even experience a thrilling encounter with the legendary abominable snowman.
---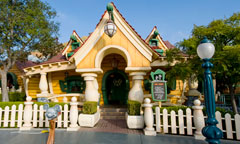 Mickey's House and Meet Mickey
Glimpse the inside of a star's home! See how Mickey lives as you take a self-guided tour through his living and work spaces packed with artifacts from his daily life and brilliant career.
---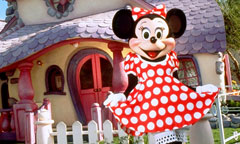 Minnie's House
Drop in for a visit to see that her house is as charming and cute as Minnie herself. If you're in the mood for food, cake's already rising (and falling!) in the oven. And whisper what you want at her Wishing Well — Minnie's voice returns good wishes to all!
---
Mr. Toad's Wild Ride
Zig and zag your way through a frenzied adventure aboard an out-of-control vintage motorcar. Join Mr. Toad on a madcap journey through Toad Hall and across the English countryside to "nowhere in particular."
---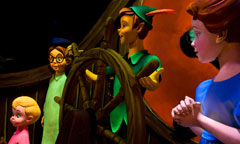 Peter Pan's Flight
Soar from London to Never Land island in a flying pirate galleon and watch the daring adventures of Peter Pan as he confronts his dreaded arch-nemesis, Captain Hook.
---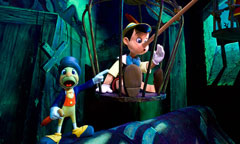 Pinocchio's Daring Journey
Follow the colorful misadventures of an enchanted wooden puppet who wishes to be a real boy. Hop aboard a woodcarvers cart and journey to Geppetto's Toy Shop, Stromboli's Puppet Theatre and Pleasure Island — then escape a perilous encounter with Monstro the Whale.
---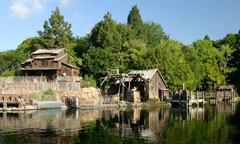 Pirate's Lair on Tom Sawyer Island
Pirate recruits are invited to sail on a raft across the Rivers of America for jolly adventures on an island filled with twisting wilderness paths, tree house lookouts and dark caverns filled with cursed treasure.
---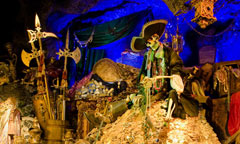 Pirates of the Caribbean
As nighttime bruises the waters of the bayou, cruise deep into the caverns where pirates carouse and behave most abominably. Fireflies light the way as you discover the adventures of these pillaging privateers — not to mention the shenanigans of Captain Jack Sparrow!
---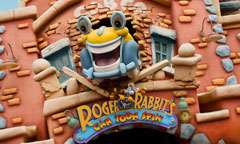 Roger Rabbit's Car Toon Spin
Hail a wacky taxi for the ride of your life as you spin through — and we do mean through — Toontown as you follow the hare-raising adventures of Roger Rabbit. The Weasels threaten to "rub out" Jessica Rabbit with a big dose of the deadly Dip. Can Roger stop them?
---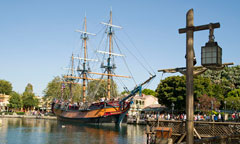 Sailing Ship Columbia
Feel the brisk wind upon your face as you explore the Rivers of America aboard a full-scale replica of the first American ship to sail around the world.
---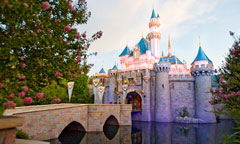 Sleeping Beauty Castle Walkthrough
Explore the winding passageways hidden inside Sleeping Beauty Castle and view dazzling miniature vignettes that bring to life the classic tale of Princess Aurora and her evil nemesis Maleficent from the movie Sleeping Beauty.
---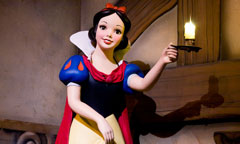 Snow White's Scary Adventures
Venture into dark forests, creepy castles, dank dungeons, dark mines and slippery cliffs as you relive frightful moments from Snow White and the Seven Dwarfs. And, if you see an apple, don't take a bite or it might be your last!
---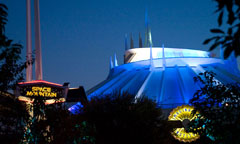 Space Mountain
Rocket into the outer reaches of darkest space on this high-speed thrill ride that blasts into the future and back. Board a sleek space ship and aim for the stars as Mission Control counts down to the most daring launch of your life!
---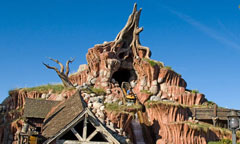 Splash Mountain
Splash down into a musical adventure filled with delightful critters and down-home backwoods charm. Inspired by Song of the South, Splash Mountain is a water flume voyage that culminates in a thrilling approximately 5-story plunge into the dreaded briar patch.
---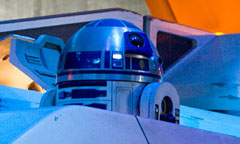 Star Tours
Blast off on a thrilling tour of the Star Wars universe aboard a Starspeeder 1000. Voyage to amazing alien worlds from the hit film saga, like Tatooine, Naboo or Hoth, and come face to face with the likes of Yoda, Princess Leia or even Darth Vader.
---
Star Wars Launch Bay
Encounter your favorite characters in iconic Star Wars' environments—plus view film props, screen videos and more!
---
Star Wars: Path of the Jedi
Experience iconic movie moments from the Star Wars universe—with blockbuster thrills from the films!
---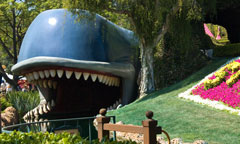 Storybook Land Canal Boats
Tour charming miniature reproductions of locations from some of your favorite Disney animated films aboard a brightly colored canal boat on a delightful cruise through Storybook Land.
---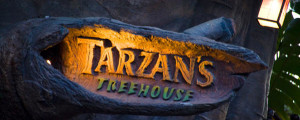 Tarzan's Treehouse
Climb to towering heights above Adventureland and learn the tale of how Tarzan was rescued as a baby, raised by a kindly gorilla and fell in love with Jane. Colorful vignettes inside the massive tree house show how Tarzan and Jane live in harmony with nature.