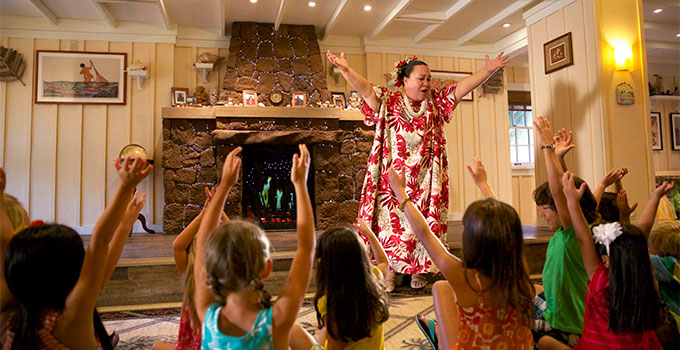 In Hawai'i, kids refer to all elder women as "Aunty," and at Aulani, Aunty's house has all the fun! Kids can let their imagination soar as they play, learn and explore this 5200-square-foot entertainment paradise. In this special kids club, you'll find all kinds of supervised, kid-pleasing activities:
Arts and crafts
Treasure hunts
Hula lessons
Wii™ video games
Sony PlayStation® video games
Disney movies
And so much more!
Family Open House (daily), 8:00 am -10:00 am – Aulani guests of all ages can come in and explore Aunty's Beach House together as a family, only during this time. No secured check-ins will be done for the duration of Family Open House.
Secured Programming (daily), 10:00 am – 9:00 pm – Aulani guests ages 3-12 are welcome to check in and explore Aunty's Beach House and all its programs. All normal check-in procedures and policies will apply.