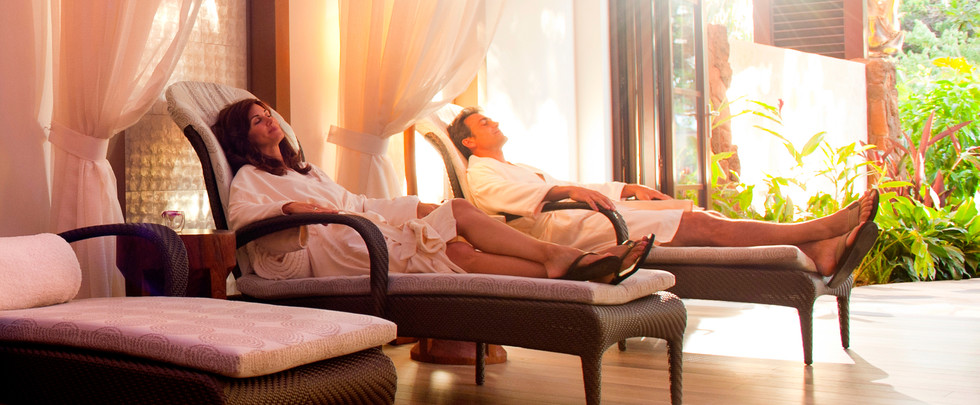 Renew your mind, body and spirit at Aulani, A Disney Resort & Spa. With a full-service spa, state-of-the-art health club, salon and more, it's easy to enjoy uplifting downtime.
Massage Therapies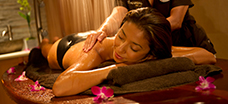 Lomilomi (50 or 80 minutes)
The Lomilomi is a traditional Hawaiian massage that promotes healing. Passed down from generation to generation, this hands-on massage uses gentle, rhythmic pressure to relieve tension and help you achieve ultimate relaxation.
Hana Pōlhaku Lomilomi (50 or 80 minutes)
Heated stone massage has been valued for centuries for its healing and relaxing properties. This Lomilomi stone massage uses a combination of heat and rhythmic pressure to rejuvenate the body and soothe the mind.
Kapa'i Massage (80 minutes)
In the Kapa'i Massage, warmed poultices of muslin-wrapped herbs are steamed and kneaded onto the body, which absorbs the heat and herbs. This traditional treatment relieves muscle tension and conditions the skin.
Shiatsu (50 minutes)
Shiatsu is a hands-on, therapeutic massage originating in Japan. Named for the Japanese words for "finger" (shi) and "pressure" (atsu), shiatsu utilizes acupressure, applied with the thumbs and palms to specific areas of the body.
and more…
---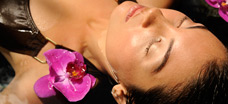 Facial Treatments
Skin Yoga (50 or 80 minutes)
Skin Yoga will smooth lines and give your face a natural lift by combining the synergetic effects of detoxification, massage, lifting techniques, circulation boosters and CoffeeBerry® extract from CoffeeBerry® Natureceuticals™.
Basic Skin Fitness (50 or 80 minutes)
Using the latest technology in advanced AHA cosmeceuticals—the LCA Complex, a blend of lactic acid and essential vitamin antioxidants—this facial delivers visible results and is ideal for dry, sensitive skin and people with mature acne.
Triathlon (50 or 80 minutes)
Minimize fine lines and wrinkles, improve uneven skin tone and texture, and revitalize sun-damaged skin—all with a treatment that uses Idebenone Complex Superceuticals®, a powerful, anti-aging antioxidant.
Certified Organic (50 or 80 minutes)
The Purely Organic! Custom Facial softens and renews skin, provides antioxidant protection. Customized by skin type, it nourishes with organic seed oils, whole plant ingredients and restorative fruits from global fair-trade farms.
and more…
---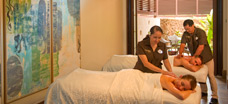 Couples Treatments
Honi Honi "Sealed with a Kiss" Duet
Achieve pure relaxation together in your private suite. This treatment begins with a lomilomi couples massage, followed by a tropical body butter kiss.
Ohia Lehua "Love Story" for Two
Begin with a blended exfoliation of your choice; then enjoy a lomilomi massage with a tropical body butter kiss, all in your private couples suite.
Pili Aloha "Loving Companionship"
Rejuvenate yourselves with a duet body exfoliation, couples massage and facial of your choice, all in the intimate environment of your private suite.