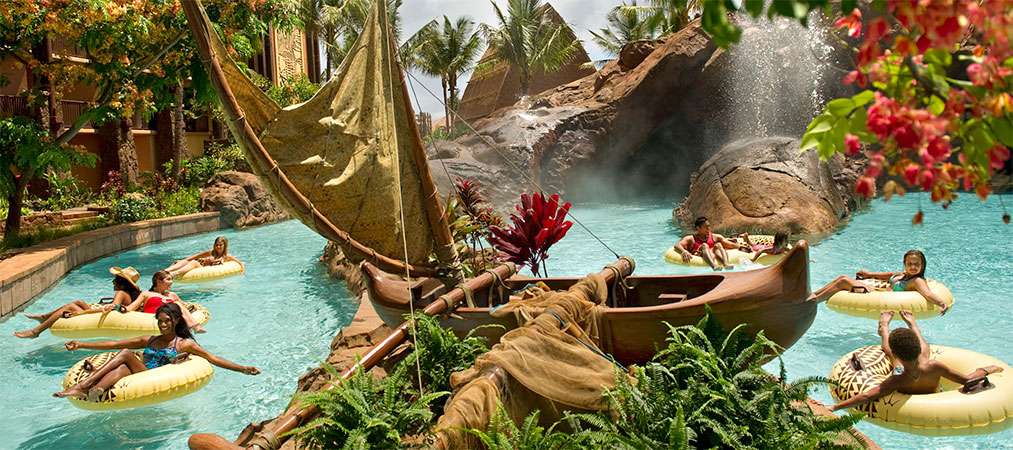 Waikolohe Pool
Shoot down the sleek body slide of this 8200-square-foot pool for a thrilling plunge into the crystalline waters. Not ready to dive in? There's something for everyone at this place for family fun. Poolside cabanas are available for rental. Reservations are suggested.
Waikolohe Stream
Climb into a tube and ride along the banks of a swift stream as you are launched into adventure! On this whimsical waterway, slide past fantastic formations of lava rock and encounter plenty of surprises in the mischievous waters.
Ka Maka Grotto
Delight in all-day family fun at Ka Maka Grotto. Swim, play or relax in the infinity-edge pool overlooking Ko Olina Beach. Later, enjoy an after-dark experience with glittering lights.
Keiki Cove
Kids can splish, splash and make new friends at this interactive splash zone. Inspired by the Hawaiian Islands, Keiki Cove is designed to resemble a tidal pool.
Wailana Pool
Swim out across the quiet surface of our themed infinity edge pool and soak up the scenery.
Menehune Bridge & Trail
Little ones romp, stomp, splish and splash in this magical interactive water play area featuring the mischievous menehune. Follow the Menehune Trail as it twists and turns throughout the Resort!
Whirlpool Spas
Melt into one of our 5 whirlpool spas and enjoy pure relaxation amidst the pulsating jet streams as you sip a drink or just rest in the sun and enjoy the spectacular view.
Rainbow Reef
Swim with many of the animals that live in the salt waters as you snorkel in this enormous, gorgeous manmade lagoon. Didn't bring your fins? Snorkel equipment is available for rental. All proceeds support wildlife conservation organizations.
Beach
Relax or stroll along the enticing white sands of Ko' Olina behind the Resort. Beach chairs and umbrellas are available to extend your fun in the sun.