Disney Cruise Line dining is sure to satisfy the appetites of your entire family—thanks to fresh, expertly prepared dishes made available 24 hours a day.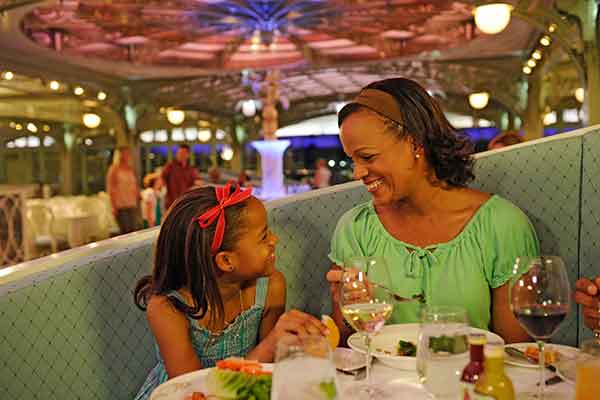 Featuring diverse menus inspired by some of the world's most intriguing destinations, and restaurants that are distinctly themed and brimming with charm, Disney Cruise Line invites you to enjoy the finest dining at sea.
Check your Meal Ticket (that can be found in your stateroom) in addition to the Personal Navigator—the Disney Cruise Line daily newsletter detailing all there is to see and do—for dining hours, bar hours and rotational dining evening attire.
---
Adult Exclusive Dining includes a restaurant designed exclusively for adults, where adults can enjoy the magic of a more romantic and elegant dining experience during their vacation.
---
Disney Cruise Line Casual Dining includes a wide range of fresh, self-service food items and mouthwatering, made-to-order delicacies for the whole family for breakfast and lunch.
---
Disney Cruise Line Quick Service Dining lets you satisfy those between-meal cravings with a variety of well-balanced and delicious offerings throughout the day, be it morning, noon or night.
---
Main Dining features Disney's innovative Rotational Dining system which lets you "rotate" to one of 3 distinctly themed restaurants each night, while your servers follow you from venue to venue.
---