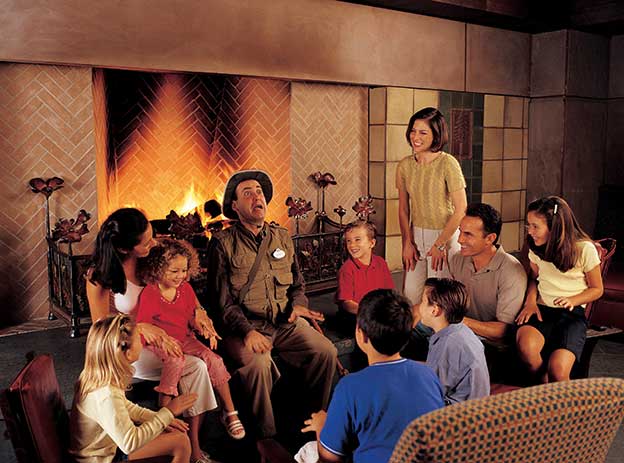 All Guests at Disney's Grand Californian Hotel & Spa have access to the following services:
Complimentary self parking
Valet parking (additional fee)
Fitness center
Business center
Character Wake-up Calls
Meeting facilities
Laundry room
Laundry and dry cleaning service
Licensed day care
ATM
Currency exchange
Additional charges might apply for services.
Convenient Park Re-entry
Enter and re-enter the Resort using the exclusive entrance into and exit from Disney California Adventure Park with valid theme park admission. It's easy to retire to your room whenever you wish to take a break and return to the fun!
Pinocchio's Workshop
Enjoy a night out and treat children ages 5 to 12 to an evening of arts and crafts, computer games, Disney films, dinner and snacks in a licensed child care facility with an environment created especially to entertain kids. There's plenty of fun for little ones! To make a reservation, stop by Guest Services or call (714) 635-2300. Guests under age 18 must have parent or guardian permission to call..
Services for Children
Subject to availability, the following services are available for a fee:
Easy Payment and Room Delivery
Enjoy the convenience of charging meals and purchases to your room with your Key to the Magic Card. Then, using our Package Express service, have purchases delivered to your Hotel directly rather than carrying them with you in the Parks!
Disabled Access
Disney's Grand Californian Hotel & Spa offers rooms that are wheelchair accessible. Wheelchair access is available in most public areas. When requested in advance, TDD machines are also available for the hearing impaired.